Author G S Rattan launches his first book – 10 Steps to the Boardroom: There is no linear path to reach the top. In today's day and age, when there is so much competition and nepotism that is being spoken about, one has to wonder: Does talent and merit have a chance?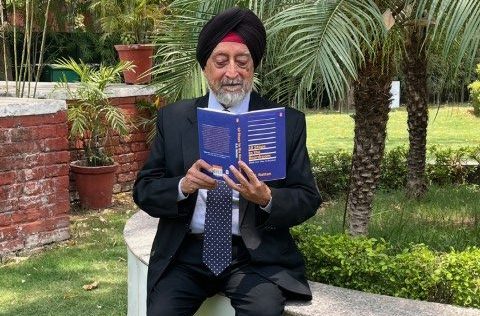 Author GS Rattan believes it does and pens his first book – 10 Steps to the Boardroom to answer these questions. The book takes you through the crucial ten steps you need to climb as you progress in your career to reach the top via the author's own personal journey. Each chapter deals with one specific quality that a CEO is required to have and is accompanied with a worksheet next to it that will help you chart your growth.
Peppered with wisdom and experience, each story will help you understand the implications of your decisions and the right career stage that one should look at making a move. An absolute must-have for anyone looking to make a mark in their corporate career. The author launched the book in Chandigarh today.
Commenting on his first book, Author GS Rattan said, "The one key message I want to convey to all ambitious executives through this book, is that take you need to plan your career progression very seriously in your life and early on. Opportunities to climb the ladder do not come across very frequently, so prepare your-self well in advance to offer your-self as a prospective candidate to fill up the position. Be a dreamer, a planner, a strategist, and a go-getter to succeed from Day 1.  Keeping in mind the massive shift in workforce post pandemic where mass layoffs and mass hires are commonplace news, not just skills but also relevance of the role you have created for yourself in an organisation will matter.
With my real life experience shares, I also want them to understand that failures are a stepping stone to success and the path in front of you might not always be linear. But if you build your confidence, mental resilience and keep an open mind towards learning, you can handle whatever fate throws at you and find your way through.
Each chapter is important at a stage in the life of a young executive and is to be putilised as a guide to excel in that role and move ahead.  I expect enterprising executives to keep asking themselves the tough questions posed in the book and keep referring to it for the next steps for their growth. "
An experienced leader with a vast experience in steering techno-commercial functions in world-class engineering companies, G.S. Rattan continued to teach after retirement. The Punjab Engineering College (Chandigarh) graduate is now on a sabbatical as he pens down his first book and starts a new journey at the age of seventy-two with renewed enthusiasm. It is Day 1 again. With an overall experience of fifty years, he earned the moniker of 'creative strategist' from his peers.
As a longstanding member of the Tata Family, he had the opportunity to work and learn from industry leaders, like Dr J.J. Irani and Mr B. Muthuraman, who inspired him to be more, achieve more and do more. During his thirty-one-year tenure with the Tata Family, the departments under his care won several awards and appreciation of all seniors. A company man through and through, he rose through the ranks to head the company with unanimous support of his colleagues and seniors. In his second innings as a teacher , he taught at various colleges in and around Chandigarh sharing his knowledge and life experiences. He is currently based in Zirakpur working on his next book.