Baja SaeIndia 2023, Presented by Bpcl E-drive Organizes the Physical Round at Chitkara University: The third phase of the 16th edition of BAJA SAEINDIA commenced on the 5th of April, 2023 Chitkara University, Baddi, Himachal Pradesh. Over 180 teams from 23 states across the country participated in the first two phases of the competition, conducted virtually.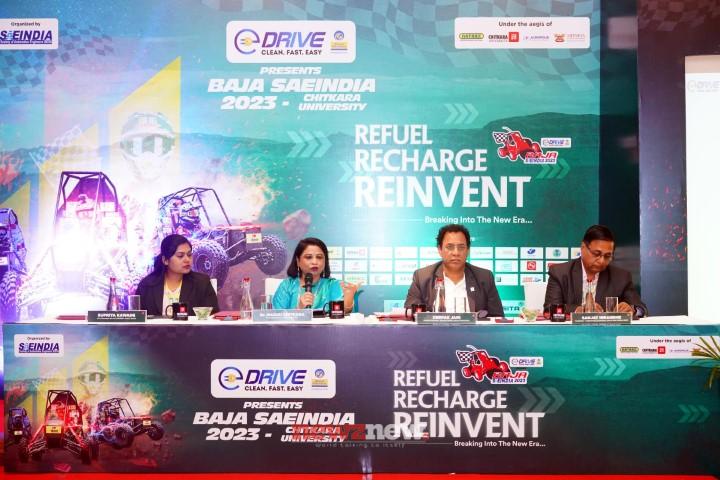 For thpe upcoming physical round, more than 70 teams have registered under the eBAJA category, wherein the teams shall compete in various dynamic events with their student-built single seater All-Terrain Vehicle powered by an all-electric powertrain. This third and final phase of the competition is being conducted at Chitkara University, Baddi Campus from 5th to 8th April 2023.
Teams registered under the mBAJA category had competed with their IC Engine powered vehicles in the month of February at the NATRAX facility in Pithampur, Indore.
Focussing on the theme of "Refuel, Recharge, Reinvent", Phase 3 of BAJA SAEINDIA 2023 is a unique challenge where the limits of the student-fabricated vehicles are put to the test to physically validate their designs, which were assessed virtually over Phase 1 and Phase 2 of the competition conducted in the months of September and December of 2022 respectively.
The physical round includes various individual dynamic events, which will evaluate the vehicle's acceleration, manoeuvrability, suspension and tractive capabilities. The final round of various static events such as Cost, Sales & Marketing, Design, etc. will also be conducted parallely.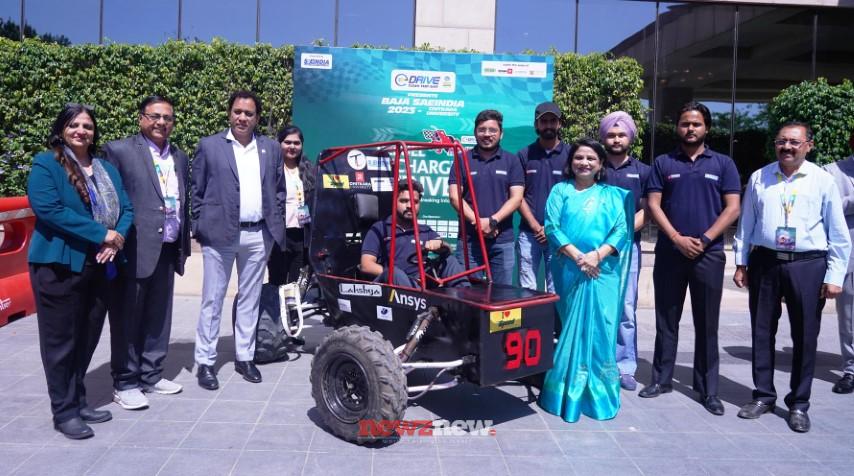 The press conference at Hotel Hyatt Regency, Chandigarh kicked off with the inaugural note of Mr. Sanjay Nibandhe, Chairman, Organizing Committee, BAJA SAEINDIA 2023 and Senior Deputy Director, ARAI who detailed the various activities of SAEINDIA that support the development of students pursuing diverse disciplines of engineering . He said, "It gives me immense pleasure to reach out to all of you at the 16th edition of BAJA SAEINDIA and the 8th edition of eBAJA. The concept of eBAJA was conceived even before the emergence of Electric Vehicles on Indian roads. With a vision to electrify India's future of mobility, we started with the first-of-its-kind eBAJA alongside the existing mBAJA, the IC engine buggies. What started with a 4.5 kW and 100Ah Lithium Ion battery has now gone to a 9 kW and 144 Ah battery with 72 volts electrical system. Over the years, students have improved their skills in designing control systems, managing battery packs and handling the charge-discharge cycles.
During this journey, students have faced and overcome a lot of difficulties, acquired practical knowledge beyond textbooks made continuous improvements in their vehicles throughout the year. Since last year, we have extended the eBAJA endurance to 4 hours to align with their mBAJA counterparts, which presents a new challenge to the teams. We have witnessed a growth in number of teams year by year and we definitely see a positive outlook for the future.
I am confident that all the participants are skilled engineers with exceptional design, simulation, fabrication, communication, project and people management skills. They are valuable assets to India's future of mobility and their skills would be accepted by the industry, both as engineers and entrepreneurs. I wish all the teams the best of luck for the event and their future endeavours."
Mr. Deepak Jain, General Manager (Brand) Retail, Bharat Petroleum Corporation Limited, and Convener, BAJA SAEINDIA 2023 said, "Bharat Petroleum has been collaborating with communities by providing support for various projects related to education, skill development, community development, capacity building, and employee volunteering. Since the inception of BAJA SAEINDIA in 2007, BPCL has been associated & engaged with young engineers from across India. Participating in such an event is a great opportunity for BPCL to inspire and motivate young engineers. As the title sponsor, Bharat Petroleum would like to take BAJA SAEINDIA to greater heights in this year and years to come."
Dr. Madhu Chitkara, Pro- Chancellor, Chitkara University said, "At Chitkara University, we have a strong commitment to fostering a culture of innovation and building a skilled society by collaborating with academia and industry. Our partnership with BAJA SAEINDIA since 2015 is a testament to this belief.
As one of the host institutes for BAJA SAEINDIA, we take immense pride in supporting this program, which provides an exceptional platform for young professionals and technocrats to showcase their engineering skills and gain exposure to real-world challenges. The practical experience gained from participating in this program is invaluable and can significantly shape the careers of the participants. We firmly believe that initiatives like BAJA SAEINDIA are crucial in shaping the future of the engineering industry in India, as they help identify and nurture young talent and provide opportunities for growth and success.
At Chitkara, our commitment to supporting this program and creating a platform that fosters research, innovation, and skill development is unwavering. We are excited to see the talent and expertise of the participants in the years to come and wish them the best of luck for the upcoming event."
Mrs. Supriya Kawade, Co-Convener, BAJA SAEINDIA 2023, Baddi commented on the diverse participation in this edition of BAJA SAEINDIA, which has attributed to the organization's efforts to promote diversity. The participation of female members has increased to 16%, and 3 all girl teams consisting solely of female members competing in the physical round. BAJA SAEINDIA takes an extra step by organizing an HR meet at Chitkara University, Baddi on April 9th, providing students in their third and fourth year of their degree with the opportunity to kick-start their professional journey. Eligible candidates who passed the online-proctored BAJA Aptitude Test (BAT) on February 7th, 2023, will proceed to further stages of recruitment and interact with automotive organizations at the HR meet. The BAT exam is a flagship initiative by BAJA to connect the industry with skilled undergrads. This year, significant changes have been made, including conducting BAT for both mBAJA and eBAJA on a single day, and organizing the BAT online to provide added convenience.