Banaras – The Abode of Silk Sarees: Banaras, also known as Benaras or Varanasi is located in the state of Uttar Pradesh on the west bank of the Ganges River and is considered to be one of the oldest continually inhabited cities in the world.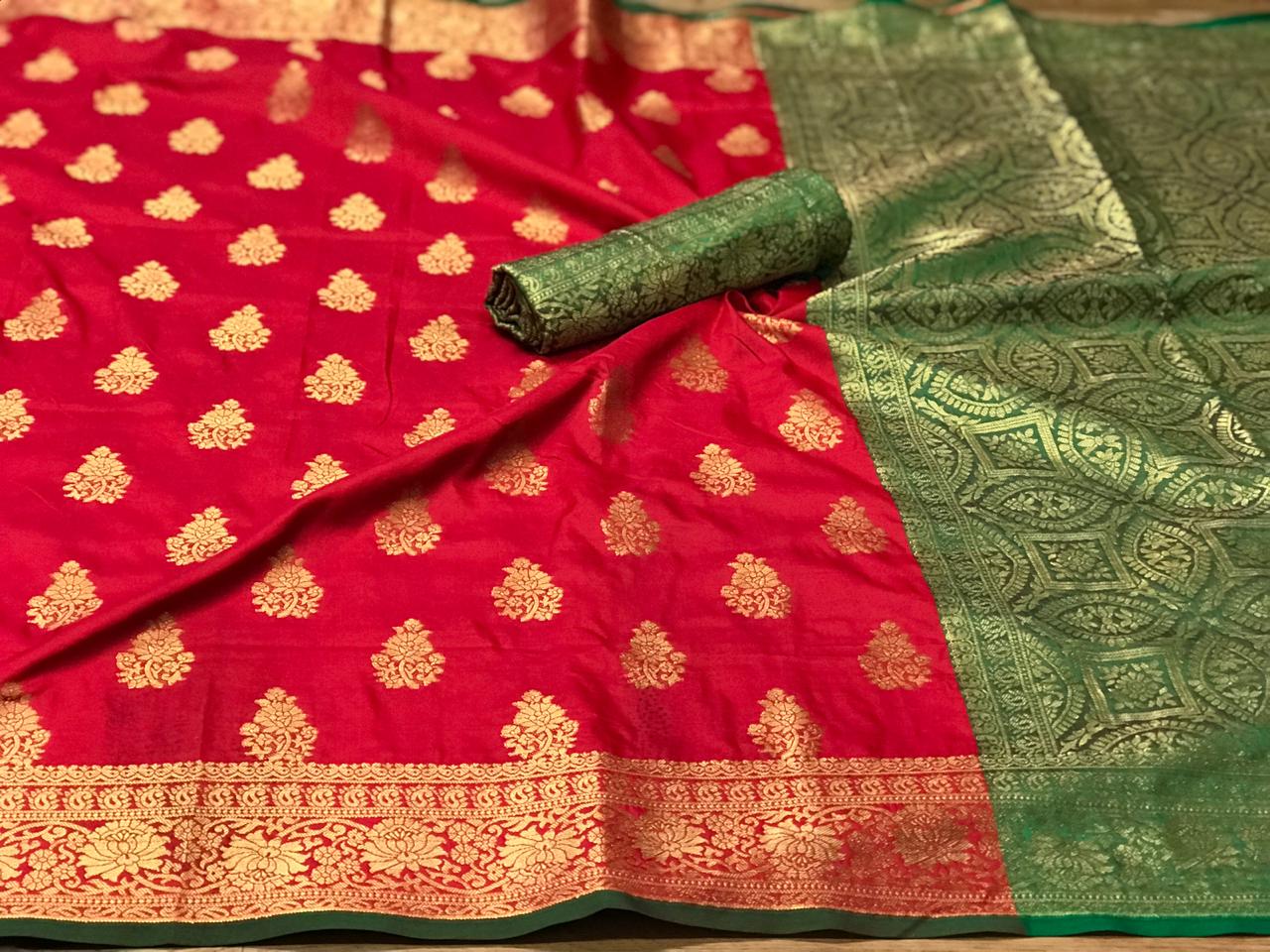 Ralph Fitch (1583–91) describes Banaras as a thriving sector of the cotton textile industry. Several first-millennium Buddhist texts mention Benaras as the center of fine textile weaving. One of the oldest living cities of the world, this is a place where thousands come in search of solace, serenity and spirituality and of course for pure silk. While it is the abode of Hindu Gods, Banaras is also the abode of silk sarees.
Banarasi Silk Sarees
An Indian woman, clad in a Banarasi silk saree, complete with her solah sringar (16 makeup items) is the dream girl of every Indian man. There is hardly any woman in India whose wardrobe does not include Banarsi sarees. Even the trousseau of a bride is incomplete without this much-coveted possession.
Banarasi Sari offers such grace to a woman that can hardly be matched by any other dress. However, behind all this grace is a weaver, whose skill and genius goes into the making of such a splendid outfit. Some of the weavers have been able to trace their lineage back to 990 AD. The Benarasi silk saris reached the climax of their fame during the Mughal era in the 1600s. During that time the traditional motifs of the sari underwent a change and combined Indian and Persian patterns.
The earliest mention of the brocade and Zari textiles of Banaras is found in the 19th century. During the Mughal period, around 14th century, weaving of brocades with intricate designs using gold and silver threads became the specialty of Banaras. It takes around 15 days to several months to complete a Banarasi saree depending upon the complexity of designs.
Characteristics of Banarasi silk sarees
Banarasi saris are historically considered to be among the finest saris in India and are known for their gold and silver brocade, fine silk and opulent embroidery, and being highly sought after. These saris are made of finely woven silk and are decorated with intricate design, and because of these engravings, these saris are relatively heavy. Their special characteristics are Mughal inspired designs such as intricate intertwining floral and foliate motifs, kalga and bel, a string of upright leaves called jhallar at the outer, edge of border is a characteristic of these sarees. Other distinctive features are heavy gold work, compact weaving, figures with small details, metallic visual effects, pallus, jal (a net like pattern), and mina work.
Sari making areas
The sari making is more of a cottage industry for about 12 lakh people associated directly or indirectly with the handloom silk industry of the region around Varanasi encompassing Gorakhpur, Chandauli, Bhadohi, Jaunpur and Azamgarh districts. 
Banarasi Brocade
The term brocade is perhaps derived from the Latin word "Brocare" which means "to prick" and denotes the needle work like embroidery. Perhaps it is the reason the brocade weaving technique is often defined as "embroidered weaving". In general, the term brocade is restricted to richly designed fabric woven with silk and Gold or Silver thread. The Banarasi Brocade based on the design and patterning and the type of material used can be divided into following: Opaque zari brocades, Amni brocades, Tanchoi brocades, Banaras brocades, Zari Brocades and Kincab Brocades. 
Other forms of Banarasi silk sarees
Silk Jamdani
One of the traditional sarees of Benaras is the silk Jamdani which is a technical variety of brocade or the `figured muslin`. The artisans include traditional motifs in the Jamdani sarees that comprise chameli (jas mine), panna hazar (thousand emeralds), genda buti (marigold flower), pan buti (leaf form), tircha (diagonally striped) etc. Among the most attractive designs, konia or a corner-motif having a floral mango buta are named. 
Jangala Saree
A typical saree made in Benaras is Jangala saree which is decorated with wildly scrolling and spreading vegetation motifs. This is said to be one of the previous rose sarees and are adorned with beautifully contrasted gold-creepers and silver flowers of the Jangala motif. The borders have brocaded running creepers in muga silk and gold and silver- zari threads. The endpiece is made with a fusion of motifs of the borders and condensed Jangala of the field. To give the sarees a stylish and superior glitz, the Jal Jangala design and sometimes meena work is also incorporated. 
Butidar Sarees
They are one of the most famed sarees that are made in Benaras. The most striking feature of this particular type of saree is the gold, silver and silk brocades. The Ganga-Jamuna is a particular design that is done with dark gold and light silver shade with row of arches in the endpiece. The Butidar saree is a traditional Banaras saree that are decked with an array of motifs with the use of real gold and silver Jari and Katan silk in the weft. The most striking feature of this dark blue silken saree is that it is brocaded with pattern threads of gold, silver and silk. 
Tissue Sarees
The renowned zari brocade weavers of Banaras have evolved a technique of weaving tissue material which looked like golden cloth. By running zari in weft a combination of zari and silk in extra-weft (pattern thread) and silk in warp, the weave of this sari has densely patterned with golden lotuses floating in a glimmering pond. The 'drops of water' are created by cut work technique. The borders and the end panel have a diaper of diamond patterns enclosed by a border of running paisley motifs. Tissue saris are most popular as wedding saris. 
Cutwork Sarees
This type of saree prepared by cut work technique on plain ground texture after removing of the floated thread which are not design (woven) during the weaving process which provide good transparent look. Cut work is the cheaper version of the Jamdani variety. 
Organza saree (kora), with zari and silk
A sheer, feather-like open weave fabric that is mildly heavier and crisper than silk gauze. It has a smooth, flat finish and sports a characteristic shine, obtaining its stiffness from tightly twisted yarns. The use of intricate hand embroidery on this preciously delicate silk makes it the epitome of elegance.
Georgette Saree
Georgette fabric is a textile traditionally made from silk, although synthetic fibers such as polyester are sometimes used as well. It is slightly heavier and more opaque than chiffon. The twisted crepe fibers from which silk georgette fabric is made give it a springy quality that makes it seem to move on its own. Unlike some fine silks, georgette fabric is also unusually strong, and it holds up well to varied wear. Since silk is highly absorbent, georgette fabric can easily be dyed in a myriad of colors, or printed with a pattern.
Author: Dr. R. K. Pant, Retired Deputy Secretary (Tech.), Central Silk Board, Lucknow