VARIOUS ACTIVITIES MARK THEIR DAY, FILLED WITH ENTHUSIASM
NewZNew (Chandigarh) : Commemorating their 109th foundation day today, Bank of Baroda carried out various activities to celebrate the legacy of the bank. Two rallies were organised, with one starting from (18-19-20-21) the roundabout maintained by Bank of Baroda and the other from the Rose garden. With around 100 excited and thrilled participants donning Bank of Baroda caps,began the rally at morning 6.30 and came to rest at the bank's Regional office at 7.00 am. the rally was inaugurated by Mr. V.P Srivastava, acting DGM, AGM Mr. A.K Jaggi and AGM R.K Meena. The rally included members of the staff, retired staff and customers of the bank.
Two Banking Correspondents (BC Points) were also inaugurated on the foundation day. The one at Mullanpur was inaugurated by Acting Dy. Regional Head Mr. V.P Srivastava and the other at Khuda Lahora Colony was kicked off by Mr. Anil Kumar Jaggi who is the Acting Dy. Regional Manager.
In an endeavour to keep the day clean and green and celebrate the special day, the branch of sector 44 and that at Mohali, Phase 6 undertook a plantation drive promoting healthy enviornment and memorize the foundation day of the bank.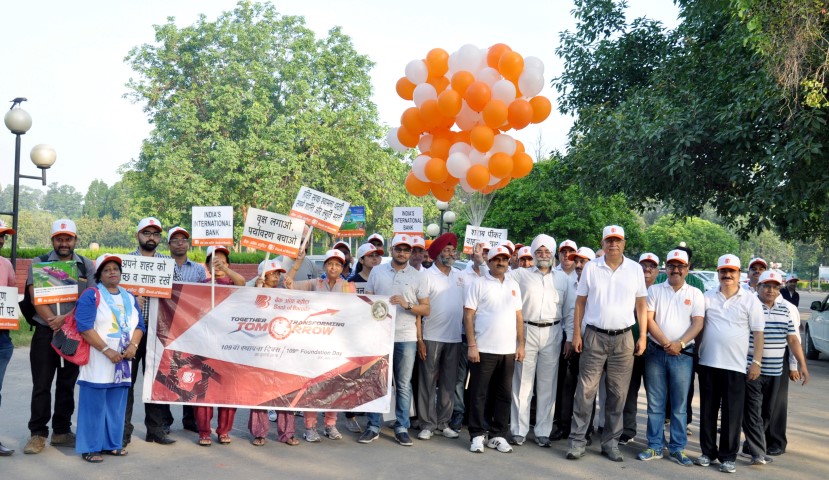 In a hearfelt effort of the staff at the Regional office of Bank Of Baroda, a CSR activity was also carried out at Mother Teresa, Sector-23 in which towels, fruits and other items collected voluntarily by the staff were distributed by Mr. V.P Srivastava.
Continuing the celebrations, a colorful and full -of -exuberance cultural function was enjoyed at Hotel Oyster, Sec-17 Chandigarh. Various performances showcased by the staff members and their children included songs, dances, mimicries and fun-filled antakshari. The function was witnessed by around 250 people including the staff members, the retired staff and their family members.