Beauty DIV Commandments for the Monsoon Season: There is nothing more enjoyable than being soaked in rain or waiting for rainy days. As monsoon approaches, many skin and hair related problems also arrive along with it.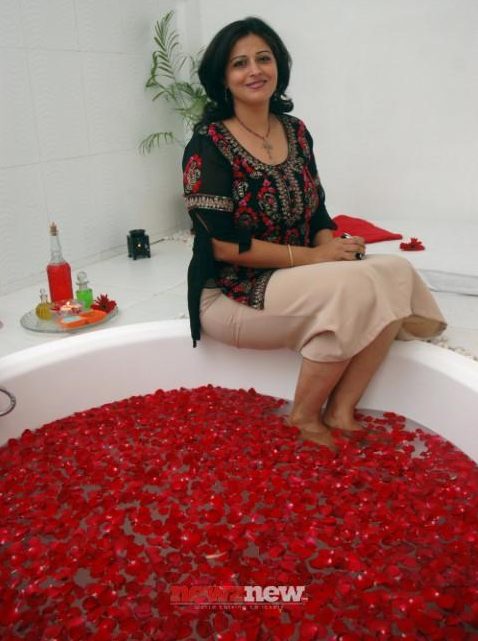 Many of us are constantly battling skin and hair woes, sweaty and sticky skin and scalp, excessive sebum oozing from our faces, as well as skin allergies and fungal infections.
 In addition to skin rashes, itching, and burning sensations, skin allergies can also be a problem. There are few people who realise that the mild sunlight that we love so much during monsoon can negatively impact our skin and cause sun tanning, hyperpigmentation, skin burning, and dehydration.
Beauty & Makeover Expert, Richa Agarwal while celebrating Monsoon extravaganza launched Monsoon Beauty Commandments which are easy to follow. These commandments are like a rule book for your health and easy to follow for any skin and beauty combinations to keep monsoon problems at bay and rejuvenate your skin from inside out.
CLEANING YOUR SKIN BEGINS WITH WASHING IT 
It is advisable to go for prevention before the skin is subject to any damage. You must go for a regular skincare regime during monsoon season and try to keep your skin as clean and dirt proof as possible, to begin with, you must ensure to wash your faces at regular intervals. Use mild gel-based face wash which does not steal natural moisture of the skin and cleanses it properly, use face wash once in a day. You can also make cleanser with fruit that suits your skin, papaya pulp or cucumber pulp is very safe to use for any skin type, these are excellent natural skin cleansers.
MAINTAINING HEALTHY SKIN WITH FACIALS
You can also go for a facial once in a month, add drops of clove oil which is easily available nowadays, put this in hot water and take steam for 10 minutes, the process should cleanse off your skin while digging out toxins.  After cleansing you must tone your skin, this will help in maintaining the pH balance of the skin.
KEEP MONSOON DEAD SKIN CELLS AT BAY BY EXFOLIATING
Sticky skin leads to extra oiliness and dead cells, it's important to exfoliate your skin with face pack that is good for hydration too, you can make a pack with rose water, oats flakes and lemon juice, keep on your skin for 15 mins and rinse off while scrubbing gently.
NUTRITION FOR YOUR SKIN WITH DIY FACE PACKS 
If your skin is sensitive you can use a pack of aloe vera pulp and chia seeds, soak chia seeds overnight and next day morning mix seeds with oats flakes, rub on the skin gently and wash off the skin, don't keep the pack for more than 15 months, This pack will take care of hydration and moisturizing of the skin, will maintain ph balance and remove dead cells from the skin too. The pack will ensure that your skin feels and remains subtle for long.
Mud packs are very effective in dealing with sticky skin, use clay-based face pack during the rainy season, if your skin is dry you can mix milk and sandalwood powder for a cooling effect. This will keep skin free from stickiness while taking care of open pores too. Apply the pack for 20 minutes and if you want to brighten your skin add few drops of lemon juice into the pack.
KEEP YOUR SKIN TONED AND HYDRATED WITH TONERS 
Tonning remains very important for your skin during humid days, refrigerate rose water cubes, cucumber juice cubes in the refrigerator and apply them in the morning and evening. Must apply them before you are doing makeup and wash off with cold water, this will take care of open pores and not allow the skin to perspire excessively as it happens during this time. This will also protect your skin from makeup meltdown.
Splash your face with ice-cold water as it will tighten the pores and prevent oil secretion to an extent.Cucumber juice and raw milk can be used as a natural toner for oily skin. If you have dry skin, make it a rule to stay away from alcohol-based toners, because they increase skin dryness. Search for water-based alternatives and get a better version of your own skin.
You can make an effective toner with the juice of cucumber mixed with drops of rose water. Even humid weather calls for hydration and skin needs hydration every day, it's the food for your skin hence moisturising your skin should be a daily habit. If you want to apply natural moisturiser go for moisturising with aloe vera and rose water or look for cruelty-free beauty products that contain natural forms of oils for hydration, leave the mix on your skin and rinse off with cold water, don't use hot water on the skin otherwise it will turn dry. Avoid moisturisers that are cream-based. Keep in mind to keep your skin and body constantly hydrated. Go for a water-based moisturiser instead of lotion-based one keeping the sticky weather outside.
DO IT YOURSELF HAIR CARE
For keeping your hair in good health during monsoon and protecting your hair from dandruff and hair fall you can take the help of aromatherapy. Make a hair pack with Rosemary oil 1 drop, Tea Tree Oil 1 drop, Patchouli oil 1 drop mixed with 1 tsp almond or extra virgin oil. Apply this on your scalp on alternate days with a soft message.
For Premature Hair Loss, Dandruff and chemically treated and damaged  hair with split ends you can apply a good hair pack made with aloe vera gel, curd, and lemon. This works very effectively on itchy and dandruff prone skin. Rinse off after 45 minutes and wash off with a mild shampoo.
Wash your scalp with good lavender based shampoo. Complete the process with a good conditioner or hair spa cream.
SELF-CARE FOR YOUR FEET
Foot care is very important during the rainy season as you might get a fungal infection in the rainy season. Especially your foot soles can be a matter of concern in this season, you can develop Athlete's foot. You can try a very effective home pedicure  with dead sea salt mixed with Basil oil. Soak your feet for about 20 minutes and dry off.
AN IDEAL MONSOON DIET
Avoid eating outside food and prefer home made food only during Monsoon. Go for a diet of fruits and salad based diets rich in fibre, this will help you flush out toxins. Include a good amount of protein in your diet, like sprouts, soybean, eggs, fish, and dry fruits. Also, keep a check on your water intake and take about 7-8 glasses of water every day. Drink at least 8-10 glasses of freshwater. In between, you can add a few drops of lemon juice in the water. Lemon helps to control oil secretion and it is an excellent cleanser.