Bhaavna Arora's book 'Undaunted: Lt Ummer Fayaz of Kashmir' was released at Chandigarh Press Club.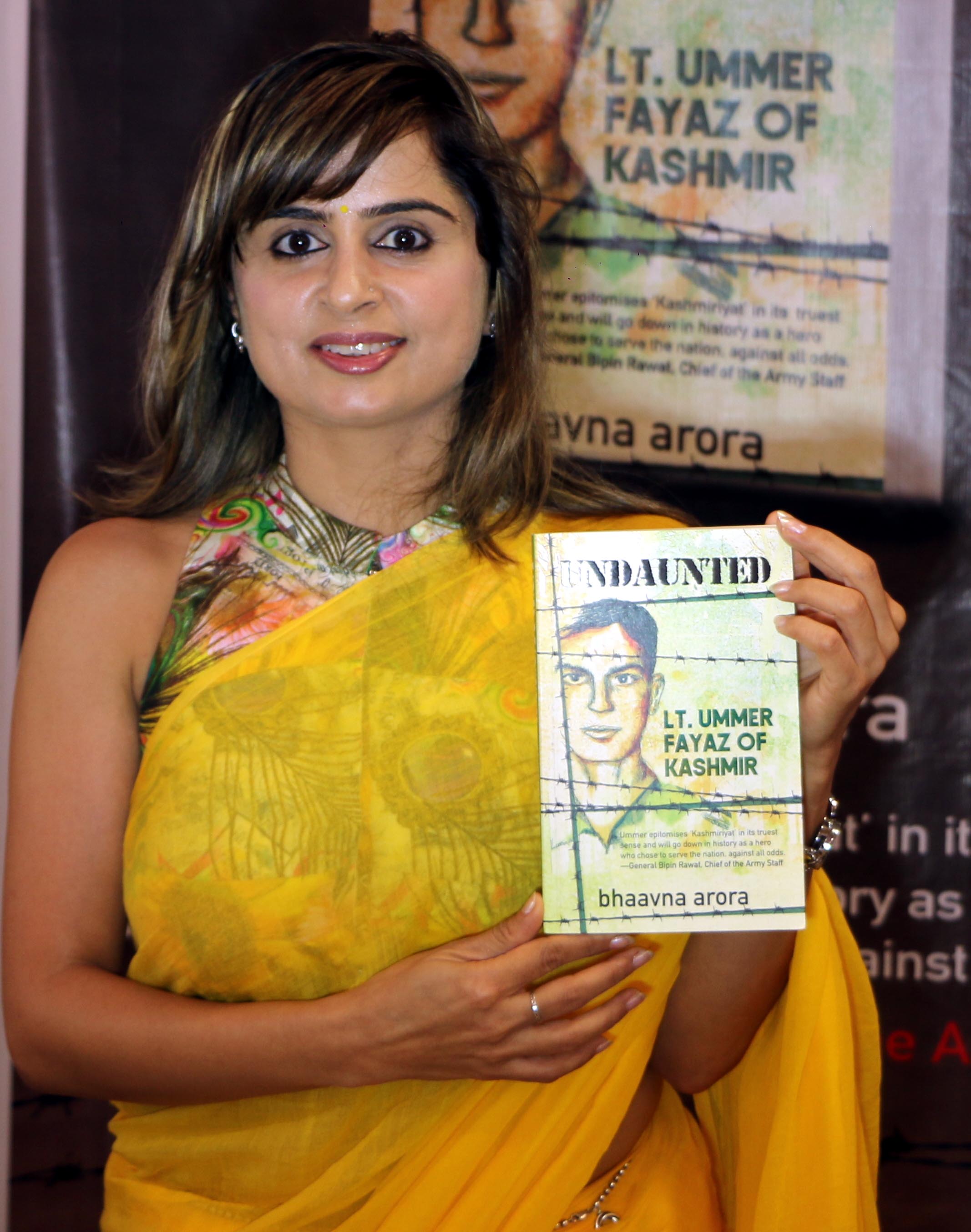 'Undaunted' is the extraordinary story of an extraordinary life of Young Army officer Lt. Ummer Fayaz from Kashmir  who was abducted and killed by terrorists in May, 2017 in South Kashmir's Shopian, where he had gone to attend the wedding ceremony of a relative.
Hailing from Kulgam district of Jammu and Kashmir, Fayaz was posted in the Akhnoor area in Jammu. He was commissioned in the 2nd battalion of the Rajputana Rifles, the oldest rifle regiment in the Army in December 2016, just five months before he was killed.
The death sent a nation into shock, and immortalised the memory of a young man with conviction beyond his years. In his brief, inspiring life, Ummer joined the army to set an example and galvanise fellow Kashmiris to move beyond the cycle of violence that unrest in the state had forced them into.
Bhaavna Arora's fourth book, 'Undaunted', is a befitting tribute to the memory of a national martyr who dared to don the Army uniform conscious of the dangers involved. It has been written with a rare sensitivity and is deeply researched and told with feeling.
'Undaunted' took 2-yr of painstaking research, including 6-month of travel to the Kashmir Valley, the IMA, the NDA, MHOW, Devlali and Akhnoor to weave an authentic account of Lt. Ummer's life.
Bhaavna says: the title is deliberate. It could well have been Lt. Ummer Fayaz of the Indian Army. However, we unanimously agreed that his Kashmiri identity needed to be focused upon, that he was from the Indian Army was never in doubt. It takes guts to flow against the water and do something that is not a trend. Lt. Ummer Fayaz did exactly that and we highlighted that."
She also announced that royalty earned from the book will be used for an annual scholarship named after Fayaz. The fund will benefit students of the high school he attended.
Besides the scholarship, there would also be a rolling trophy. And, the interest earned from this amount will perpetuate the scholarship for successive years. Ummer did his schooling, from class 5-12, at the Jawahar Navodaya Vidyalaya (JNV), Anantnag.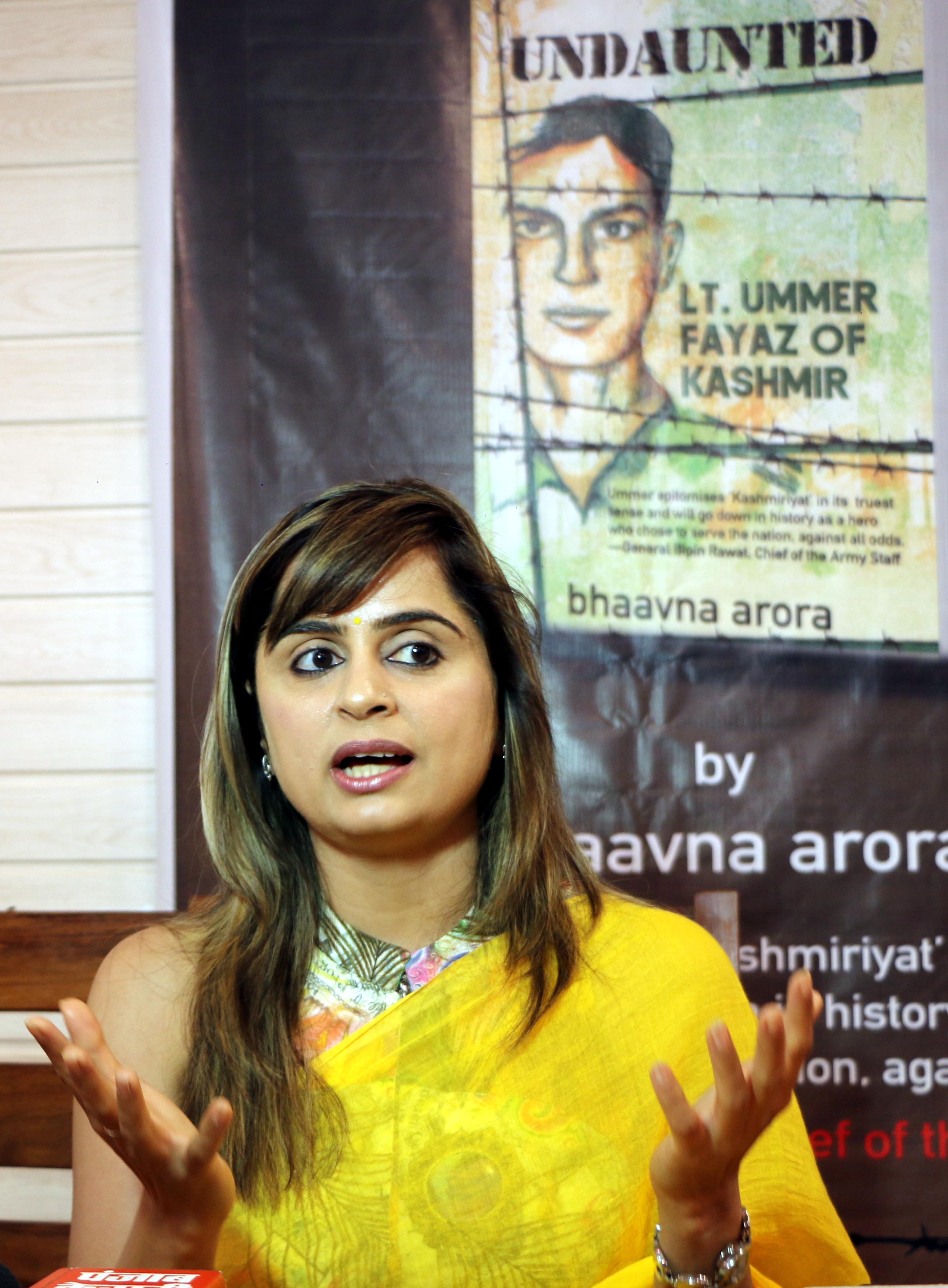 Army chief Gen Bipin Rawat, in a foreword in the book, says, "Ummer epitomises 'Kashmiriyat' in its truest sense and will go down in history as a hero who chose to serve the nation, against all odds."
Bhaavna Arora has three best-selling books to her credit—The Deliberate Sinner, Mistress of Honour and Love Bi the Way. Before a career as an author, Bhaavna headed a business school for a few years. The latent scribe in her could no longer be ignored and she now pursues her passion full-time.