Bigg Boss Tamil Vote (Season 7): Contestants List, Promo, Starting Date: Bigg Boss Tamil Season 7 season is on its way! Every season is getting bigger and more entertaining.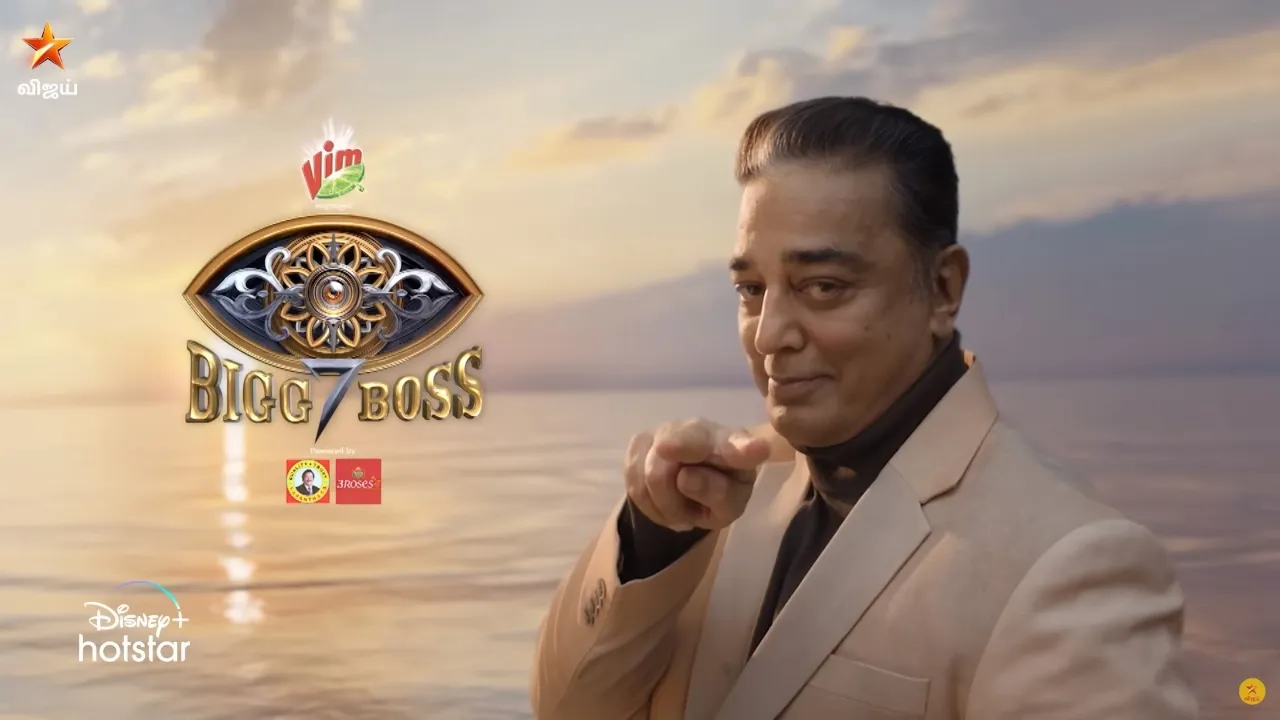 The star attraction of Tamil Bigg Boss is Kamal Hassan, and he will continue as the host in season 7 too. The exciting part is the contestants' list because the show completely depends on the individual characteristics of the participants.
So check out the names of predicted contestants. You might come across your favorite celebrity's name.
Bigg Boss 7 starts on 8th October 2023 after the Super Singer Junior season 9 wraps. Bigg Boss will be telecasted on Star Vijay at prime time 9.30, and you can also watch the show on Disney plus Hotstar. On Hotstar, you can watch live, which means unedited footage of the show.
Watch the latest promo of Bigg Boss Tamil Season 7 featuring Ulaganayagan Kamal Haasan
Bigg Boss Tamil Season 7 Contestants List
Here is the prediction list of Bigg Boss Tamil season 7. There are some YouTubers (social media influencers), and commoners are been a part of this season.
| | | |
| --- | --- | --- |
| Contestant Name | Profession | Status |
| MaKaPa Anand | Anchor, Actor | Safe |
| Uma Riaz Khan | Actress | Safe |
| KPY Sarath | Comedy Artist | Safe |
| Bhavana | Anchor | Safe |
| Bayilvan Ranganathan | Reporter, Actor | Safe |
| Rekha Nair | Actress | Safe |
| Manisha Yadav | Actress | Safe |
| Roshini Sridharan | Actress | Safe |
Complete Details of Bigg Boss Tamil Season 7 Contestants
MaKaPa Anand
Ma.Ka. Pa Anand is a pet of star Vijay television and does not need any introduction among the Tamil audience. If Ma.Ka.pa is in the show, it will be entertaining for sure. Last season, he entered the Bigg Boss house to meet Priyanka Deshpande, and that episode won millions of hearts for the bonding between Priyanka and Ma Ka Pa.
Uma Riyaz Khan
Uma Riyaz Khan is an actress and the wife of famous actor Riyaz Khan. Uma Riyaz is known for her quirky sense of humor, and she is so good at imitating art. Recently she has participated in another popular Vijay TV show called Cook With Comali. Her son Shariq participated in the first season of Bigg Boss.
KPY Sharath
KPY Sharath is known for his mimicry talent, and he made his television debut through Kalakka Povadhu Yaaru's show. He made an impression as he is too perfect for imitating popular actor Motta Rajendran. And he was seen with shaved head throughout the show.
Bhavana
Bhavana is also a personality from Vijay television, and she is popular for her flawless looks and her anchoring talent. He was anchoring the show called Super Singer before. And she will be often seen on Star Vijay's sports channel as an anchor.
Bayilvan Ranganathan
If Bayilvan Ranganathan participates in the show, it is going to be super entertaining because he continuously makes videos against popular celebrities and derogatory remarks against female celebrities. So the show is on!
Rekha Nair
Rekha Nair is a popular Tamil anchor and actress who works in the Tamil industry. Recently she performed a bold character in Parthiban's Iravin Nizhal. She is an expert in Yoga and is known for her flawless speeches and her bold reaction. She once reacted to Bayilvan Ranganathan's derogatory remark, and both of them fought in a public place. If Bayilvan and Rekha meet in the show, oh my got, it's going to be a double dhamaaka for the Bigg Boss audience. Can't wait to get the official confirmation about this duo.
Bigg Boss Tamil Season 7 Nominations (This Week)
Bigg Boss Tamil nomination process will be held every week on Monday. Contestants will select their fellow housemates to face the public vote for the eviction.
Bigg Boss Tamil Season 7 Eliminations
The elimination process will be done based on online voting results. The contestant who receives a lesser number of votes will get evicted from the house. The host, Kamal Haasan, will announce the result every weekend (Sunday).
Bigg Boss Tamil Vote Season 7
Like its previous season, you can cast only 1 vote per day on Hotstar. Here are the details of the Bigg Boss Tamil season 7 online voting process and results. Two types of voting can be done to save your favorite contestant: Hotstar (online vote) and missed call voting.
How To Vote Bigg Boss Tamil Contestants On Hotstar App
Follow these simple steps to cast your vote for Bigg Boss Tamil 7 contestants,
Step 1: Download the Disney+ Hotstar app or Visit the website.
Step 2: Log In with your account. If not, sign up using our Gmail or Phone number.
Step 3: Type "Bigg Boss Tamil Season 7" or "Bigg Boss 7 Tamil Vote" or "Bigg Boss Vote " or "Bigg Boss Tamil Vote."
Step 4: Click on the show banner that appears on the page.
Step 5: Now, you will see the nominated contestants of the particular week.
Step 6: Tap on your favorite contestant's photo to cast a vote.
Step 7: You can cast 1 vote per day.
Bigg Boss Online Voting Poll Timing
Bigg Boss Tamil online vote will start at 10:30 PM every Monday and end by Friday at 12 PM.
Bigg Boss 7 Tamil Full Details
A quick view of Bigg Boss Tamil Season 7 show,
| | |
| --- | --- |
| Show | Bigg Boss Tamil |
| Season | 7 |
| Host | Kamal Haasan |
| Number Of Contestants | 21 |
| Timing | 10 PM to 11 PM (Night) |
| Number Of Days | 106 Days |
| Streaming Platform | Disney+ Hotstar |
| Telecast Channel | Star Vijay TV |
| Genre | Reality Show |
| Start Date | 8 October 2023 |
| Winner | Azeem |
Bigg Boss Tamil Winners List
Here is the complete winners' list of the Bigg Boss Tamil show,
Bigg Boss Tamil Season 1 Winner – Aarav
Bigg Boss Tamil Season 2 Winner – Riythvika
Bigg Boss Tamil Season 3 Winner – Mugen Rao
Bigg Boss Tamil Season 4 Winner – Aari Arjunan
Bigg Boss Tamil Season 5 Winner – Raju Jeyamohan
Bigg Boss Tamil Season 6 Winner – Azeem
Bigg Boss Tamil Season 7 Winner – Yet To Be Updated
Bigg Boss Tamil Season 7 Start Date
The seventh season of Bigg Boss Tamil will be started on 8th October 2023.
What Is The End Date Of Bigg Boss Tamil Season 7
The show successfully runs for 106 days.
How To Watch Bigg Boss On Hotstar app?
You can watch the show on the Hotstar app or the website.
Download and Install Disney plus Hotstar on your device or visit the official website from your browser
Use the search option to find out about the Bigg Boss Season 7 Tamil Show.
Confirm the season, and you can watch the show daily.
From the search results, you can select and start streaming.
Bigg Boss Tamil Rules & Regulations
15 celebrities and 1 common person will contest for the title and prize money.
Contestants are required to detach from the normal world like mobile, technologies, family, entertainment, etc.
Bigg Boss Tamil contestants should follow the rules and tasks that are instructed by the makers.
Every week there will be an elimination process in which the housemates should nominate their fellow contestants.
The audience is the contestants' main saviors; they will cast their vote online, and the highest number of vote receivers will survive in the house. The contestant will get evicted who acquires the lesser number of votes.
Only three contestants will remain in the final week of Bigg Boss, and an online voting poll will be conducted to select the winner.
How Much Prize Money Did Bigg Boss Tamil Winner 7 Take Home?
The winner bag the huge trophy and will receive a prize of Rupees 50 lakh. According to sources, the other two finalists will win a cash prize of Rupees 2 lakh.
FAQs
When is bigg boss season 7 Tamil starting?
It starts on 8th October 2023.
Is Bigg Boss Tamil scripted?
Yes. As per sources, some of the tasks and events are scripted.
Where is Bigg Boss Tamil house located?
The grand set will be constructed at EVP Fim City, Chennai.
How to participate in bigg boss Tamil as an audience?
You should be a friend or a family member of the contestants. Or you should know anyone crew member. You will be allowed as an audience if you follow the show regularly and share genuine thoughts.
Is Bigg Boss 7 Tamil streams 24*7
Yes. You can watch it on Disney+ Hotstar.
On which channel Bigg Boss Tamil is available?
Star Vijay TV. Bigg Boss Tamil Season 7 only airs on Vijay Television.
What is the season number of the upcoming Bigg Boss Tamil?
It is the seventh season (7).