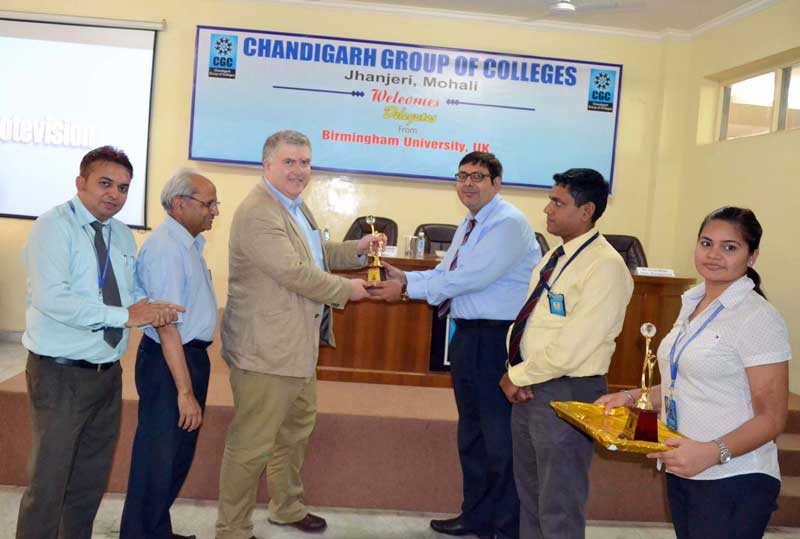 NewZNew (S A S Nagar) : Birmingham City  University organized a seminar at CGC Jhanjeri and interrelates international exposure to its students to explore Study placement opportunities abroad.Mr was key note speaker at the moment.
Large number of the students William Campbell, Senior Academic Director of International Recruitment, Birmingham City University Birmingham  of CGC, Jhanjeri participated in this session.  Mr. William informed students about various courses of Computer Science, Electronics & Communication Engg, Mechanical Engg and Civil Engg could take admission for their training and specialized studies in the fields of their interests like cyber security, networking, web designing, software development etc. He discussed about various openings for the students of Civil and Mechanical Engg also.
Dr. Jagdev Bhogal of Birmingham City University, UK explained the financial liability of the students, interested in studying at BCU, various scholarships available in BCU and Availability of part time jobs to meet their expenses partially.
Speaking on the occasion Rashpal Singh Dhaliwal President CGC said that students are keen to avail summer training to pursue specialized courses in foreign universities. Dr G.D. Bansal, Director General said at the moment that a full-fledged Department is set in Jhanjeri campus to provide them all the necessary information so that nobody can misguide or mislead the students.