NewZNew (Chandigarh) : BML Munjal University, founded by The Hero Group, announced that it has successfully placed its entire founding MBA batch (class of 2014-16). All 26 students received placement offers from prestigious organisations such as KPMG, Y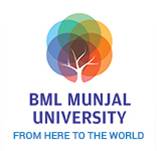 es Bank, Axis Bank, Amadeus, Siemens, TNS Global, Inlogsys Techno and Hero MotoCorp, amongst others.
The placement process saw participation from a large number of reputed organizations across various sectors. Students were offered jobs across various industries such as Banking, IT, Renewable Energy, Business Consulting, Market Research, E-Commerce, etc in roles pertaining to Finance, Marketing, Product Management, Consulting, Market Research, etc. Representatives of top MNCs came for campus placement and conducted various rounds of interviews and group discussions. The students performed very well and all 26 of them received their appointment letters much before completing the MBA program.
BMU commenced operations in August 2014 and this is the first batch of MBA students who have graduated. The students were selected for the MBA program based on a multi-dimensional selection process that took into consideration their performance in aptitude tests, academics, extracurricular activities, group discussions and personal interviews. In July 2015, 19 MBA students went for BMU's Global Leadership Module at Imperial College London to study modules on Leadership, Design Management, Business Models, and Bringing Ideas to Market; allowing them to gain important international exposure.
The MBA program at BMU has been designed to prepare students for long and fulfilling careers. The curriculum constitutes around 60-65% theory based learning and over 35% of experiential-learning. The structure further includes 'skill' and 'perspective' courses which enable students to acquire a vast array of life skills such as critical thinking, ethics, negotiation and conflict resolution, and broaden student horizons.
BMU has also completed an impressive summer placement program (Practice School II) for it's B.Tech students. The B.Tech batch has a total of 161 students who were offered summer internships with attractive stipends by over 100 prestigious companies. These include companies such asAirtel, Tata Steel, L&T, Carrier, Havells, DMRC, and many others. Practice School is BMU's unique mentored internship program. Spread over 3 modules, B.Tech students spend 31 weeks working with industry, spread over the four year program. Each student is assigned an industry and faculty mentor, who guide the student throughout the process. Practice School modules contribute significantly towards a student's final CGPA.
Congratulating both MBA and B.Tech students Akshay Munjal, President, BML Munjal University, said "We are overwhelmed with the 100% success in placement of our first batch of MBA students across diverse industry sectors. We are confident that our students will become future leaders in innovation and entrepreneurship, and carry forward the legacy of the institution. I am also certain that the B.Tech students will gain important industry skills and knowledge through their Practice School experiences."