Bunge India announces the re-branding of Gagan Oils to Gagan 'Activ': Gagan has enjoyed being one of India's oldest and most trusted brands for over 5 decades, and still continues to do so.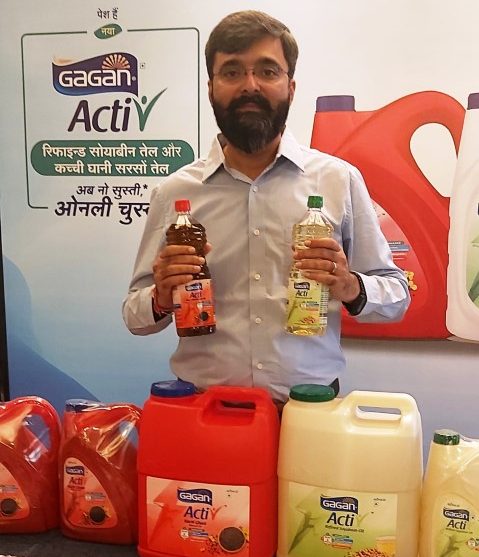 This heritage brand with the famous tag line- Khao Gagan Raho Magan, is one of the prominent players in most of the geographies that it operates. Being a household name, you can surely find it gracing kitchen shelves in almost every home, especially in northern India, owing to its affordability and unmatched quality.  
And to reach new heights, Bunge India is elated to announce the rebranding of Gagan Oils to Gagan Activ in its all-new avatar! The brand has refreshed the entire communication in order to appeal to its modern and evolved consumers. The oils, each consist of Activ 4 benefits that not only make them a healthy option to choose, but also will help keep you stay energised throughout the day.  
Bursting with pride, courtesy of the brand's new avatar, Mr. Milind Acharya, GM Marketing at Bunge India said, "Gagan is a loved household brand winning hearts of homemakers across the nation. With this re-branding we aim to further strengthen the trust and love for this brand while continuing our 50+ years' legacy in the Indian market. We believe that food uplifts your mood and takes you momentarily away from the routine life. But the same thing that indulges you, also may make you feel less active if it lacks essential fatty acids, vitamins, etc. Hence, you need food that keeps you Active hours after consumption. Gagan's Activ 4 benefits give your food essential fatty acids, oil soluble vitamins, etc. and hence, keeps you Active throughout the day. With Gagan Activ, Khao Gagan, Raho magan!"  
Gagan Activ comes in 4 popular variants of cooking oil. Household favourite Refined Soyabean Oil, boasts of 4 Activ benefits – Provides Vitamin A, D & E which are oil soluble vitamins required by the body, Low in Cholesterol, High in LFA and contributes significant proportion of good fats. The Kachi Ghani Mustard Oil, is another household favourite which also comes with its unique set of Activ 4 benefits. It contributes to a significant proportion of Alpha-Linolenic Fatty acid (ALFA) and records the one of the lowest saturated fatty acids as compared to other vegetable oils in India. Vitamin E in the cooking oil serves as an antioxidant for the body.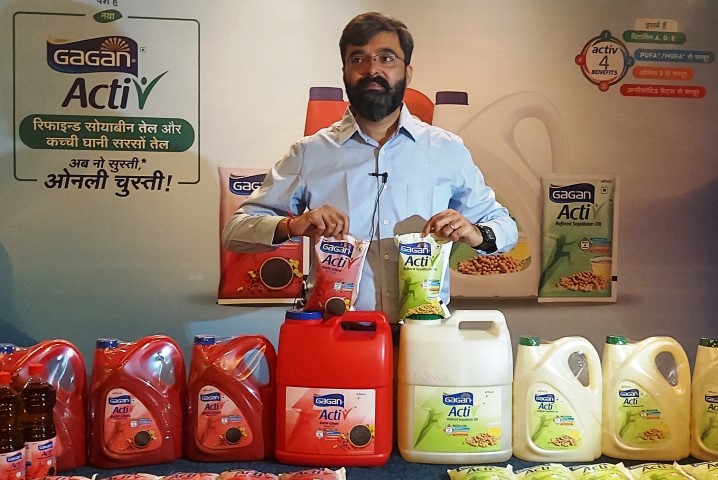 The other variants include Refined Sunflower Oil and Refined Groundnut Oil, which too come with their own sets of Activ 4 benefits each.  
Know More About Gagan
Gagan is one of the oldest brands in the Northern India. It is a heritage brand which has been in existence for 50+ years with the famous line- Khao Gagan Raho MaganGagan. Gagan operates in urban & rural areas of Greater Punjab (Punjab + Haryana + Chandigarh + HP + J&K) & UP. Gagan is available in Soybean oil, Sunflower oil, Groundnut oil, and Mustard oil. It has won hearts of housewives across the nation. Gagan as a cooking medium enhances the taste and flavor of food. It can be used for deep as well as shallow frying. We believe: Khao Gagan, Raho Magan 
Know More About Bunge India
Bunge India is a part of Bunge Limited which is – a leading global agribusiness and Food Company for over 200 prosperous years. Bunge India buys, sells, stores and transports oilseeds and grains to serve customers worldwide; processes edible oil products for commercial customers and consumers; and make ingredients used by food companies.