Cafe Delhi Heights gets grander in Chandigarh: The name that initiated the 'café' concept in India, with its pervasive, welcoming and amicable ambience, housing a well-travelled food and beverage menu 10 years back in the heart of Gurgaon, NCR appeases patrons from all generations and moods across its 25 outlets country-wide.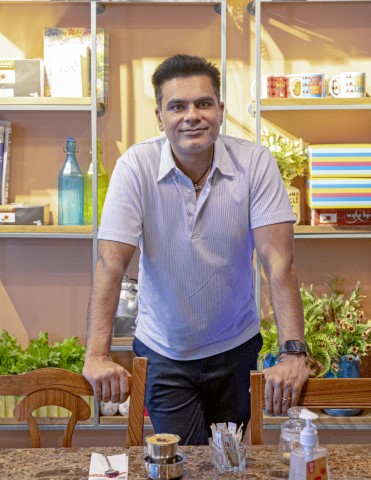 The Chandigarh Café Delhi Heights perched in Elante Mall, just got bigger spreading its space far and across in the Elante premises to cater to all their patrons with greater love and flavours.  The pioneer of café culture in India believes that innovation, right products, gratitude and consistent approach and attitude of its team, spearheaded by industry stalwart Mr. Vikrant Batra; are the key factors of its exceptional reception by the patrons.
He and his team are opening doors to a more massive Café Delhi Heights, grateful for the response and affection received from the vibrant city and people of Chandigarh.
From Cabanas for intimate quality times, solo-outings to quirky and comfortable seating, across the Café, the establishment is a zesty melange of tastes, gourmet with quirk, comfort and casual fun; through its food, beverages and vibe, in a larger format to the large-than-life crowd of Chandigarh.
Cafe Delhi Heights, an amalgamation of Vikrant's passion for Delhi and food. Witnessing nuances of hospitality from his age-old banqueting business, and his odysseys around the Globe, he gifted the country, a café, that would celebrate a true cosmopolitan spirit of Delhi-a café that plays the alleviating backdrop for light-hearted moments, cosy conversations, banter and memories while appeasing one's palate and senses.
He plans to take this legacy forward by making it a global venture. An Awardee of "Restaurateur of the Year – North Region" at the Indian Restaurant Awards 2017, he breaks the myth of cafes being a place just for coffee in India. For him, his goals were to present the city and country with flavours of our history that savour the tongue along with a casual concept, jovial ambience and prompt service.
He sheds light on his ideology of the café brand, I certainly am happy about the facts of Introducing Café Delhi Heights to India, which is Pioneer of lot many things in different ways. Right from Introducing Café Culture, to making it your every day happy place to bringing in the in Casual dining culture to introducing the casual attitude of Hi as greetings instead of Formal Good afternoons to introducing Juicy lucy burgers to introducing the simple elements like Number of Burgers sold on the Slates in Each outlets, We have pitched Cafe Delhi Heights as the one restaurant for City diners that offers Food for Each palate and Each generation, and after openig outlets at complete Delhi_NCR- we are happy to have one of our biggest outlet in Chandigarh as well. Our Menu has food for Each palate and one can choose from Burgers to Pizzas to Sharing platters to our very own Indian food, one will be happy as menu is huge.
Growing from a petite 24 people only team with 1 outlet at cross point mall, Gurgaon to 25 outlets and a 1000-member strong brigade across Delhi, Noida, Gurgaon, Chandigarh, Pune, Mumbai and opening soon in Jalandhar, Lucknow and more, Mr. Vikrant Batra is making Café Delhi Heights a happy place to unwind in the casual dining culture. It plays the amicable friend that warmly greets you with a Hi and hug more than a formal good afternoon.
Café Delhi Heights, Elante Mall, Third Floor, 178, Industrial Area Phase I, Chandigarh, 160002
Hours: 11am – 11PM