Celebrate Oktoberfest at Sahara Star : A Feast of Beer, Games, and Live Music!: Hello there beer enthusiasts! Hotel Sahara Star is thrilled to announce its first edition of the  most awaited event of the year – the Sahara Star Oktoberfest!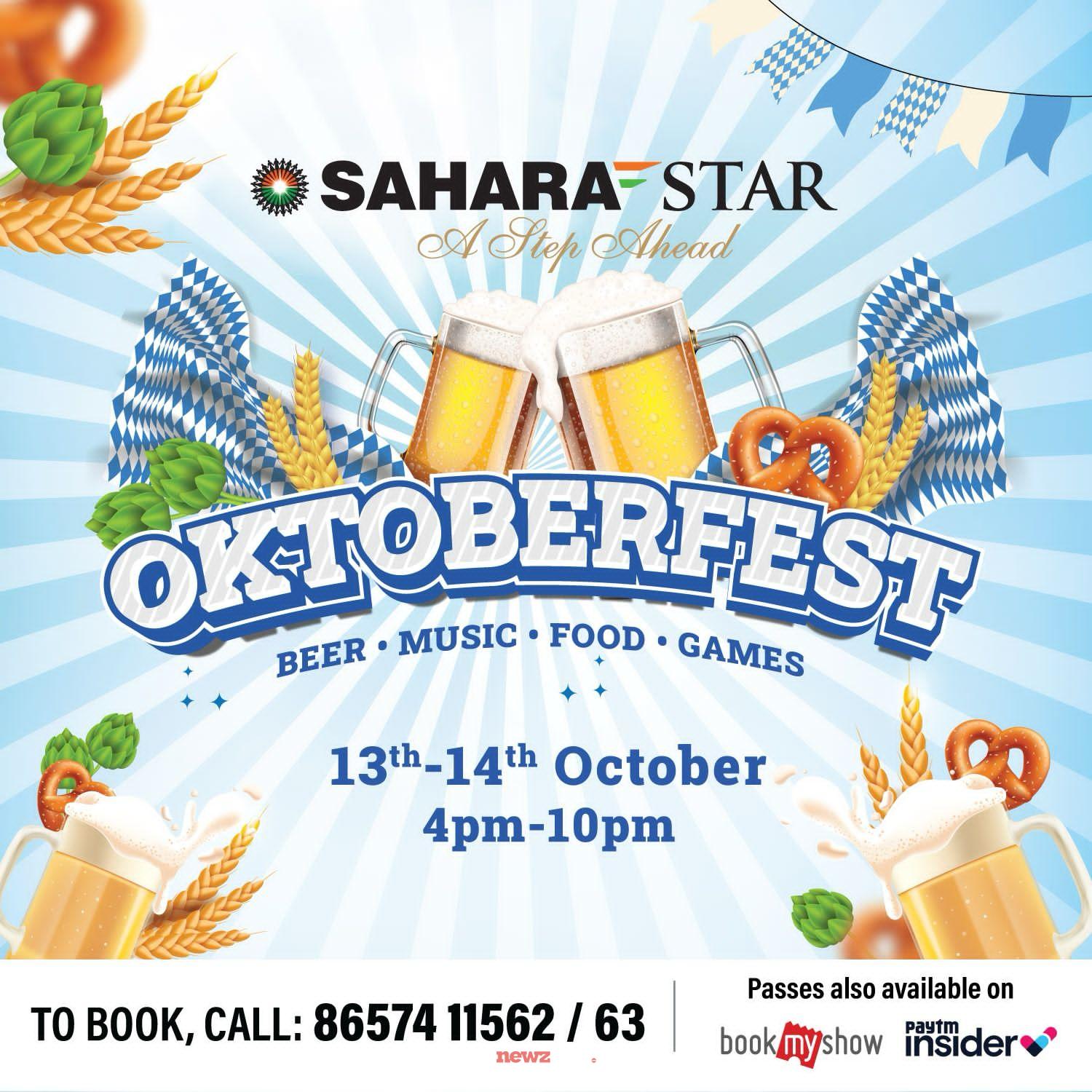 Mark your calendars for a weekend filled with hops, laughter, and unforgettable memories on the 13th and 14th of October from 4pm – 10pm.
Whether you're a seasoned craft beer connoisseur or simply enjoy sipping on a variety of beers from different brands and breweries, this event is perfect for you.
Prepare your taste buds for an epic journey through the world of beer! We've curated a stellar lineup of brands like Igloo, Wild Craft, Effingut, Hapi, Drifters, Bira, Budweiser, Kingfisher to name a few and more renowned breweries  that will tantalize your palate with a wide range of flavors and styles. A great beer also deserves great food, and we've got you covered. Indulge in a mouthwatering selection of culinary delights that will perfectly complement your beer.
The Sahara Star Beerfest isn't just about sipping brews – it's about creating unforgettable experiences. We've curated a diverse selection of entertaining games like Beer Pong, feed the Lion, Spin the Wheel and many other engaging activities, live musical performances and even a match screening on the 14th to keep the good times rolling. There's something for everyone to enjoy!
Join us at the Lagoon Area of the iconic Hotel Sahara Star, located in the heart of Mumbai, for two days of beer-filled bliss and embrace the spirit of Oktoberfest in style and luxury. 
Let's raise our glasses, toast to good times, and create lasting memories. 
For event details, ticket pricing, and updates, please contact – +918657411562/63 
Tickets are available online on BookMyShow and Paytm Insider.
Date : 13

th

 & 14

th

 October 2023

 

Time :

4

:00pm – 1

0

:00pm

 

Venue: H

otel

Sahara Star, Mumbai

 
Know More About Hotel Sahara Star
Sahara Star is one of India's most desirable destinations. The 5-star deluxe hotel strategically located near Mumbai's domestic airport magnificently blends Indian mysticism and culture, while personifying the country's progressive spirit blending peerless hospitality with ultra-modern technology.
Creating a paradigm shift, Sahara Star showcases the world largest-pillar-less- clear- to- sky dome, an architectural landmark blending hospitality and entertainment to cater to one of the most individualized hospitality experiences. Hotel Sahara Star features 354 well-appointed luxurious guest rooms with 25 elegant suites, 4 specialty restaurants with unique concepts and 1 inimitable journey.
Hotel Sahara Star brings together a sumptuous array of delicacies from across the Globe. The hotel features an unbelievable external façade made of glass and steel post completion. Here, the culture, mystique & hospitality of India blend with modern facilities & services to create the finest business and leisure hotel of the country.