Celebrated Green Consumer Day by cycle rally and plantation: Spread the message of clean environment: Maharishi Dayanand Public School, Daria in collaboration with Environment Department Chandigarh Administration organized a cycle rally on the occasion of Green Consumer Day and plantation in the temple premises.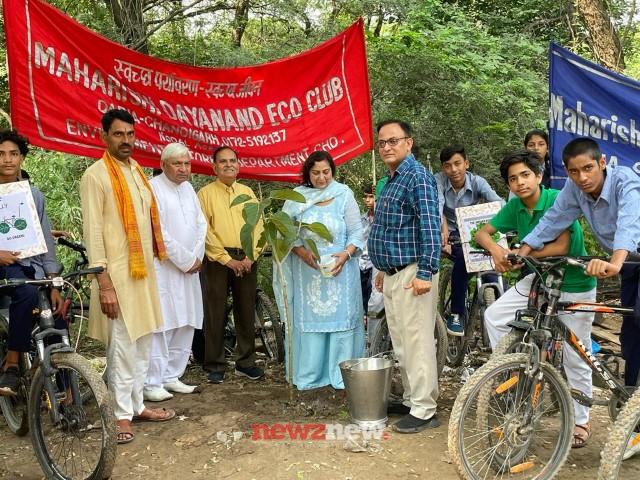 Most of the students of Eco Club participated in it. During this program a cycle club was also formed. Principal Dr.Vinod Sharma while highlighting the importance of bicycles to the students said that it keeps a person healthy. Today people are using vehicles to complete small tasks. The environment is getting polluted by the smoke coming out of it. Due to this people are suffering from many diseases.
He told the students that they should also use cycles in their daily life and during this they should use the cycle track. He said that cycling can save us from pollution. This will save money and will also control the import of petroleum products. During this, the students took pledge and said that they would use bicycles in future and would also motivate others by making them aware of its benefits.
The rally went through the main road and streets of the village. The students went to the village and told the people that they must also do cycling in their daily routine. He appealed to the people to cooperate in making the environment clean by planting more and more saplings.
After the cycle rally, students planted peepal, banyan and neem saplings in the Baba Balak Nath temple. On this occasion Prem Vij, President of Samvad Sahitya Manch, KK Sharda, President of Freedom Fighters Welfare Association, Dr. Sarita Mehta, who came from Vidya Dham America, gave impetus to the campaign to make the environment clean among the children and the surrounding people by planting saplings.
They said that trees are the basis of life. Life cannot be imagined without it. The said that only trees give us a clean environment. Trees are our true friends. Do not cut them but take care.
All living beings will be healthy only when the trees and plants are safe. School teachers were also present on this occasion. At the end of the program the Principal expressed his vote of thanks to the guests.