NewZNew (S A S Nagar) : Eighteen students CGC Landran designed solar car under the guidance of Campus Director, CGC Dr. Vikas Singh which is innovative projects as well as demand of the day. The design of the car is inspired from Bullet train. The Helios Solar Car is an eco-friendly drive with an average speed of 26 km/hr. This car Covered 100 km in 4 hrs with solar system during speed test process.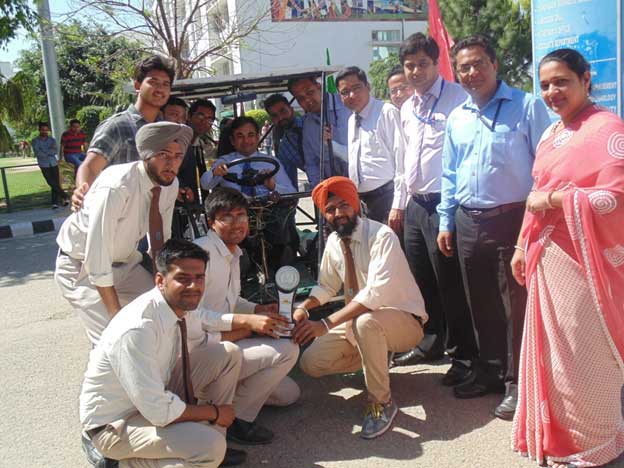 The car is powered by a DC motor of 850 watt, four lead acid batteries and four solar panels of 100 watt each. It has a loading capacity of 600 kg. The solar car also has a reversing mechanism.  The batteries can be charged by solar energy. The other features of the car are RFID, GPS & GSM Module and Parking sensors. The RFID system is similar to the system used in ATMs. A specific card is used to start the motor of the car. The GPS and GSM module works when the car met with an accident, the location of the car is sent to a registered mobile number of the driver's family and to the nearest hospital. Instead of a speedometer, the car has a discharge meter which shows the percentage of battery left.
Satnam Singh Sandhu Chairman CGC Rashpal Singh Dhaliwal President CGC motivated the students for conceptualization and execution of such innovative ideas. The management at CGC believes in the mission of empowering today's young generation to be tomorrow's leaders in innovation & entrepreneurship.