NewZNew (Chandigarh) : There is a new shining face in Punjabi music industry who has released his first big track.Pretty Bhullar have rocked the stage of Punjabi music industry with his latest track 'Chandigarh Di Police' labeled by Inject media and produced by The PropheC. The Music Director of the song is G S Kill and the Rapper of the song is LOC. The Video Director of the song is Jass Pessi.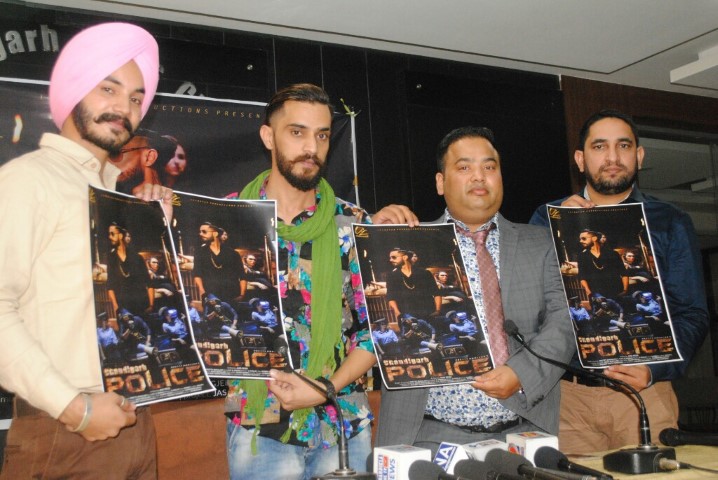 Jagjeet Singh Kahlon's Leinster Productions is an Irish based Music and Movie Production Company. Leinster is the biggest Provinces of Ireland. Dublin is also in Leinster and that's where the company is based. The company is about a year old. Manish Sadana is CEO Ireland, Jagtar gill Manager Ireland and Jas Boparai Gen. Manager Ireland and India.
Pretty Bhullar belongs to small village Mirpur in Distt. Mansa has released his solo Punjabi track Chandigarh Di Police. Pretty Bhullar, who has a number of awards to his credit, including a number of them as best lyrics in school and college. His first song as lyricist was Chandigarh diyakudiya was superhit song in punjabi Industry and it was first song of Actor/Singer Ammy Virk. Pretty Bhullar's song Verschae sung by Mankirat Aulakh, the dummy was leaked but was much liked by people. Recently his song Ignore sung by Harjot is going well in industry. But he is coming as a singer with his First solo song Chandigarh Di Police.
Pretty while interacting with media said, since the age of 9, he has been participating in various singing and dance competitions. Pretty said that he would like to connect to all kinds of audiences who are interested in youthful, soulful songs that give a message of life and love.
His next initiative would be to connect to the Punjabi audiences by trying his hand on a Punjabi number, Pretty informed the media, adding his desire is to continue contributing in the field of music by coming up with his own songs and also imparting education in the field. The track iswill be available for purchase on iTunes, Amazon, Facebook, Google Play, and Spotify.
Jagjeet Singh Kahlon said that we believe in the power of independent music not manufactured artists. We believe in the freedom of music and creativity. Raw music changes people, and we want to give artists tools that will empower them to make the music they love and give them the ability to take their careers into their own hands.We are bringing our international experience that will help local artists to spread their names worldwide.  I see how great artists are stuck with bonds with companies and those bonds are totally in favor of company. Poor artists get nothing. We are going to change that.
We are doing Diwali show in Ireland on 6th of November. Will send you photographs which is the upcoming project? We have some Punjabi songs and couple of English songs ready, hopefully we will release them soon as well. We are working on a Punjabi movie as well.All I want to say is we are a new but strong company and we are here to stay. I was a singer myself but due to lack of resources, I couldn't achieve my dream. I don't want this to happen to anyone. I would ask all new artists to feel free to contact us any time on our Indian or Irish contact numbers.