Chhattisgarh: PM Modi says Congress an obstacle in development; CM Baghel hits back: Prime Minister Narendra Modi on Friday attacked the Congress calling it a 'panja'  — an obstacle — in the development of Chhattisgarh.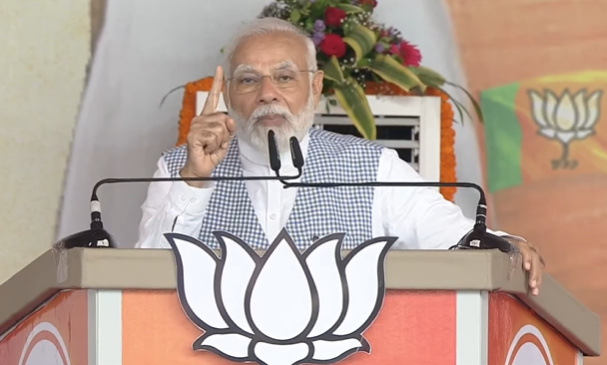 Attacking Congress, PM Modi claimed 36 promises were made by the Congress. "Five years have passed. The truth is Congress has done a liquor scam worth thousands of crores in Chhattisgarh. And its complete information is in the newspapers," he said.
He said, "This is the 'panja' of Congress, which is snatching your rights. This 'panja' has decided that it will loot and ruin Chhattisgarh."
Modi was on a visit to Chhattisgarh's capital Raipur where he inaugurated several projects and also laid the foundation stones for the upcoming projects.
He said that it is only the BJP which understands the people of Chhattisgarh and knows their needs. "Foundation stone and inauguration of projects worth more than Rs 7,500 crore have taken place in the state," he said.
However, the Chhattisgarh Chief Minister Bhupesh Baghel hit back at Modi saying his visit has started spreading lies in the state and BJP leaders are continuously misleading the farmers that paddy is procured with the money of the Centre.
"You are the Prime Minister. You know the truth. But you lied. This is the biggest lie in the name of farmers that the center takes 80 per cent of the state's paddy procurement. If the role of your government is this much in paddy purchase of the states, then why are farmers in your Lok Sabha constituency Varanasi forced to sell paddy at Rs.1000-1200 a quintals," Baghel asked.
The Chief Minister said that the BJP leaders of Chhattisgarh have given wrong information about the developments of Chhattisgarh.
"Every child in Chhattisgarh knows that we had taken an oath of Gangajal for loan waiver for farmers within ten days. The loan was waived off within two hours. But BJP's needle is still stuck. The BJP's never fulfilled promise of 'Rs 2100 a quintal' and 'bonus' is well remembered by the farmers. They also know what the Congress government is doing for them. Now no one can mislead the farmers of Chhattisgarh, not even Modi," Baghel said.