NewZNew (Chandigarh) : The ICC World Cup has started & Cricket fever is at an all time high. In keeping with this, Chilis Bar & Grill at Elante Mall, has announced the start of 'A Great Match', to give Cricket aficionados, a real feel of what's it like being at New Zealand & Australia. To achieve this, the Chilis Bar & Grill restaurant has been made into a cricket stadium – it's called the Chilis Stadium.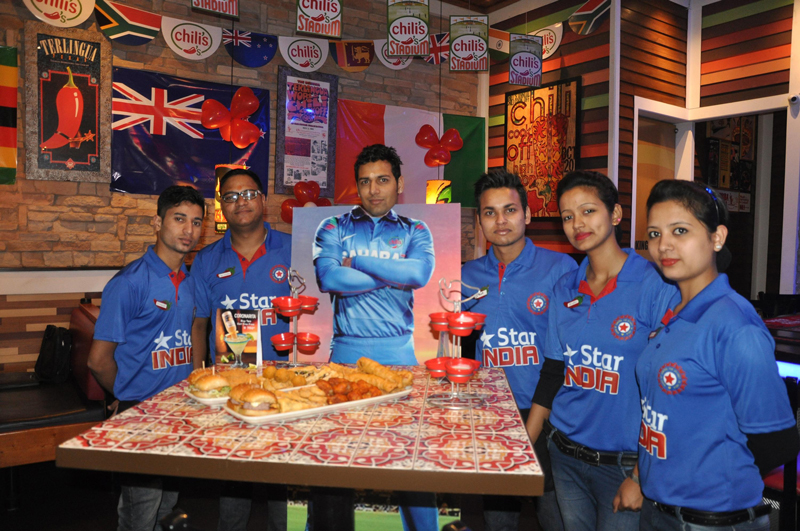 Says Mr. Siddharth Varun, GM (Ops), Chilis, Chandigarh, "Chilis, Elante Mall, has launched the fiesta which has a variety of memorable elements designed to capture the excitement of all the big matches till the grand finale on March 29.  The focus is on enjoying the World Cup together with your family, friends, office colleagues etc in a cricket stadium ambience. We have brought in a new menu which is based on the concept of enticing shareable platters. There is a new unbeatable Chilis Signature hand shaken Margarita that is being introduced with a twist, where-in, Corona Beer has been added as an additional ingredient. It is accordingly being called Coronarita."
To make watching the World Cup a little less taxing on the wallet Chili's has introduced platters that provide a heavy dose but are still light on the pocket.  The new platters are priced competitively between Rs 599 to Rs 879. The new menu introduced to celebrate cricket world cup are the Shareable Platter -Ultimate Dipper that has a Generous portion of your favorite dishes along with Chili's signature dips like  Honey mustard, ranch, jalapeno ranch etc. The Non-Veg platter has Southwestern Eggroll, Chicken Wings, Boneless Wings, Chicken Crispers, Country Fried Crispers, Burger Bites, Calamari while the Vegetarian one comes with a Southwestern Veg. Rolls, Texas Cheese Poppers, Cottage Cheese Bites, Quesadilla Bites, Onion Rings, Potatao Wedges, Veg. Burger Bites. Also available will be quesadilla platters. In addition there is always the  Non-Veg Chicken platter and the Veg cottage cheese & Cheese Mix Combo. And of course one could always opt for a Nacho Platter either Veg or Non-veg.
The experience of this festive environment created for friends & family is such that it can only be beaten by being at the matches themselves. Eight HD screens will bring the action straight to viewers & the stadium like ambiance which has Cricket World Cup written all over it, gives one a simulation that's really close to actually being in the stands of an ongoing match in New Zealand or Australia. The ICC World Cup décor at Chilis boasts of hanging pennants, banners, door clings and of course waiters with World Cup uniforms all of which make Chilis, Elante look like a Cricket stadium inside out. Participating country flags have been placed all across the restaurant which are adding to the feel of World Cup.
Sums up Mr. Varun, "We have placed an Indian player's cut out which gives visitors an option of getting clicked with the same."