NewZNew (Chandigarh) : To facilitate Indian businesses to grow globally, Confederation of Indian Industry Northern Region (CII NR) organised Session on 'Business Opportunities in Sharjah Airport International Free (SAIF) Zone' at CII headquarters today. Thomas Joseph, Sales Manager, SAIF Zone Authority and Jithin Varrier, Sales Officer, SAIF Zone Authority, highlighted business opportunities in Sharjah Airport International Free (SAIF) Zone for Indian businesses to grow.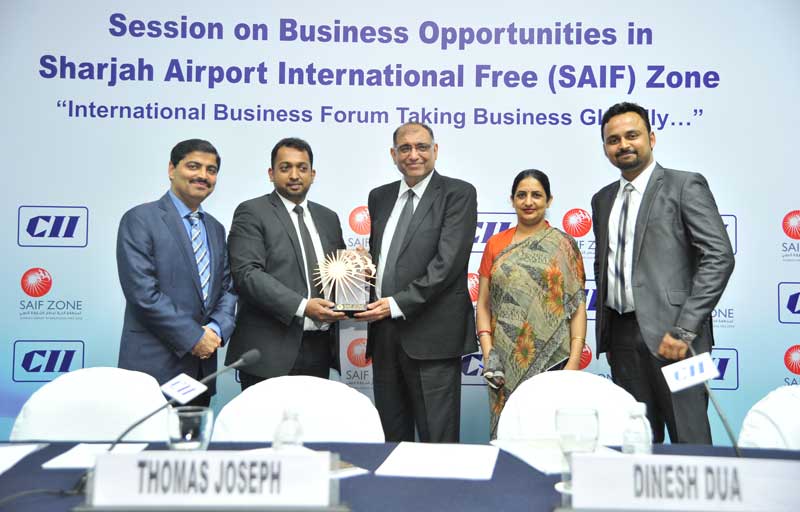 "Indians have emerged as important investors within the UAE and India as an important export destination for the UAE manufactured goods. India-UAE trade, valued at US$180 million per annum in the 1970s is today a US 60 billion dollar trade, making UAE, India's third largest trading partner for the year 2014-15 after China and the US," said Dr Dinesh Dua, Chairman, Chandigarh Council, CII NR.
"CII has been extending support to Sharjah Airport International Free Zone, Jebel Ali Free Zone, Dubai Tourism and Commerce Marketing to organise Road Shows in India to project the facilities made available by them for setting up manufacturing, assembling, distribution, warehousing, and branch office activities in the UAE. The free zone's 'one window' concept provides all administrative services under one roof. Equipped with the state-of-the-art facilities, the SAIF-Zone offers unbeatable trade incentives and unparalleled benefits to its investors making it the 'free zone of choice'. As a lot of members are looking at SAIF Zone to expand their businesses, we believe this would be a great session in understanding the nuances of Doing Business in the SAIF Zone," he added.
Thomas Joseph, Sales Manager, Sharjah Airport International Free (SAIF) Zone said, "SAIF Zone has seen India through the eyes of CII. The bond between the two countries goes deeper than business and has been beneficial and progressive for both nations. Sharjah being the third largest and most diversified economy in the UAE holds many opportunities for Indian investors. Merely 20 years old, SAIF Zone is the fastest growing free trade zone. Tax exemptions, world class infrastructure make it premiere destination for investment. Already SAIF Zone has 7,600 from 149 nations operating from there. With collaborative efforts, the future is ours to build together," he said.
Jithin Varrier, Sales Officer, SAIF Zone Authority said, "SAIF Zone provides every possible facility for businessmen to set up their enterprise in UAE. Facilities range from tax and duty exemptions to all getting clearances within 24 hours, multiple license facilities, access to billions of consumers etc. SAIF Zone also provides natural advantages like access to three ports for investors to set up businesses in UAE."
They also answered questions from delegates.
"Extensive opportunities exist for India-UAE collaboration, especially with SAIF Zone in a wide array of sectors, whether it is through enhancing trade flows, making investments, engaging in joint research partnerships, starting green-field or establishing joint ventures. Both countries must relentlessly pursue the bilateral agenda – at not only the government and private sector level, but also in terms of building public-private partnerships. Concrete steps need to be taken to build a multi-dimensional collaborative framework that leads to sustained economic growth and job creation for both countries, translating into a truly win-win partnership," said Rohit Grover, Vice-Chairman, CII NR, Chandigarh Council.