Indian Green Building Council (IGBC) awarded platinum rating to Homeland Heights, Mohali under IGBC Green Residential Societies. The Plaque and Certificate were handed over by Ar Jit Kumar Gupta, Chairman, IGBC Chapter and Mr S Raghupathy, Deputy Director General, CII to Mr Umang Jindal, Managing Director, Homeland Heights at CII NR HQ Chandigarh.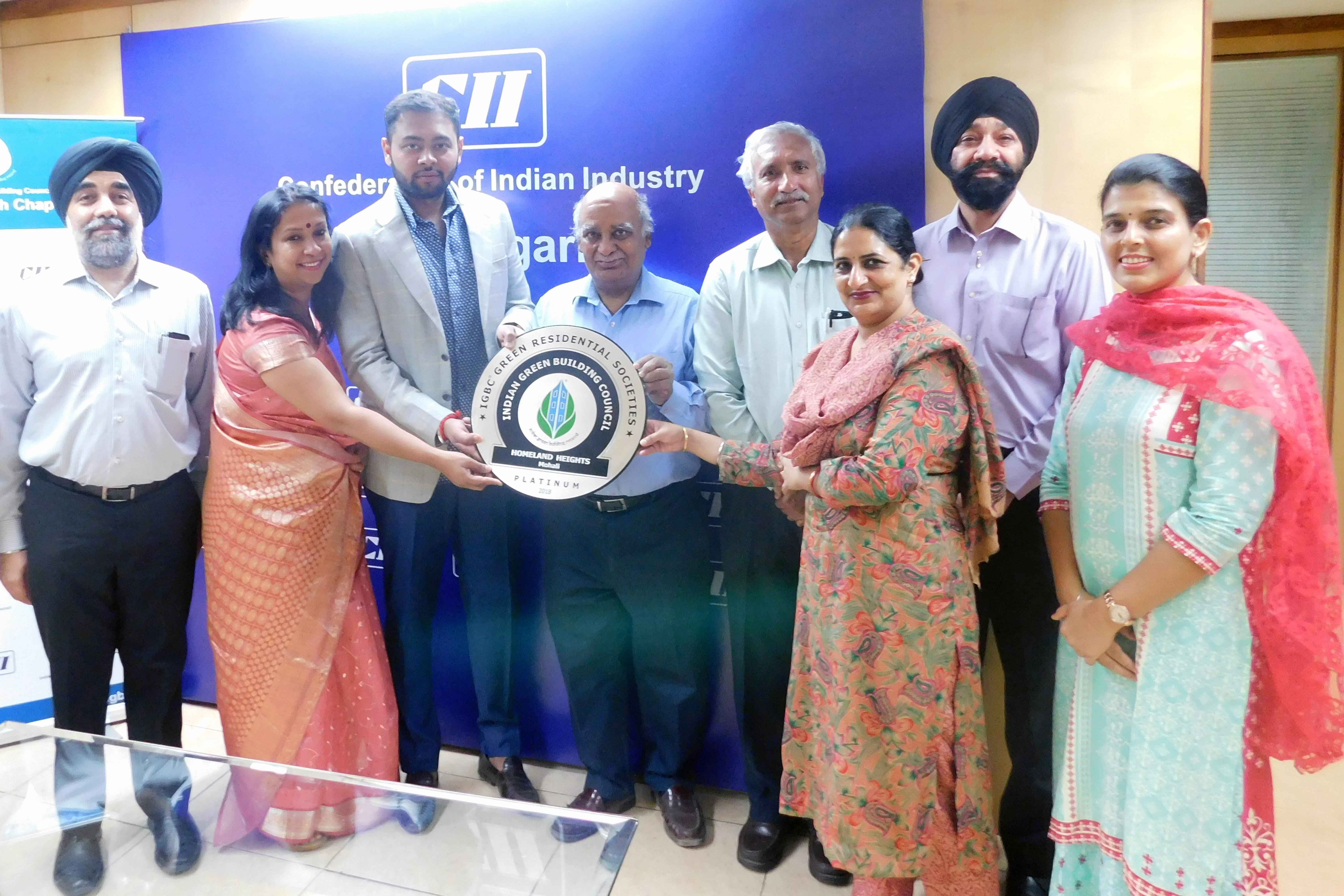 IGBC – a part of Confederation of India Industry (CII), aims to enable a sustainably built environment for all and facilitate India to be one of the global leaders in sustainable building by 2025. IGBC Rating Systems for Green Building brings together a host of sustainable practices and solutions to reduce the environmental impact with an ultimate goal are to have a sustainable environment and conserve the country's resources.
With a modest beginning of 20,000 sq.ft., green built-up area in the country in the year 2003, today more than 4,573 Green Buildings projects coming up with a footprint of over 5.30 Billion sq.ft are registered with the Indian Green Building Council (IGBC), out of which 1374 Green Building projects are certified and fully functional in India. This growth has been possible with the participation of all stakeholders in the green building movement.
Speaking at the award ceremony, Ar Jit Kumar Gupta said, "This rating enables the project team to address national priorities like water and energy efficiency, reduction in fossil fuel usage, handling consumer waste, conserving natural resources, Enhancing green cover and biodiversity and these are the most important concepts that enhance occupant health, happiness and well-being".
"IGBC feels happy to have first platinum rated Green residential society at Mohali which should be taken as a role model for promoting the sustainable built environment in the region. The Example of Homeland heights are replicated by the Chandigarh administration and state of Punjab to make sure that all group housing societies whether existing or proposed should get them rated by IGBC. This will make tricity self-sufficient in Energy and water consumption. There is 20-30% reduction in Energy cost, 30-50% reduction in Water requirement and improved health & wellbeing of occupants. It makes a win-win situation for all to go green, he added.
Speaking on the occasion, Mr. Umang Jindal, Managing Director, Homeland Heights said "We are extremely happy and proud to have been awarded the prestigious platinum rating. At homeland heights, we understand the environment concerns like water efficiency, energy efficiency, handling of consumer waste and conserving natural resources. We sincerely thank IGBC for this appreciation and acknowledgement".
Some of the finest green building features which have been incorporated at Homeland include sustainable water practices, energy conservation, waste management, day lighting and fresh air circulation and ventilations in all areas. This is one of the highest ratings any residential society has received in this region for its green features", Umang added.