Students of Maharishi Dayanand Public School Daria, Chandigarh organized cleanliness campaign in collaboration with Environment Department. On this occasion, many students of Eco Club participated in cleanliness campaign jointly with the Sanitation workers of  village Panchayat Daria. Students wearing globs in their hands, went to the main streets and roads of the village with green and black colored dustbins. They went there and filled the garbage in  dustbins and threw it in the garbage rehri.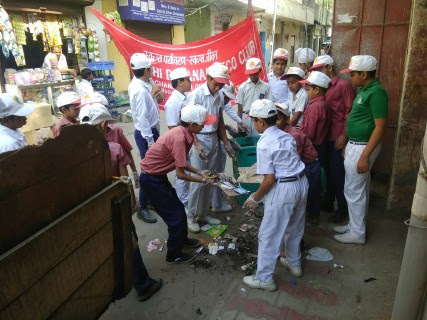 Principal Dr. Vinod Kumar said that the sweepers of Gram Panchayat Daria kept proper care in keeping the whole village neat and clean every day. Students showed a great enthusiasm in cleanliness drive. Enlightened by the school staff the students contributed a great deal towards keeping the locality clean and healthy.
Sarpanch of Gram Panchayat Daria, Gurpreet Singh Happy, expressed great pleasure at participating in the cleanliness drive by the students. He said that the people would also get inspiration from the step taken by the school. He urged people to use dustbins. Students of the school said that they were very happy to contribute to clean the village by participating in this Sanitation Campaign. They also motivated the villagers to keep their surroundings clean.