Cleopatra Pays an Ode to the Most Fashion-forward and Stylish God Lord Radha and Krishna: This was a celebration of enchanting beauty that endures, eternal love, and the essence of the divinity of LORD RADHA & LORD KRISHNA, who is admired and known to be BHUVAN SUNDARA, the most beautiful, fashion-forward, and fashion aficionados.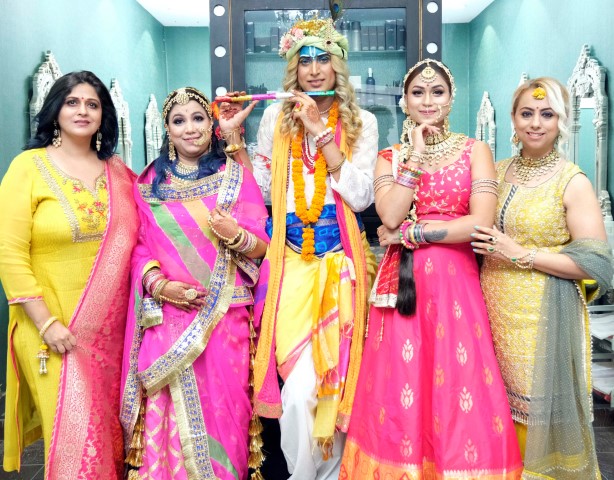 Richa Aggarwal, beauty and makeover expert, Cleopatra chain of spa and salon, paid an ode by unleashing" NIRVANA", A preview that celebrated beauty that endures enchanting beauty, the essence of the divinity of the LORD RADHA & LORD KRISHNA. Inspiration drawn from the spiritual makeovers is going to set the tone for bridal looks for the forthcoming season as well.
By curating makeovers and looks of the divine era Richa transported everyone to the era of spirituality and divinity and gave a glimpse of the all-round makeup palette of the most stylish and fashion-forward God At the same time she tried to borrow and take a cue from their style and makeover sensibilities and the way they innovated and fashioned their appearance.
"I feel blessed to showcase "NIRVANA" today which is dedicated to most beautify GOD Radha Krishna, and there was no better occasion than the occasion of Janamashtami.
We aim to transport you to the era of the most stylish and fashion-forward God Whether it's their elaborate headgear or pagadi work which is done with jewelry, peacock feather and flowers, intricate ornamentation and artwork on their feet, and beautiful work of embellished bindis applied on their forehead all contributing to auspicious looks, we have tried to retain the originality of the looks of the divine era while adding a touch of contemporary finesse.
I feel really happy to see everyone soaked in the spirit of Janamashtami and also connecting the young generation with their roots always becomes very overwhelming for me, and today we at Cleopatra chain of salon and makeovers have endeavored to connect everyone with fineries of fashion from the divine era.
Through this event, a tribute was paid to inspiring attractive and captivating spellbinding appearance and fashion artistry done by lord Krishna.