Special seminar held on balanced diet for animals, dairy farming
Experts give tips to the dairy farmers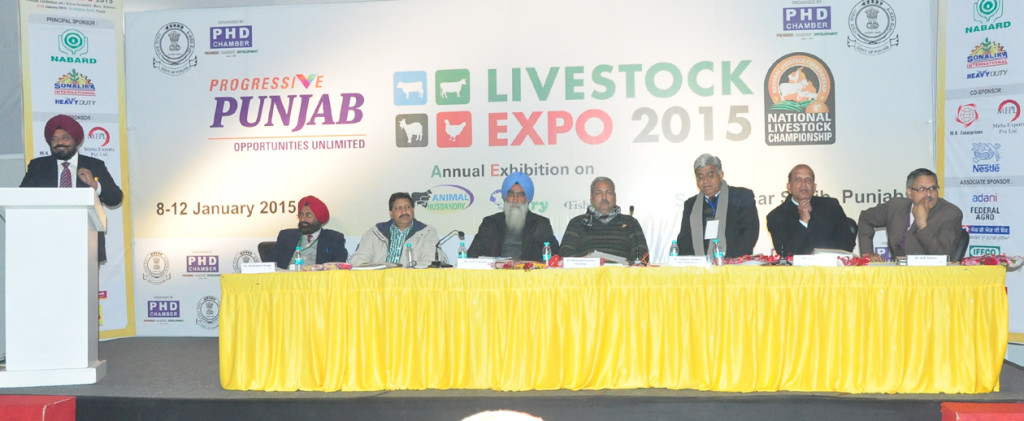 NewZNew (Sri Muktsar Sahib) : The dairy farmers were given tips on gaining maximum benefits from the dairy farming business by giving quality diet and good health of the animals in a session of seminars being held at the National Livestock Championship & Livestock Expo 2015.
The joint director animal husbandry department Amarjit Singh told participants about the subsidies government offers to set up and run dairy farms successfully. Seminar's chairman was Dr Mahesh Chander, the head of extension department from IVRI Izzat Nagar, while the co-chairman was joint director animal husbandry department Rajasthan Dr Subhash Godara. The panelists included Dr SS Dahia scientist from Hisar, Dr AK Verma director Center of Advance Training in Animal Nutrition IVRI Izzat Nagar, Dr US Tiwana from PAU Ludhiana and Dr Rajesh Mann director animal husbandry department Rajasthan.

Dr SS Dahia from Buffalo Research Institute Hisar spokes about the availability of fodder for animals throughout the year and Dr A K Verma talked about the reasons behind the ready-made animal diet turning poisonous and the ways to prevent it. Dr US Tiwana talked to the farmers about  taking care of animal fodder for better milk production.
Seminar on commercial dairy farming
The commercial dairy farming has played a major role in development of Punjab and has a bright future. Speaking on this issue experts said that the state has seen a number of commercial dairy farms coming up and contributing towards milk production.
The chairman of seminar was Dr Inderjit Singh from CIRB Hisar. Dr Harish Verma from GADVASU Ludhiana and Dr A L Sainia from GADVASU Ludhiana gave information on commercial dairy farming. Dr Ajaib Singh Sooch from GADVASU and Sukhpreet Singh member Punjab Dairy Development Board, who successfully runs a commercial dairy farm, shared their experiences with the farmers present. At end of both the seminars the exerts answered farmers' queries.