Connect Broadband launches 'Khushiyo Ka Connection' Season 4: Connect Broadband, the leading Internet Service Provider(ISP) of Punjab, which is headquartered in Mohali has launched 'Khushiyo Ka Connection-Season 4' for its valued existing and new customers to make the Festival of Lights quite special for them.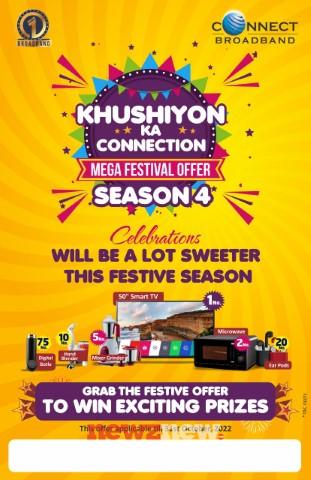 'Khushiyo Ka Connection- Season 4' is open for those who take a new Connect Broadband connection; one who pays the bills in advance, and one who does the payment before the due date through the Connect Broadband App. The offer remains live till 31st October 2022.
'Khushiyo Ka Connection-Season 4' offer comes along with an exciting list of more than 100 prizes. You can avail the benefits of the prize coupon that incorporates 50 inches LED TV, microwaves, etc. All the prizes will be given through a lucky draw after 31st October. Enjoy the top-notch speed of the internet without any interruption along with the stupendous gifts that you may win.
The Connect Broadband Punjab is a swift network and also promises more reliability and network capacity. Connect Broadband provides blazing-fast internet to the masses even to the places where there is the limited connection speed of the other wired broadband.