Cook With Comali Season 4 Today Episode Online (Epi – 23 & 24) | 22 April 2023: Cook With Comali Season 4 is running successfully on Star Vijay TV. It claims to be one of the most viewed shows on Tamil television.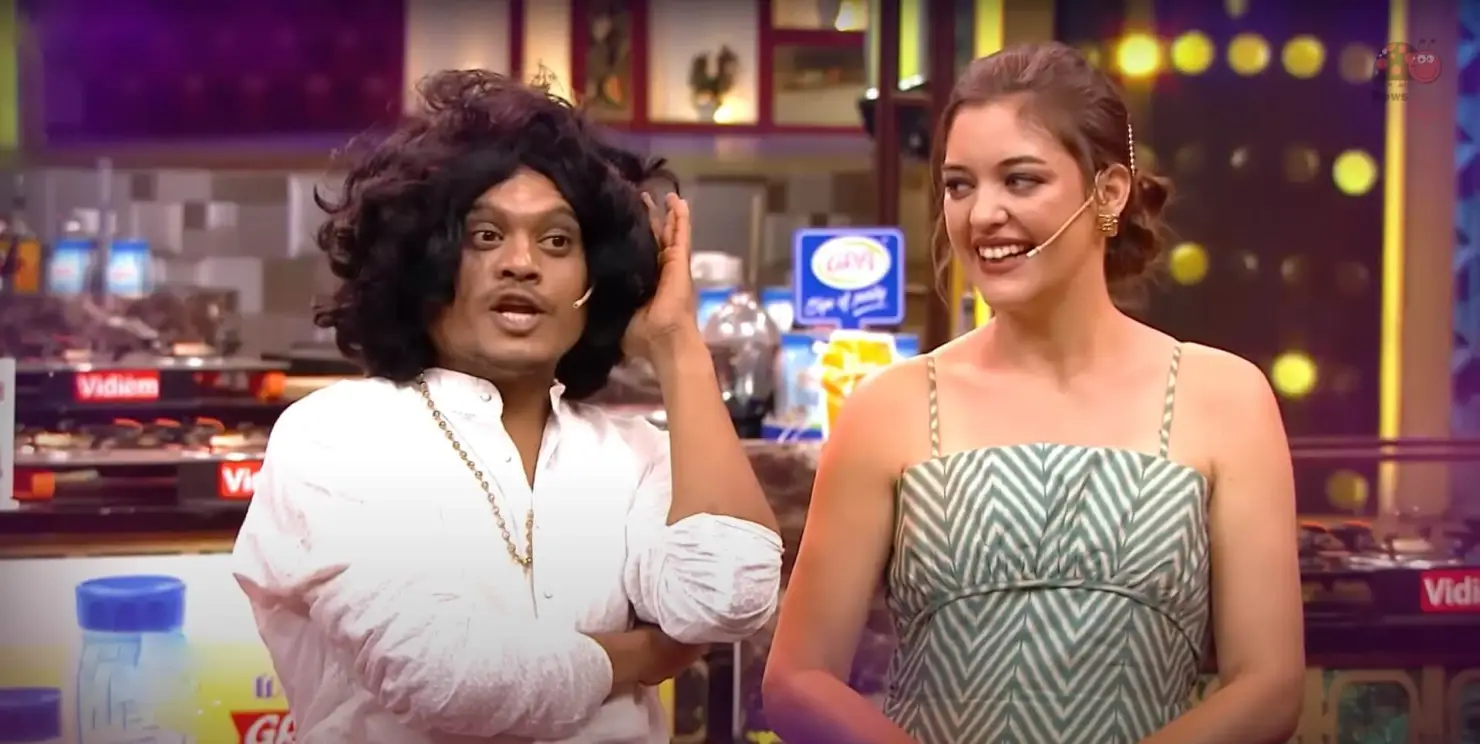 Hosted by Rakshan, the famous chefs Venkatesh Bhat and Damu are the judges of the show.
Highlights Of Cook With Comali Season 4 Today Episode
This week's episode is going to be completely serious, as all the cook has been pushed to the elimination round. The snatcher's round was won by the former CWC contestants, and all six cooks of CWC season 4 lost their immunity. Eventhough it was tough, our favorite comalis are trying hard to entertain us in this elimination week.
The episodes will be aired at 9 PM (Saturday and Sunday). If you are a super or premium user of Disney plus Hotstar, you can watch or download cook with comali season 4 Episode 17 before it airs on TV.
The previous episode of CWC Season 4 tops on the TRP rating list.
Cook With Comali Season 4 Today Episode Pairing
Mime Gopi – Kureshi (Mohamed Kuraishi)
Sherin – Tiger Thangadurai
Andreanne – Pugazh
Srushti – Sunita
Vichithra – Raveena
Sivaangi – Monisha
Cooks Of CWC Season 4
This cookery shows has 8 cooks that, include Srushti Dange, VJ Vishal, Vichithra, Sherin Shringar, Sivaangi, Raj Ayyappa, Andreanne Nouyrigat, Mime Gopi.
List of Comalis in CWC Season 4
The comalis of this season are Pugazh, Sunita, Mohammed Kuraishi, Tiger Thangadurai, Singapore Deepan, Monisha Blessy, GP Muthu, Raveena, and others.
Watch Cook With Comali Season 4 Today Episodes Promo
Cook With Comali Season 4 All Episodes
| Number Of CWC Season 4 Episodes | Title Of The Episodes | Release Date | Eliminations |
| --- | --- | --- | --- |
| CWC S4 Episode 1 | A Grand Opening | 28 January 2023 | |
| CWC S4 Episode 2 | Honing Culinary | 29 January 2023 | |
| CWC S4 Episode 3 | Fun Filled Cooking Task | 4 February 2023 | |
| CWC S4 Episode 4 | Biryani Challenge | 5 February 2023 | |
| CWC S4 Episode 5 | The Elimination Week | 11 February 2023 | Kishore Rajkumar |
| CWC S4 Episode 6 | Kavin Graces The Show | 12 February 2023 | |
| CWC S4 Episode 7 | Immunity Task Round | 18 February 2023 | |
| CWC S4 Episode 8 | Parotta Salna Task | 19 February 2023 | |
| CWC S4 Episode 9 | Hansika Graces The Show | 25 February 2023 | |
| CWC S4 Episode 10 | Madras Special Task | 26 February 2023 | |
| CWC S4 Episode 11 | Traditional Round | 4 March 2023 | |
| CWC S4 Episode 12 | A Fun Ride | 5 March 2023 | |
| CWC S4 Episode 13 | Puffed Rice Balls Making Round | 11 March 2023 | |
| CWC S4 Episode 14 | The Elimination Week | 12 March 2023 | Kaalaiyan |
| CWC S4 Episode 15 | All Aboard The Laughter Express | 18 March 2023 | |
| CWC S4 Episode 16 | South Indian Special | 19 March 2023 | |
| CWC S4 Episode 17 | The Elimination Week (Road Shop Challenge) | 25 March 2023 | |
| CWC S4 Episode 18 | Elimination Round | 26 March 2023 | Raaj Ayyappan |
| CWC S4 Episode 19 | Murukku Making Round | 1 April 2023 | |
| CWC S4 Episode 20 | Dairy Products Challenge | 2 April 2023 | |
| CWC S4 Episode 21 | Squueze The Pomegranate | 8 April 2023 | |
| CWC S4 Episode 22 | A Tough Task for Comalis, cooks | 9 April 2023 | VJ Vishal |
| CWC S4 Episode 23 | Snatchers Round | 15 April 2023 | |
| CWC S4 Episode 24 | Yet to be updated | 16 April 2023 | |
| CWC S4 Episode 25 | Elimination Week | 22 April 2023 | |
| CWC S4 Episode 26 | Yet to be updated | 23 April 2023 | |
| CWC S4 Episode 27 | Yet to be updated | 29 April 2023 | |
| CWC S4 Episode 28 | Yet to be updated | 30 April 2023 | |