Dahi Handi organized on Janmashtami in Hanumant Dham: On the occasion of Shri Krishna Janmashtami, the festival was celebrated with a unique manner under the leadership of Neena Tiwari, President of Mahila Sunderkand Sabha, at Shri Hanumant Dham, Sector 40.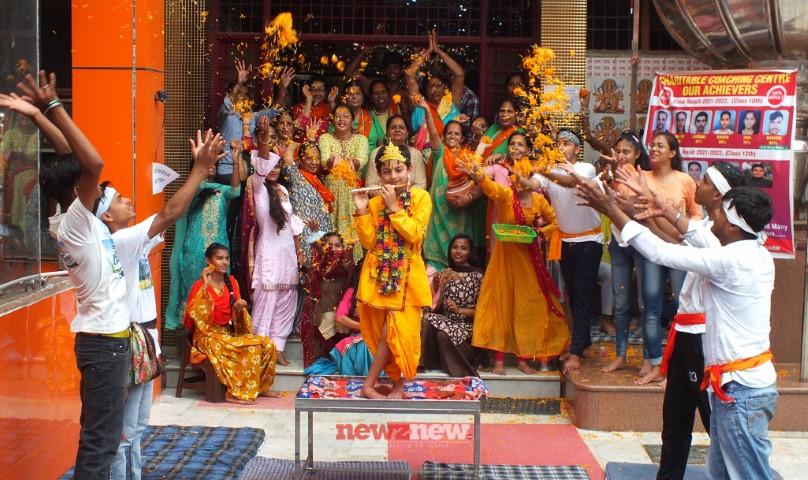 On this occasion the Dahi Handi program was organized in which school children and students of the computer institute participated enthusiastically.
Dahi Handi is an event where a clay pot filled with butter and yoghurt and other milk-based food items are hanged at a considerable height from the ground. Young boys from the communities and the neighbourhoods, then form a human pyramid and try to reach the pot or break the pot.
In today's programme, a pot was tied with a 25 ft high string, and was broken by the children climbing on each other's shoulders. The scene was very thrilling and exhilarating to watch and devotees continued to pour in at the temple.
Devotees sang beautiful hymns of Shri Krishna and danced enthusiastically. On this occasion Shri Humant Dham was decorated beautifully with lights.
Lord Krishna was adorned with clothes and ornaments after making attractive and charming makeup. Not only this, on this occasion children dressed as Radha-Krishna were seen taking a swing in the temple courtyard in a charming way.
On this occasion, the president of the meeting, Nina Tiwari said that this day is very holy, hence this day is celebrated with great reverence. Pal Sharma, Premlata, Usha Single, Kumud Tiwari, Alka Joshi, Deepti Bharadwaj, Sunita Anand, Gayatri Devi, Sarla were specially present in the program.