On Earth Day, DC Mohali Amit Talwar inaugurates RoundGlass Foundation's reforestation drive in Mullanpur: On Earth Day today, RoundGlass Foundation in association with Mohali district administration, started a plantation drive for setting up a Mini Forest in Mullanpur area, New Chandigarh.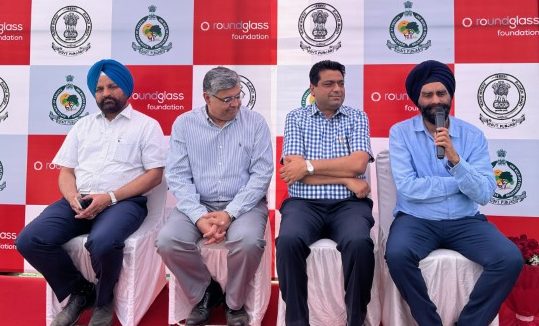 The occasion was graced by the Deputy Commissioner of Mohali, Mr. Amit Talwar, who inaugurated the drive by planting the first sapling. The RoundGlass Team and volunteers pitched in and planted a total of 2,000 saplings for this Mini Forest, the first of its kind in the Tri-City area.
Speaking on the occasion Mr. Talwar said, "On the occasion of Earth Day I am delighted to launch a tree plantation drive at Mullanpur. Through this Tree Plantation drive, we will plant 2,000 trees of various varieties, including those native to Punjab. This and more such initiatives will help to correct the ecological imbalances and help enhance the wellbeing of our planet. We are delighted to partner with RoundGlass Foundation for this initiative." The Deputy Commissioner also expressed his wish of collaborating with RoundGlass Foundation in the future to plant 100 more Mini Forests in Mohali district.
RoundGlass Foundation is a Punjab-based organization, committed to improving the lives of children, youth, and women, helping communities and the environment by making significant social, cultural, and economic investments in the state.
RoundGlass Foundation launched the Plant for Punjab initiative in 2018 to restore Punjab's green cover, which is currently less than four percent of its geographical area. The vision for the Plant for Punjab is to plant one billion trees in the state. The Foundation has already planted more than six lakh trees in around 500 Mini Forests in more than 700 villages in Punjab. 
RoundGlass Foundation Leader, Mr. Vishal Chowla, expressed his gratitude to Deputy Commissioner Mohali, Mr. Amit Talwar, for associating with the Foundation and lending support to its reforestation efforts. "With the support of the administration, we can undertake more such initiatives in the future and keep working towards the goal of a greener, more vibrant Punjab."
Elaborating on the Plant for Punjab initiative, Mr. Chowla added: "At RoundGlass Foundation we mobilize citizen power by creating partnerships with gram Panchayats and eco-clubs to introduce responsible and sustainable practices and help restore Punjab's green cover. Under this initiative, we are focussing on planting native trees of Punjab which are on the verge of extinction, such as Van, Peelu, Roheda, Desi Beri, Reru, and more."
Mini Forests are enhancing the air quality, preventing soil erosion, recharging groundwater, and aiding climate correction. These green spaces are also restoring habitats for birds and animals. Bird species such as small sparrows, parrots, white sparrows, owls, and baya weavers that had migrated from Punjab due to deforestation are now coming back, along with bees and butterflies, to these Mini Forests.