NewZNew (Election Special) :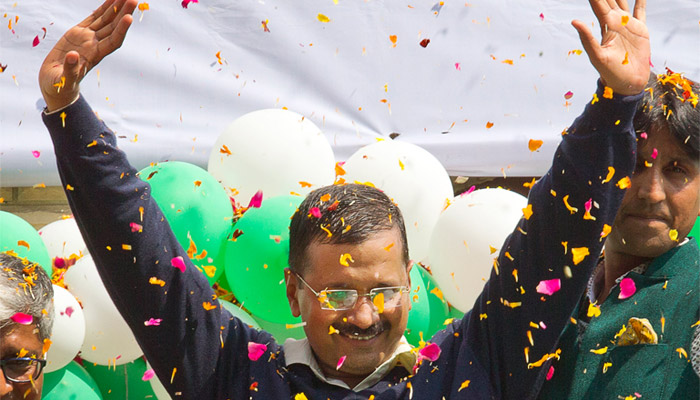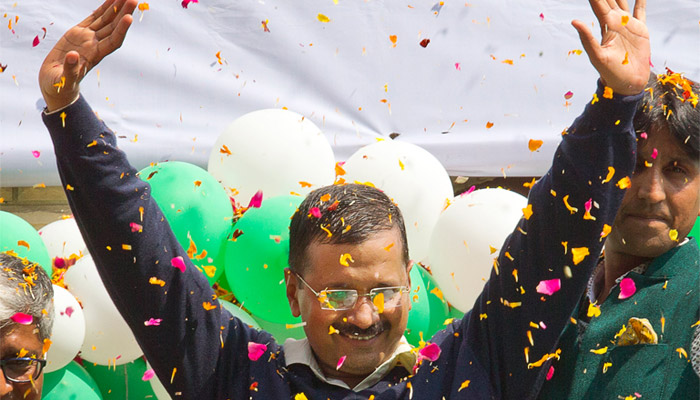 2:10 pm: Talking to Media, BJP's Delhi unit chief Satish Upadhyay said Kiran Bedi worked hard. "I respect the mandate given by people of Delhi."
1:55 pm: Arvind Kejriwal celebrating the victory with his family.
1:53 pm: Kiran Bedi tweets: 
1:50 pm: People wanted to teach BJP and its arrogance a lesson, they decided AAP is instrument of their choice rather Congress – Manish Tewari
1:41 pm: I thank the people of Patparganj and the people of Delhi for reposing faith in us, says Manish Sisodia of AAP
1:38 pm: AAP's victory march continues – Jagdeep Singh wins from Hari Nagar, Jarnail Singh (Tilak Nagar),  Adarsh Shastri (Dwarka), Surender Singh (Delhi Cantt), Praveen Kumar (Jangpura).
1:23 pm: It's official! Arvind Kejriwal will take oath as Delhi Chief Minister on February 14 at the Ramlila Grounds.
What is the reason behind AAP's victory in Delhi?
in Nation on LockerDome
1:17 pm: I remain a member of BJP, I'm happy to be a member of a strong national party – Kiran Bedi
1:04 pm: Full marks to Arvind Kejriwal and his team. His victory is the reward of five years of hard work by them – Kiran Bedi
1 pm: With folded hands, Kiran Bedi thanks voters of Krishna Nagar and party workers.
12:56 pm: I thank the BJP leadership which inspired me to take up CM candidateship, says Kiran Bedi
12:50 pm: BJP's rout is complete. Kiran Bedi loses  to AAP's SK Bagga from Krishna Nagar.
12:37 pm: Arvind Kejriwal wins New Delhi seat by a margin of over 27,000 votes.
12:35 pm: Essel Group Chairman Dr Subhash Chandra tweets:
12:32 pm: Senior AAP leader Gopal Rai wins Babarpur by a margin of more than 35,000 votes.
12:30 pm: BJP's Vijender Kumar wins Rohini seat by a margin of 5367 votes.
12:26 pm: Congress' Ajay Maken loses Sadar Bazar seat by a margin of 51,176 votes.
12:25 pm: AAP's Satyendar Jain wins from Shakur Basti with 51,530 votes.
12:22 pm: In a symbolic statement, AAP workers sweep street outside Kiran Bedi's residence.
12:20 pm: AAP's Alka Lamba wins from Chandini Chowk; Avtar Singh Kalkaji wins from Kalkaji seat.
12:10 pm: Latest figures (70/70) – AAP 65, BJP 4, Others 1, Congress nil.
12:05 pm: The latest vote share percentages explains the magnitude of Aam Aadmi Party's victory – AAP 71%, BJP 20%.
11:55 am: I am sure together with the people we can make Delhi a place, of which everyone will be proud – Kejriwal
11:47 am: Appeal to all my MLAs and our workers, do not be arrogant at all – Kejriwal
​Also Read: People of Delhi have done something amazing, says Arvind Kejriwal
11:45 am: This win is scary. The kind of support people of Delhi has given us, I would like to tell all workers not to be arrogant, says Kejriwal.
11:42 am: Arvind Kejriwal waves to his supporters amid loud cheer, congratulates people of Delhi. We moved ahead on the path of truth and won, says Kejriwal.
11:35 am: AAP's Ajay Dutt wins from Ambedkar Nagar.
11:30 am: A huge setback for BJP, we did not think of such huge defeat. The entire Congress vote shifted to AAP, this is the prime statistical reason, we will analyse, says Sudhanshu Trivedi of BJP.
11:20 am: Latest trends/results (70/70) – AAP 65, BJP 4, Others 1, Congress nil.
11:15 am: Arvind Kejriwal calls up Anna Hazare to seek his blessings.
11:10 am: First result – AAP's Narayan Dutt Sharma wins Badarpur by a margin of over 90,000 votes.
11:05 am: Arvind Kejriwal leading by 15,354 votes in New Delhi.
11:01 am: PM congratulated Arvindji over phone,he accepted his wishes and is likely to see PM in next 2-3 days, says Bhagwant Mann of AAP.
11 am: Latest figures at 11 am (70/70) – AAP 62, BJP 7, Others 1, Congress nil.
10:57 am: Prime Minister Narendra Modi assures full support to Arvind Kejriwal as CM. He tweeted:
10:50 am: I take responsibility for the defeat and have decided to resign as Congress general secretary, says Ajay Maken.
Also Read: Ajay Maken congratulates AAP, quits as AICC general secretary
10:45 am: Kiran Bedi back in lead in Krishna Nagar, leads by 866 votes.
10:35 am: Kiran Bedi tweets:
10:30 am: Aam Aadmi Party is headed for a absolute majority in Delhi. Latest trends at 10:30 am (70/70) – AAP 62, BJP 7, Others 1, Congress nil.
10:20 am: I hope Arvind Kejriwal does not make the same mistakes he made last time, says Anna Hazare
Also Read: Don't repeat your past mistakes; remain simple: Anna Hazare's advice to Arvind Kejriwal
10:15 am: Prime Minister Narendra Modi telephones Arvind Kejriwal, congratulates him on his victory.
Also Read: PM Narendra Modi congratulates Arvind Kejriwal, assures Centre's support to Delhi govt
10:10 am: Delhi Congress president Arvinder Singh Lovely sends his resignation to Sonia Gandhi, say reports.
9:58 am: Arvind Kejriwal to take oath as the next chief minister of Delhi on Feb 14 at Ramlila Maidan. The AAP government had resigned on the same date last year.
9:57 am: Jitender Singh Shunty of BJP leading from Shahdara, AAP's Ram Niwas Goel trailing by 670 votes.
9:53 am: "Priyanka lao desh bacahao" slogans go up outside Congress office in Delhi.
Also Read: Call for 'Priyanka lao, party Bachao' gets louder as Congress heads for a rout in Delhi
9:52 am: Former union minister Krishna Tirath who had joined BJP ahead of the polls is trailing behind AAP's Hazari Lal Chauhan by 6844 votes.
9:51 am: AAP's Seelampur candidate Mohd. Ishraque leading with 3592 votes followed by BJP's Sanjay Jain and Congress's Chaudhary Mateen Ahmad.
9:43 am: AAP's Imran Hussain leading from Ballimaran followed by BJP's Shyam Lal Morwal & Congress's Haroon Yusuf .
9:40 am: Results are not on expected lines, we will introspect on why people lost their faith in us: Shahnawaz Hussain, BJP.
Our votes are intact, but all Cong votes shifted to AAP,we are still hopeful: Shahnawaz Hussain,BJP.
9:30 am: Latest trends at 9:30 am (62/70) – AAP 53, BJP 10, Others 1.
9:29 am: The AAP has got a landslide mandate with over 52% vote share. The BJP has got 35% vote share.
9:28 am: Celebrations begin at AAP office in Delhi. Party leader Kumar Vishwas urges party workers to remain humble.
9:26 am: AAP's Vishesh Rai from Karol Bagh leading, BJP's Yogender Chandoliya trailing by 3304 votes.
9:24 am: AAP's SK Bagga leading against Kiran Bedi from Krishna Nagar by 282 votes. BJP leader Jagdish Mukhi trailing by 1073 votes in Janakpuri.
9:15 am: Delhi has voted decisively in favour of Arvind Kejriwal-led Aam Aadmi Party in Delhi Assembly Election 2015. As per the latest trends at 9:15 am, of the 70 assembly constituencies, the AAP is past the halfway mark with leads in 41 seats, the BJP is a poor second with 10 seats and the Congress has been decimated at 3 seats.
8:58 am: AAP's Kartar Singh Tanwar, Naresh Baliyan, Saurabh Bhardwaj, Adarsh Shastri leading in Chhatarpur, Uttam Nagar, Greater Kailash, Dwarka. Party candidates are also leading in Seelampur, Babarpur, and Karawal Nagar among others.
8:51 am: Ajay Maken trails behind AAP's Som Dutt in Sadar Bazar constituency.
8:50 am: We hope results are better than exit polls, trends show that Delhi wants an honest govt, says Manish Sisodia
Also Read: Delhi wants honest government: Manish Sisodia
8:48 am: Even if we get two seats, it is better than what exit polls predicted, says Congress' Ajay Maken.
8:38 am: AAP's chief ministerial candidate Arvind Kejriwal leads in New Delhi seat.
Also Read: Delhi polls results: Kejriwal leads in New Delhi constituency
8:34 am: New leads – Kulwant Rana (BJP) leads in Rithala, Surinder Singh of AAP leads in Delhi Cantt. AK Walia, former health minister in Sheila Dikshit cabinet, leads in Laxmi Nagar.
8:31 am: BJP's CM candidate Kiran Bedi leads in Krishna Nagar.
8:30 am: Latest trends at 8:30 am – 12/70: AAP 6, BJP 6.
8:27 am: Sitting MLA Manish Sisodia ahead in Patparganj.
8:23 am: BJP's Karmveer Singh Chandel and AAP's Sarita Singh leading in Seemapuri and Rohtas Nagar respectively.
8:20 am: Former law minister in AAP government Somnath Bharti leading in Malviya Nagar.
8:18 am: We will win today, says AAP leader Kumar Vishwas.
8:17 am: CP Mittal of Congress leads in Hari Nagar.
8:15 am: AAP's Ved Prakash leads in Bawana.
8:14 am: BJP veteran Jagdish Mukhi takes early lead in Janakpuri seat.
8:12 am: First trends: Vijender Gupta of the BJP leads in Rohini; AAP's Rakhi Birla ahead in Mangolpuri.
8:05 am: Most of the results would be out by 11:30 am: CEC HS Brahma to a news channel (Delhi has 70 assembly seats).
8:03 am: Arvind Kejriwal leaves from his residence in Ghaziabad for Patel Nagar office where party workers are already celebrating the possible win of AAP in the assembly polls.
8 am: Counting of votes for Delhi Assembly Election 2015 began at 8 am across 14 centres in the national capital. Both the Aam Aadmi Party (AAP) and the Bharatiya Janata Party (BJP) are hoping for a win even as the exit polls overwhelmingly predicted a win for the Arvind Kejriwal-led party.
The Congress appears reconciled that it will finish third and party leaders are hoping its tally is not worse than eight it won in the 2013 election.
According to the exit polls, the AAP was likely to get between 31 and a staggering 54 seats while the BJP could bag 17 to 35 seats. The Congress, which ruled Delhi for 15 years till December 2013, would win at most four seats, they said.
Analysts are saying that the results in Delhi will have wider political ramifications, particularly for the BJP, which has had a good electoral run since the Lok Sabha elections in May last year.
Stages have been erected outside the AAP office in East Patel Nagar for the media and volunteers. Four LED televisions sets have been installed in the open by AAP for workers to see trends and results. Kejriwal is expected to arrive at party headquarters in the afternoon to address people.
In its maiden election December 2013, the AAP stunningly won 28 seats compared to 31 of BJP and formed a government with Congress backing after a hung assembly. The AAP government resigned after 49 days.
BJP's chief ministerial candidate Kiran Bedi, who Monday addressed BJP workers at Karkardooma in her Krishna Nagar constituency and expressed gratitude for their support, said the party was expecting a victory.
Over 10,000 security personnel, including from the paramilitary forces have been guarding 20,000 electronic voting machines (EVM) which contain the votes cast in Delhi on Saturday, February 07.
Delhi saw a voter turnout of 67.14 percent Saturday and 673 candidates are in fray. Polling had taken place at 12,177 polling stations, of which 714 were identified as "critical". Of these, 191 were "highly critical".
The Burari constituency in North Delhi has a maximum of 18 candidates while the Ambedkar Nagar seat in South Delhi has the lowest number of contenders at four.
There are 63 contesting women candidates in this election as against 71 in 2013.  The number of candidates from recognised national and state parties is 296 while 183 candidates belong to registered parties and there are 194 Independent nominees.
Congress, which exit polls have predicted will finish a distant third, is apparently not keeping too much expectations. PC Chacko, who is party in-charge of Delhi, said that the party does not believe in exit polls and they were waiting for actual results.