Dev Samaj College of Education Holds 'Maat Pita Santaan Divas': Maat Pita Santaan Divas was celebrated with great zeal and enthusiasm at Dev Samaj College of Education, Sector 36-B, Chandigarh. Dr.(Mrs.) Agnese Dhillon, Principal of the college welcomed the chief guest, Prof. Sanjay Kaushik, DCDC & Director, ICSSR, Panjab University, Chandigarh, and Guests' of Honour Prof. Dalip Kumar, ASPD RUSA, Prof. Nandita Singh, Dept. of Education, Panjab University, Dr. Sapna Nanda, Principal, Govt. College of Yoga Education and Research, Shriman Nirmal Singh Ji Dhillon, Secretary Dev Samaj & Chairman, DSCE. The Principal of the college presented floral greetings to the Chief Guest and the Guests' of Honour.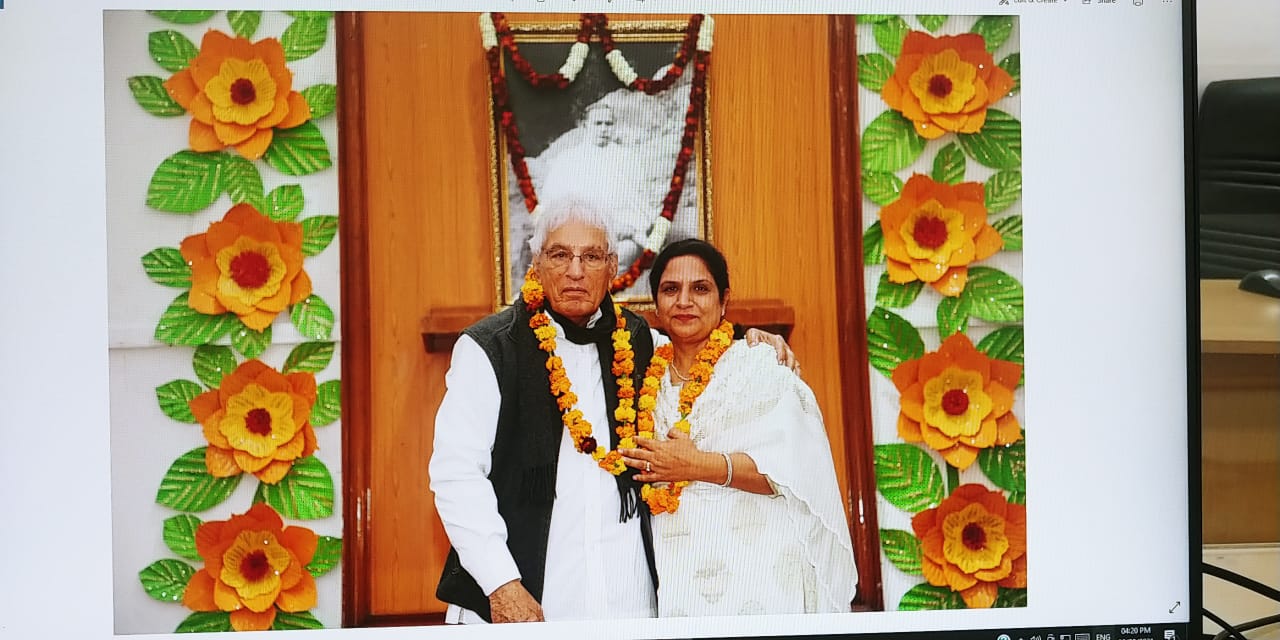 Dr. Kamlesh Singh, Faculty Member, DSCW, Sec-45, presented a melodious bhajan "Param Lakshya Guru Puran Howe". Throwing light on the philosophy of Dev Samaj, Shriman Nirmal Singh Dhillon Ji addressed the gathering and emphasized on the value of parent child relationship.  He further emphasized on the unconditional love and care of parents which cannot be at par with any other relation in this universe.
It was followed by an expression of gratitude by Dr.(Mrs.)AgneseDhillon.She shared the beautiful relationship which she shares with her parents. Saying that parents play a great role in shaping the child as they inculcate good values into the tender minds and the greatest respect one can show to one's parents for the sacrifices they have made, she said that parents' love for their children is always unconditional and the benevolence and sacrifice which the parents do for their children none else can do. At the same time, it is the duty of the children also to honor their parents and follow their footsteps, she added.
The students of the college and Dev Samaj School- Ankita, Inderjeet, Harnoor, Mamta, Gurleen, Nidhi, Kudrat, Biny, and Akshita also expressed their heartfelt feelings towards their parents. After this, Dr.Kamlesh presented solo Bhajan "Meri mata janam data". Dr.RituMago, Asstt. Prof., DSCE also expressed her gratitude towards her parents by thanking them for every single sacrifice they did for her. Few students while expressing their sentiments in their choked and emotional voices towards their parents acknowledged their slip-ups with specific references of the incidents and apologized openly before the audience.
A skit was played by the students of the college. Prof. Sanjay Kaushik expressed his heartfelt gratitude towards his parents and shared his experiences and support which he received from his parents throughout his life. He also appreciated and thanked his wife and daughters for taking care of his mother in law. He emphasized to respect and care for our parents. A formal vote of thanks was extended by Dr. Agnese Dhillon. Mementos were presented to the Chief Guest and the Guest of Honors by Principal mam. At the end, students and staff members garlanded their parents to express their gratitude towards them.