MUMBAI BASED CHINTAN MODI, FOUNDER OF 'FRIENDSHIP ACROSS BORDERS' DELIVERS TALK AT DIKSHANT
CHINTAN MODI-FOUNDER OF FRIENDSHIP ACROSS BORDERS, DELIVERS TALK IN DIKSHANT, SAYS HIS ONLINE PETITION AGAINST WAR GETTING SIGNATURES FROM BOTH INDIANS & PAKISTANIS
NewZNew (Zirakpur) : Mumbai based writer, educator and peace builder, Chintan Girish Modi, conducted a workshop with the students of Dikshant International School on the topic 'India-Pakistan: Scripting a New Future'. Modi, is also the founder of  Friendships Across Borders: Aao Dosti Karein — an initiative that uses the power of storytelling and social media to foster cross-border friendships and transform hostility into hope.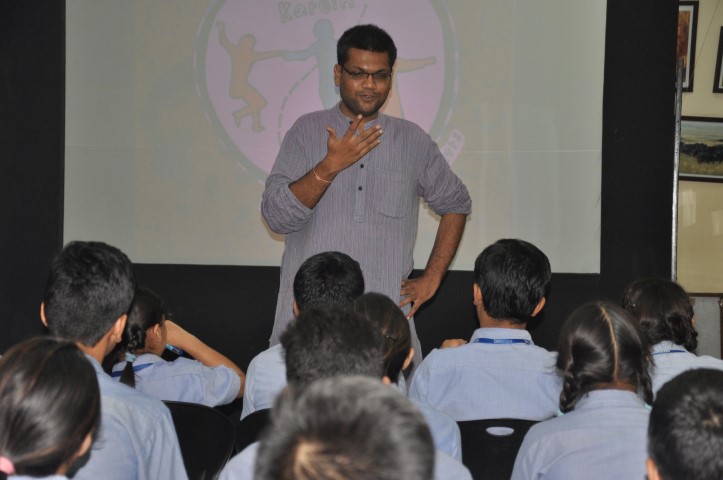 Around 50 students of Grade IX to XII participated in the workshop in which they shared their own stories about the Partition, read the views of Ziyad Faisal, a Pakistan-based writer and wrote back to him. Students watched a number of video clippings appealing for peace and made up their minds to sign a petition urging the leaders of both countries to come up with creative diplomatic solutions instead of engaging in a violent display of military might. It is noteworthy that Chintan has recently launched an online petition – 'Indian & Pakistani citizens speak against war' which has already been signed by 4500 citizens –both Indians & Pakistanis.  The same has also been tweeted to Prime Minister Narendra Modi by Chintan.
"I conducted this workshop right amidst the political tensions between India and Pakistan to give students a chance to participate in a dialogue that directly concerns their future. It would be unfortunate if they had to pay the price for a conflict they have inherited from their parents and grandparents. It is time to stay clear-headed instead of being swayed by jingoistic rhetoric, and to build a culture of peace and non-violence in keeping with the United Nations Sustainable Development Goals." Said Chintan. The workshop generated a lot of interest as it enabled the students to articulate their own vision for re-scripting the future of India-Pakistan relations. "The workshop will create a space for students to think creatively, critically and compassionately about the information they consume in relation to a country that is seen as both neighbour and enemy." Said Mitul Dikshit, Chairman, Dikshant Group of Schools, Zirakpur.
Chintan has conducted interactive, arts-based peace education workshops with students in Mumbai, Trivandrum, Hyderabad, Chennai, Pondicherry, Lucknow, Panchgani, Lahore, and Islamabad, among other cities.