PRERNA- AN INSPIRING CANCER SURVIVORS MEET
A cancer patients survivors meet- Prerna – 2018, was organized by leading medical oncologist of Chandigarh Dr. Jatin Sarin  at Hotel Park Grand, Sec-43,Chandigarh, which was attended by a huge gathering of patients and doctors. A book –"Bon courage", a compilation by Dr. Jatin Sarin and Dr. Rimpi Sarin, was released by well known film, theatre and small screen artist, Ms. Mita Vashisht, who was in city for the event.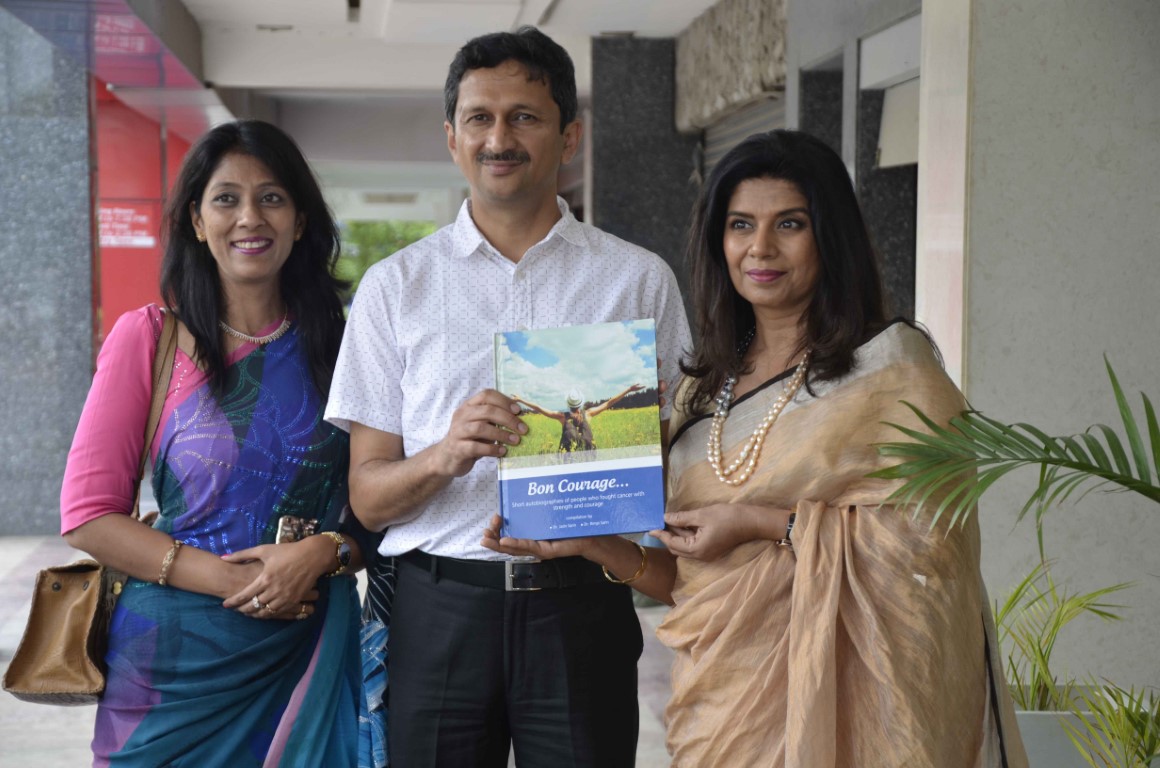 The doctors at the meet hailed their patients as warriors who fought the war with cancer and now are leading a healthy and meaningful life. The motivating talks by these survivors and sharing their journey with cancer, paved way of hope and encouragement for the new patients undergoing treatment, who were also present at the event.  Cancer has become one of the most common diseases, not only in Indians but the people world over. No country or region is spared of this disease.
Different cancers are prevalent in different communities and places. It has been estimated that by the year 2030, it will be the commonest lifestyle disease surpassing cardiac disease and diabetes. The prime aim of organizing such a meet was to remove the fear that is associated with this disease. Chief guest Ms. Mita Vashisht mesmerized the audience with her charm, has old ties with Chandigarh as she is an alumni of Punjab University. The book "Bon courage" is about short autobiographies of people who have fought this disease.
Prerna stressed on dispelling two important misplaced beliefs and myths, first that cancer is always fatal and second that cancer treatment is expensive. A large number of patients who attended the meet belonged to every socio-economic strata and is an evidence that cancer patients do recover from their illness and cost of treatment doesn't compromise the standard of care provided at CCDC. A very enwrapping and captivating talk was delivered by Mr. Vivek Atray, a motivational speaker, a newspaper columnist and multifaceted personality.
Cancer currently is being related to faulty lifestyle and environmental factors. Nutrition and regular exercise are two important aspects of current lifestyle modification. Regular exercise, continuing with routine activity or job, yoga and meditation enabled many patients to maintain their quality of life during harsh treatments for their disease. It was also shared that patients who incorporated regular exercise as part of their lifestyle experienced lesser incidence of relapse of their disease. Many patients took their disease as a positive jolt by nature to value their life and improve their lifestyle. Last but not the least emphasis was laid on staying away from all kinds of Tobacco as it is the single most leading cause of cancer.