Doctors at Fortis Mohali successfully save police constable's life by extracting bullet lodged in base of skull: Swift and timely action by the ENT Department at Fortis Hospital Mohali saved the life of a crime branch constable who had sustained a close-range bullet injury during cross-firing with miscreants at Kaithal recently.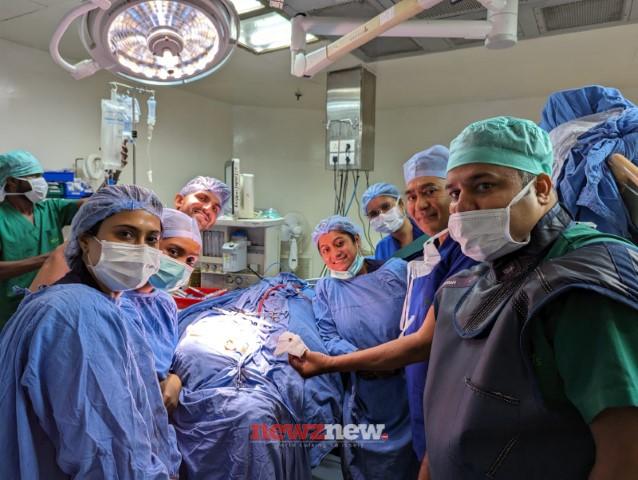 Constable Tarsem Kumar posted in the Crime Branch, Kaithal, was rushed to Fortis Hospital Mohali with immense bleeding from the oral cavity. The bullet had travelled through his oral cavity and was lodged in the base of the skull. The impact of the bullet was such that the tongue was split into two parts. Upon arrival, the Patient exhibited a weak pulse, breathlessness, acute swelling on the face and tongue along with massive bleeding from the wound.
Dr Ashok Gupta, Director, ENT and Head & Neck Surgery, Fortis Hospital Mohali, first determined the bullet's trajectory and planned the meticulous surgery to prevent more blood loss. As the bullet was stuck in the base of the skull, extreme precision was required. The team of doctors led by Dr Ashok Gupta and including Dr Anuragini Gupta, Associate Consultant; and Dr Neha Sharma from the ENT Department, conducted the surgery and carefully extracted the bullet lodged in the patient's skull during the surgery which lasted three hours .
The Patient made swift recovery and was able to walk 48 hours after the surgery. He was discharged on the third day of the surgery and has recovered fully.
Discussing the case, Dr Ashok Gupta, said, "We were able to remove the bullet from the patient's jaw with extreme caution. Accuracy and precision were required to conduct the surgery. After 48 hours of the procedure, the patient was able to walk and communicate with ease. There was less edema and swelling post the surgery."
About Fortis Healthcare
Fortis Healthcare Limited – an IHH Healthcare Berhad Company – is a leading integrated healthcare services provider in India. It is one of the largest healthcare organizations in the country with 27 healthcare facilities (including projects under development), 4100 operational beds and over 419 diagnostics centres (including JVs).
Fortis is present in India, United Arab Emirates (UAE) & Sri Lanka. The Company is listed on the BSE Ltd and National Stock Exchange (NSE) of India. It draws strength from its partnership with global major and parent company, IHH, to build upon its culture of world-class patient care and superlative clinical excellence.
Fortis employs 23,000 people (including SRL) who share its vision of becoming the world's most trusted healthcare network. Fortis offers a full spectrum of integrated healthcare services ranging from clinics to quaternary care facilities and a wide range of ancillary services.