Dr Digambar Behera of Fortis Mohali conferred Padma Shri for contribution in field of medicine: Dr Digambar Behera, Director, Pulmonary Medicine at Fortis Hospital, Mohali, was conferred the prestigious Padma Shri by President Ram Nath Kovind for his commendable contribution in the field of Medicine at the Civil Investiture Ceremony held at the Rashtrapati Bhawan on 8th November.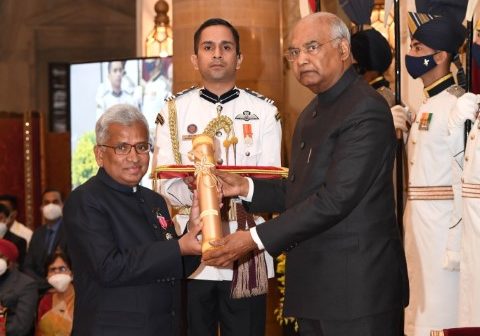 The award ceremony was also attended by Vice President M Venkaiah Naidu, Prime Minister Narendra Modi and several Cabinet ministers.
Dr Digambar Behera is a renowned specialist in Respiratory Medicine and has a clinical experience of over 40 years and joined Fortis Hospital Mohali in May this year.
Hailing from Odisha, Dr Behera completed his graduation from SCB Medical College, Utkal University, in 1978. He then joined the Department of Medicine at the PGIMER as a junior resident in 1978, and continued his stint till April this year.
Dr Behera completed his MD from the PGIMER in 1980 and Diplomate of National Board of Examinations in Medicine and Respiratory Medicine in 1982 and 1983, respectively.
He joined the Department of Pulmonary Medicine as a faculty member in 1984 and was elevated to the post of Professor in 2000. Dr Behera also served as the Dean (Research) and the Head of the Department of Pulmonary Medicine at the PGIMER. He also served as the Director of the National Institute of TB and Respiratory Diseases for a period of five years.
Dr Behera is a pioneer of lung cancer chemotherapy and the founder president of the Indian Society for the Study of Lung Cancer. Currently, Dr Behera is the President of the Indian Chest Society and Chairman of the National Task Force for National Tuberculosis Elimination Programme.
Besides visiting more than 81 countries for academic purposes, Dr Behera is a member of various scientific societies and is on the editorial board of various scientific journals. He has over 500 publications to his name and has presented more than 580 papers in National and International conferences. He has authored and co-authored 9 books – Text Book on Pulmonary Medicine, Text Book on Respiratory Medicine, Advances in Respiratory Medicine, Bronchial Asthma, Tuberculosis, Spirometry. He is also the proud recipient of 29 National and 7 International Awards.
About Fortis Healthcare
Fortis Healthcare Limited – an IHH Healthcare Group Company – is a leading integrated healthcare services provider in India. It is one of the largest healthcare organizations in the country with 36 healthcare facilities (including projects under development), 4000 operational beds, and over 400 diagnostics centres (including JVs). Fortis is present in India, United Arab Emirates (UAE) & Sri Lanka. The Company is listed on the BSE Ltd and National Stock Exchange (NSE) of India. It draws strength from its partnership with global major and parent company, IHH, to build upon its culture of world-class patient care and superlative clinical excellence. Fortis employs 23,000 people (including SRL) who share its vision of becoming the world's most trusted healthcare network. Fortis offers a full spectrum of integrated healthcare services ranging from clinics to quaternary care facilities and a wide range of ancillary services.