Delhi University (DU) yesterday, on July 2, 2017, conducted the entrance examination for admission to it's Bachelor of Law (LLB). Some odd 20 thousand aspirants turned out to write the entrance examination which was held in offline mode this year too. The test pattern and syllabus was tweaked a week prior the entrance, something which students are still biased upon, many favouring the reduced number of questions and many against the decision, saying they weren't given enough time to adapt for the new pattern and syllabus.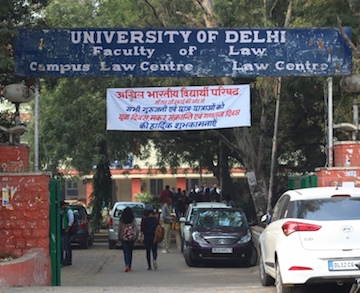 One student who wrote the examination yesterday, said while talking to newznew, "The Varsity should've brought the notice at least 2-3 weeks ago if at all. The notice was released a week ago and I came to know about it just 3 days prior the test."
Well, now that the exam is over, DU LLB answer key 2017 will be released by the Faculty of Law, University of Delhi. While the official notification doesn't mention the date of release of preliminary answer keys and proceedings ahead, it's expected that the answer keys will be officially issued by July 5, at most. The facility to raise objections was also be provided to the students after provisional answer keys issuance and the final answer keys will be released after sorting out the objections.
Last year, the Varsity had released the preliminary answer keys after 2 days of the examination and then final answer keys, a week later of that. One official, Faculty of Law, hinted in talks that the answer keys of DU LLB 2017 may be uploaded online even before 5th July. We'll update if that happens.
Based on the new pattern, 100 multiple choice questions (MCQs) were asked in the entrance exam, covering topics of English language comprehension, general knowledge and current affairs, reasoning and analytical abilities and legal awareness in the aptitude test. The sections; Polity and constitution, which used to be major ones in the entrance till last year, were removed this year.
In between all changes and what not, there's also some good news for the law aspirants in DU. Responding to the Bar council's concerns, the Varsity was earlier considering bringing the law seats in DU down to 1,440. But, Delhi High Court, here in a hearing on July 1 has said that there will no LLB seat cuts under Faculty of Law, DU. The intake on LLB will remain that of 2,310 seats. The next hearing date is set for August 21.