Dussehra 2023 Date: All About Vijayadashami Festival: Dussehra, or Vijayadashami, is a cultural festival in India that is celebrated by the Hindu community. Majorly this festival is celebrated for the victory of Rama, who defeated the demon king Ravana. Dussehra festival commences with the nine-day Navratri festival, and the tenth day marks the Durga Puja festival.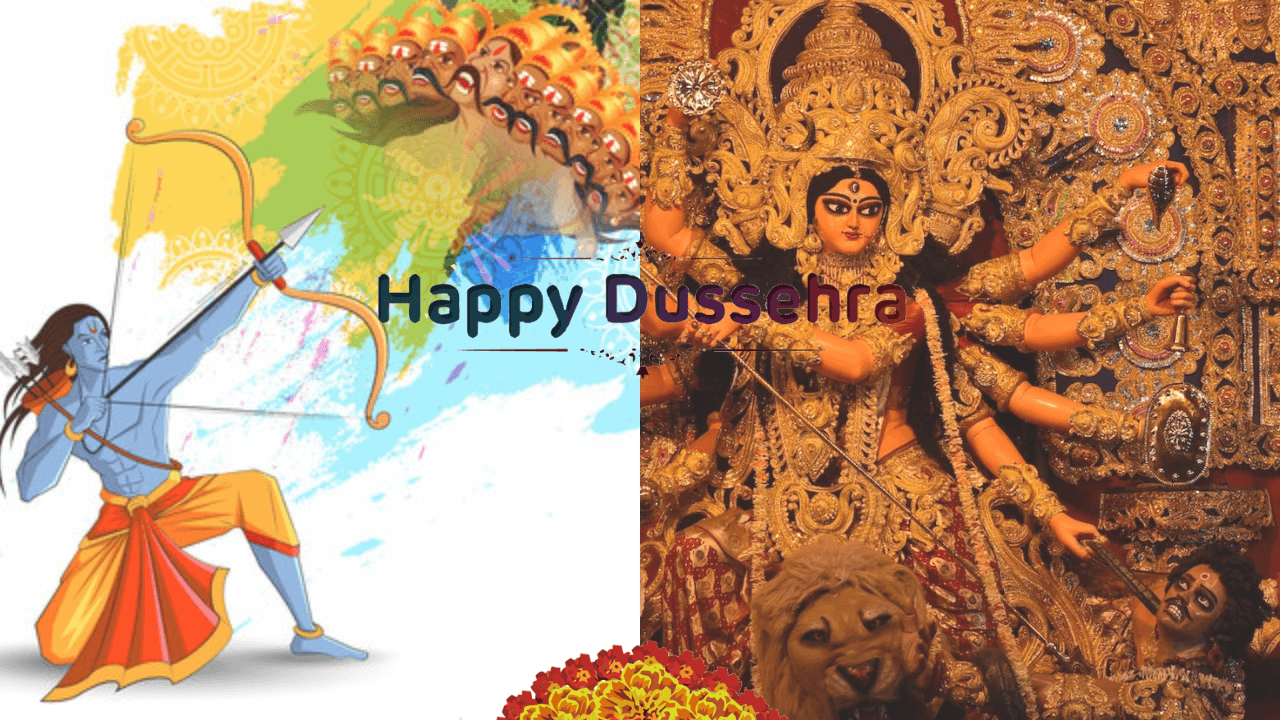 It starts on October 15, 2023, and ends on October 24, 2023. Also, it is more popular in North India with Ram Leela's theatrical drama and the burning of Ravana, Meghnada, and Kumbhkaarana sculptures filled with firecrackers. It will be an ablaze night on the open field with joy and delight.
Significant Date and Time of Dussehra 2023
| | | |
| --- | --- | --- |
| Shravana Nakshatra Starts | October 22, 2023 | 06:44 PM |
| Shravana Nakshatra Ends | October 23, 2023 | 05:14 PM |
| Dashami Thithi Starts | October 23, 2023 | 05:44 PM |
| Dashami Thithi Ends | October 23, 2023 | 03:14 PM |
| Aparahna Puja Time | October 24, 2023 | 02:59 PM |
| Vijay Muhurat | October 24, 2023 | 02:12 PM |
Happy Dussehra Wishes
It's time to celebrate the victory of the good over the evil. Let's continue with the same spirit. Happy Dusshera!
May God shower his choicest wishes over you and remove all evil obstacles in life. Happy Dusshera!
May Lord Rama keep lighting your path of success, and may you achieve victory in every phase of life. Jay Shree Ram! Happy Dusshera
May your troubles burst away like the fireworks and your happiness multiply this Dussehra. Have a happy one!
May this Dussehra bring you loads of joy, success, and prosperity, and may your worries burn away with the effigy of Ravana. Wishing you a year full of smiles and happiness.
A time for celebration,
A time for victory of good over bad,
A time when the world sees the example of the power of good.
Happy Dussehra!
Happy Dussehra Quotes
Troubles as light as air, love as deep as the ocean, friends as solid as diamonds, and success as bright as gold – these are the wishes for you and your family on the day of Dussehra.
Dussehra is a festival of victory on bad elements in our lives.
May Shri Ramji gives u all happiness and love to ur family.
May God bless you with all success on the auspicious occasion of Dussehra, and may you be capable of defeating all evils of your life.
Let's celebrate an auspicious day to begin new things in
life.
Why is Dussehra Celebrated in India
There are two reasons for celebrating the Dussehra or Vijyadashami in India. It revolves around the story of the two Hindu Gods.
One is the story of Rama, who is the avatar of Lord Vishnu. He wanted to save his wife Sita from the 10-headed demon Ravana. Then, he marched the war against Ravana to save his wife. The triumph of Rama over the Ravana is celebrated as Dussehra or Vijayadashami in North India by burning the demon's effigies. And the people symbolize this victory of good against evil.
Also, there is another story that goes around Goddess Durga, who is the God of War and Motherhood. She was created to kill the Mahishasura, who is an arrogant demon. He got a blessing from the Lord Bhrama that he shouldn't killed by the humans, Gods, or any Asura. Due to bad luck, he miscalculated women and thought they were weak people. So the woman God Durga got victory over the Mahishasura. This auspicious day is celebrated as Vijayadashami or Ayudha Pooja in South India.
9 Days Of Navratri: Dussehra
On the 9 day of the Navratri, the 9 various form of Goddess Durga is worshipped with respect and glory.
1. Shailputri – This is the first form of the Goddess Parvati, who is portrayed as the reincarnation of Goddess Sati. Also, she is the daughter of King Himavat. She was worshipped on the first day of Navratri.
2. Brahmacharini – On the second day, Brahmacharini is worshipped, as it is dedicated to Goddess Parvati with severe penance, which is a symbol of wisdom and patience.
3. Chandraghanta – The third day starts with worshipping the goddess Chandraghanta. She is the avatar of Goddes Parvati, with ten armed women with various weapons in her hands.
4. Kushamanda – Kushamanda is the reincarnation of Goddess Parvati with eight hands and comes over the lion. And she is the god of health, wealth, and strength.
5. Skandamatha – On the fifth day, Goddess Parvati is portrayed as the mother of lord Karthikeya. She is the symbol of calm and kindness. In this form, she grants the wishes of her devotees.
6. Katyayini – This avatar of Goddess Parvati who killed the Mahisasura demon. This avatar is created by the power of Lord Shiva, Vishnu, and Brahma.
7. Kaalratri – Kaalrati is a dark complexion with long hair which is also the avatar of Goddess Parvati. This avatar is tasked to defeat the Shumba and Nishumba demons.
8. Mahagauri – On the eighth day, the Goddess Parvati is portrayed as the four-armed woman who holds the trident, damru, and Trishul in her hands.
9. Siddhidatri – In this form, she becomes the supreme gog. It is believed that she supports all her followers & devotees and grants their wishes. She comes over the lotus in this form.
How Vijayadashami Is Celebrated In India
In different places in India, this festival is celebrated in various forms listed below.
| | |
| --- | --- |
| North India | South India |
| In the northern regions of India, this festival is celebrated by burning crackers and 9 days of Navratri with Ram Leela (Stage Drama). Also, many people burn out the effigies of demons Ravana, Meghnad, and Kumbhkaran. Further, Durga pooja is also held in some regions. This is the fair celebration in the north Indian states like Delhi, Gujarat, Rajasthan, etc. | But the Southern region of India like Karnataka, Tamil Nadu, Kerala, and more states celebrates this festival in another way. Here this festival is focused on Lord Durga. On this auspicious day, small children join their school and they also celebrate it by workshop books & weapons to respect their work. This day is called Ayudha Pooja in South India. |
Vijayadashami: Rituals and Culture
On the Dussehra festival, Hindu devotees immerse themselves in the sacred river known as Ganga. It goes over the Haridwar, Rishikesh, Varanasi, Garhmukteshwar and prayagarj. Then, there comes the festival time with delightful traditions. They are listed below.
Burn Out of Ravana Statue.
Ram Leela (Story of Rama)
Devotion to Goddess Durga
Honouring the Weapons and Books
Ganga Aarti Pooja
Images Of Dussehra 2023