Ebadat Bhandari wins beauty pageant at national level: City girl Ebadat Bhandari , who is pursuing her graduation in Film & Production Studies from Chandigarh University(CU) and who is also a national level basketball player, has won the India title of an International Pageant- Global Miss Worldwide.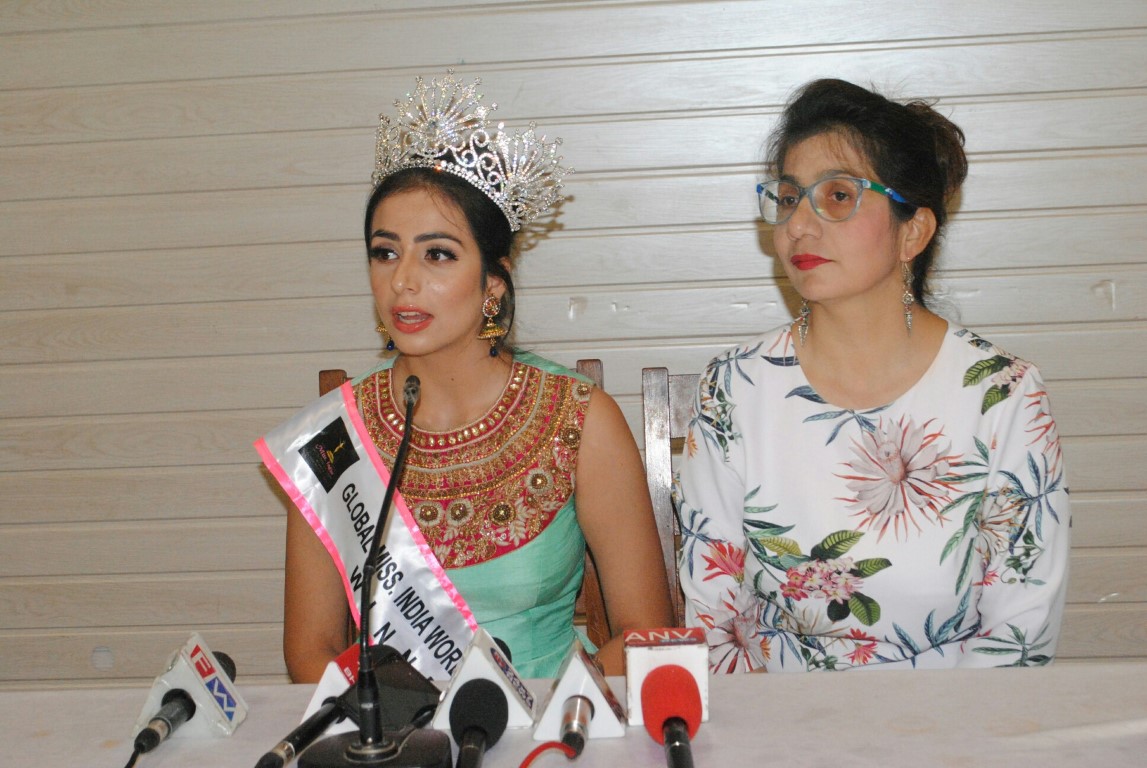 Ebadat Bhandari won the title of 'Global Miss India Worldwide 2019', at a pageant which was held in New Delhi recently. The International pageant is being organised by Global India Entertainment Production.
The ravishing 18-year-old teenager Ebadat Bhandari who was declared 'Global Miss India Worldwide 2019', shared her experiences at the pageant with media persons during a press conference held at Press Club, Chandigarh.
Speaking on this occasion, Ebadat said, "Being a sportsperson, the competition as not very tough for me. As I am habitual of waking up early in the morning and following a disciplined regime, things were easier for me at the pageant. The credit of my success goes to my family which has been boosting my morale from the very first day."
Talking about the preparation, Ebadat said, "My mother helps me a lot to hone my communication skills, which helped me during the competition.  I always take advice from my parents , who are my mentors and their guidance has shaped my life and brought me here today."
An elated mother, Shweta Bhandari who is still on cloud nine because of her daughter's achievement said, "I am very proud and happy not just because Ebadat has won the Pageant but also due to the fact that she is going to represent our country at an International pageant, which is going to be held in Spain in 2020."
She further said, "Ebadat used to be very shy in her childhood and being an introvert she doesn't have too many friends. But when she started playing basketball under her coach at school, her personality improved for the better. Her coach boosted her confidence, which groomed her immensely. I am very happy that such a great people came in my daughter's life, whose mentorship made Ebadat a confident girl."
The auditions of this pageant took place across the country in 18 states including Tamil Nadu, Punjab, Karnataka, Haryana, West Bengal, Rajasthan, Gujarat, Delhi etc. where thousands of aspirants turned up. Out of these only 26 finalist girls were selected for the grand finale in Delhi. The event took place under the guidance of Sushil Goyal, Director of Global India entertainment production and Allie Sharma, who managed the entire show.The grand finale was adjudged by many Page 3 jury members and Bollywood personalities.
Ebabat Bhandari from Chandigarh showed tremendous performance in all rounds by giving an example of beauty with brains by winning the competition and becoming Global Miss India Worldwide 2019.
The winner Miss Global India Worldwide 2019 Ebabat Bhandari will be going to Spain in 2020 to represent India at the international Pageant in the world finals.