ebay.in to run a charity auction to bid to join actor and Earth Hour ambassador Arjun Kapoor on

March 28, 2015 between 8:30pm and 9:30pm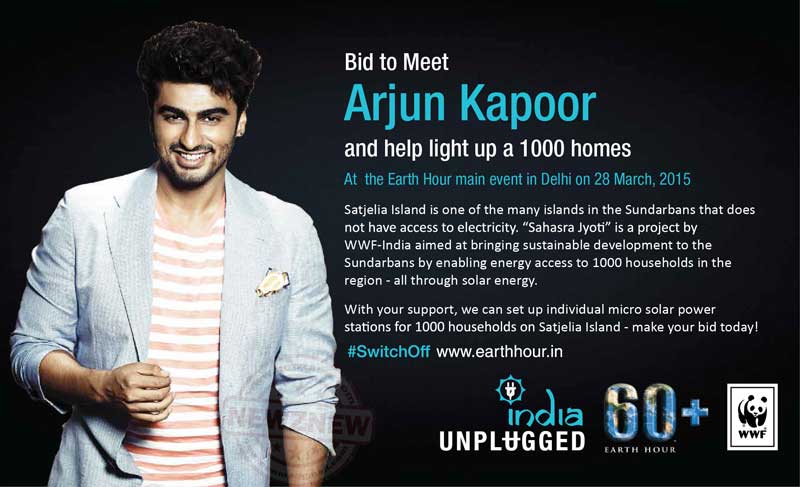 NewZNew (Chandigarh) :
eBay India (www.ebay.in) today pledged its support to the India Unplugged-Earth Hour 2015 campaign of WWF-India. The India Unplugged campaign, while asking people to switch off for the hour on
March 28, 2015 between 8:30-9:30pm
also builds awareness on Renewable Energy as a core focus area. As a part of this partnership, eBay India is helping WWF-India raise funds for the Sahasra Jyoti or Beacon for the Sundarbans initiative. The project, launched as a part of the Earth Hour 2015 campaign aims at bringing sustainable development to the Sundarbans landscape in West Bengal, India and will enable 1000 households in the region energy access – all through solar energy.
To raise awareness for the project, eBay India will be retailing a special range of Earth Hour T-shirts for Rs.299/-. Customers logging onto ebay.in will also have an opportunity to purchase renewable energy products which has been specially curated to mark the India Unplugged campaign. Additionally, ebay.in customers can choose to make monetary donations between Rs.10/- to Rs.26,000/- as an add-on to their regular purchase, proceeds of which will be directed to WWF-India for the Sahasra Jyoti initiative.
The highlight of this partnership is a charity auction 'Bid to join actor and Earth Hour ambassador Arjun Kapoor, wherein two winners will get a chance to join the actor in Delhi on
March 28, 2015
, between
8:30 pm – 9:30 pm
. Proceeds from the bid will also go towards supporting the Sahasra Jyoti initiative in the Sundarbans region of West Bengal. To bid for the charity auction, consumers will need to log on to www.ebay.in/earthhour. The auction will go live on
March 13, 2015
.
Speaking about the campaign and the partnership, Mr. Ravi Singh, Secretary General & CEO, WWF-India said, "Earth Hour brings together people across the globe to express their
concern over the crisis of climate change. This year, Earth Hour India will ask people to switch off for the hour and also help build awareness on renewable energy. We are happy to partner with eBay India and appreciate their involvement in the campaign. Their participation highlights their responsibility towards our planet and will inspire others to also come forward and pledge their support to the cause."
"We are pleased to unite with WWF-India in their endeavor to make a difference to over 40,000 people who are living on the boundary of Sundarbans Tiger Reserve. Our unique eBay India for charity platform will give consumers a chance to engage with Arjun Kapoor and contribute towards setting up solar lights for the betterment of the Sundarbans inhabitants," said, Girish Huria, Head Corporate Communication and Charity, eBay India.
4.5 million people live on the low-lying islands of the Sundarbans in the Bay of Bengal and is home to many rare and globally threatened wildlife species. WWF-India aims to set up micro solar power stations for households on the Satjelia Island which shares 22km of its boundary with the Sundarban Tiger Reserve.