NewZNew (Chandigarh) : It was an invigorating experience at Elante Wednesday's for women patrons of Elante Mall, the region's favourite destination for shopping, entertainment and fun, as the latest edition of Elante Wednesday's today took them to a two-hour fitness overdrive that covered everything from yoga and aerobics to nutrition tips and relaxation techniques.
Conducted by Reebok Master Trainer and American Council on Exercise (ACE)-certified fitness expert Ms Kompal Gaur, who has delivered talks and motivational speeches at noted platforms like the Medical Fitness Society and appeared on TV shows on leading channels, the high-energy fitness workshop was attended by more than 80 women.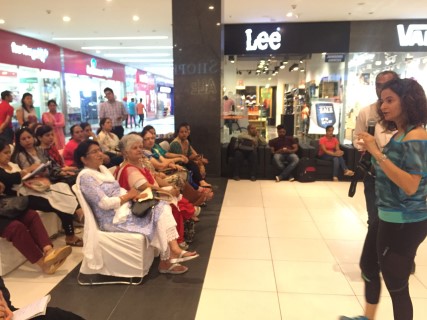 Ms Gaur helped the participants discover their "Fitness Mojo" as she offered them holistic fitness solutions in step and floor aerobics, self-transformational yoga, resistance training, and basic pilates, which was followed by an inspiring talk on how to adopt a 360-degree approach on fitness.
"Fitness isn't just about physical exercise. It's about mental and emotional commitment. It's about 'smart energy management'. Much more than simple weight loss, it's really about being able to bring more vigour, enthusiasm and efficiency to the workplace, the home… and obviously, to life. Shaping up and slimming down will follow naturally," said Ms Gaur, a celebrated fitness expert with over 15 years of experience who is also adept in kickboxing and rehabilitation and injury management.
Emphasising on the role of nutrition and relaxation techniques in promoting fitness, Ms Gaur said, "A right diet and proper relaxation can keep you charged up for the entire day. A fit body also harbours a fit mind, making you feel more relaxed, invigorated, receptive and agile. You should not just look good, but also feel good about yourself at all times."
Expressing satisfaction that the women patrons of the mall found the fitness workshop so useful and engaging, Sanjeev Bhardwaj, Head – Leasing & Marketing, Elante Mall, said, "You have to be really fit to be at your best. After all, wellness is next to godliness. This Elante Wednesday's activity is yet another effort on our part to contribute to the positivity and growth of our women patrons."
Elante Mall conducts various useful women-centric workshops and activities on different themes as part of Elante Wednesday's to engage womenfolk from the Tricity.