NewZNew (Chandigarh) : She had to return to Punjab because the pull of the strong bond was too much to resist. So here she is travelling to various cities in Punjab with her book "Oh… India!", which she describes as a new voice offering fresh glimpses from an India of the 21th century.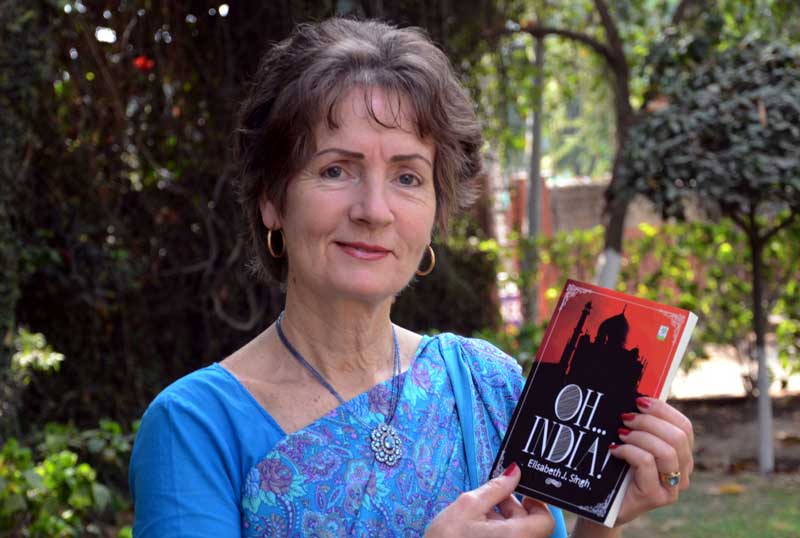 The 12 stories in "Oh… India!" by Ilisabeth J Singh, born in a village by the Oslo fiord (a long, narrow inlet with steep sides or cliffs, created by glacial erosion) in Norway, are contemporary reports from a society vacillating between old and new times. They describe people and situations from new and unexpected angles. The first story in the book starts in the heart of Punjab and the last a strange encounter on a flight with a man from Jalandhar undertaking his first long journey outside Punjab, that too to faraway Helsinki in Finland.
In an Indian context, Elisabeth J. Singh, who is fairly comfortable speaking Hindi with a distinct Punjabi accent, can be described as both an insider and an outsider; her marriage to an Indian, Punjabi at that, ended after six years, but her love affair with India has gone on for more than forty years. Her knowledge of Hindi and the Indian history are door openers to strange and interesting events and happenings, and her curiosity to know more about whatever she butts into is seemingly endless.
The stories are presented in a highly personal way, which will give the readers an added feeling of being there. The twelve stories draw heavily on Elisabeth Singh´s more than 40 years of experience with India and Indians, and are the result of several years of observation and reflection. However, in this book, names, situations and places have been altered and rewritten, and "Oh… India!" must therefore solely be read as a work of fiction.
A lot of her stories are on Delhi, where she has spent a lot of her time on India visits. She also writes about the Kumbh mela in Haridwar and the "unholy" Holi. One of the stories is about a widow in a Madhya Pradesh village who is looking for a little happiness, but which proves to much of an ask from the society.
Among her other experiences penned down in the book is her meeting with the Ganga in Varanasi in her own way and her horrifying encounter in a hotel housing a brothel in Lucknow.