Elsewhere & Hero Realty to organise a two-day Think Fest 'Speaking Allowed 2023': Elsewhere Foundation in collaboration with Hero Realty is organising a two-day Think Fest, 'Speaking Allowed' in Chandigarh.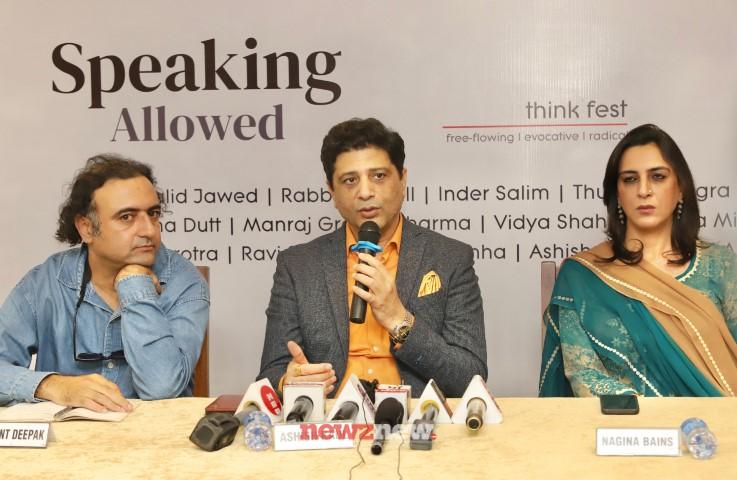 The unique endeavour will set the stage for an invigorating, and insightful exchange of thoughts and ideas by eminent authors, panelists and artists and will be held at two locations – CII Northern Region  Headquarters, Sec 31, Chandigarh  on 30th March and Chandigarh Club on 31st   March, 2023.
The details of the first edition of 'Speaking Allowed' were shared at a press meet held at Chandigarh Press Club by bestselling author – Ashish Kaul, who is also Chief Marketing Officer of Hero Realty – the corporate supporting 'Speaking Allowed'. Kaul was accompanied by Nagina Bains and Sukant Deepak, both Co-founders of Elsewhere Foundation.
Ashish Kaul, Chief Marketing Officer, Hero Realty said, "We are elated and honoured to be collaborating with such a unique fest as part of our corporate social responsibility. We think that associating with the Think Fest is a great way for Hero Realty to help promote art and literature. The festival will bring together eminent writers, thinkers, journalists, and other artists on a single platform and witness renowned authors being engaged in thoughtful debates and dialogues."
It is pertinent to mention that Ashish Kaul apart from being an author is a successful content producer and business leader. With an illustrious career span of 29 years, Kaul has served as former Group President, Zee Network and Essel Group, Business Head Bajaj Group, Business Head Hinduja Group ( Media Business), Group CEO News 24, CEO Prakash Jha Films and Founder Folklore Entertainment.
Sukant Deepak, co-founder, Elsewhere said, "Speaking Allowed aims to be a platform that evokes and adapts, ignites minds and encourages discourse, and in the revelatory process leaves one speechless. It's a space we are curating for progressive thinkers, innovative ideas, and cerebral conversations that act as catalysts of change."
The panel of celebrated authors and artists includes JCB award winner Khalid Jawed, ace publisher Ravi Singh, Arunava Sinha, prominent singer Rabbi Shergill, impactful artists Thukral & Tagra, renowned authors Samina Mishra, Ita Mehrotra, Ashish Kaul, and poet Inder Salim. Threading their thoughts will be acclaimed journalist Nirupama Dutt, and writer, filmmaker, and scholar  Daljit Ami among others.
The multi-art festival brings together diverse minds, who talk about not just their own processes but contemporary situations that guide their body of work.
"What encompasses Indian Literature, how do we view Punjab through the lens of art, are our young reading enough, and what are narratives coming out of Kashmir, are some of the themes that will be discussed," adds Nagina Bains, Co-founder of Elsewhere Foundation and also Chairperson, Confederation of Indian Industry – Indian Women Network (CII-IWN), Chandigarh.
On 30th March, the sessions will start at 2 pm. The first session – Who is afraid of Indian Literature?  will be held by speakers including Khalid Jawed (JCB Prize-winning author), Arunava Sinha (Crossword-prize winning translator), Ravi Singh (Publisher, Speaking Tiger) Nirupama Dutt (award-winning poet) who will reflect on how Indian literature in different languages is making headlines and winning awards after being translated into English.
Moving further to the second session – 'Gazing at Punjab through art' will be conducted by celebrated singer Rabbi Shergill and acclaimed artists Thukral and Tagra who will talk about contemporary Punjab, aligning their thoughts, ideas, and vision through their art. Moderated by filmmaker and scholar Daljit Ami.
The third session, The Reading Young: Busting the myth that the young are not reading enough, will be held by children's writer and filmmaker Samina Mishra and graphic novelist Ita Mehrotra who will look at what young adults are reading.
The day will conclude with a session 'Writing Kashmir' by author Ashish Kaul, and performance artist and writer Inder Salim who will stress the need to constantly bring alive different narratives from Kashmir.
On March 31st, 7:30 pm onwards singer Vidya Shah will bring us closer to the magic of Begum Akhtar with her rendition of the iconic singer's works, in a curated evening, 'Akhtari'.
'Speaking Allowed' invites audiences to imagine the world as it is and as it might be. The festival is open and accessible to all. No passes or tickets are required.