Embrace Human values to be True Humans-Satguru Mata Sudiksha Ji Maharaj: "Need of the hour is to lead our lives as true human beings which can be achieved by embracing human valuesonly"was the clarion call given by Satguru Mata Sudiksha Ji Maharaj at the concluding session of 54th Annual Nirankari Sant Samagam of Maharashtra.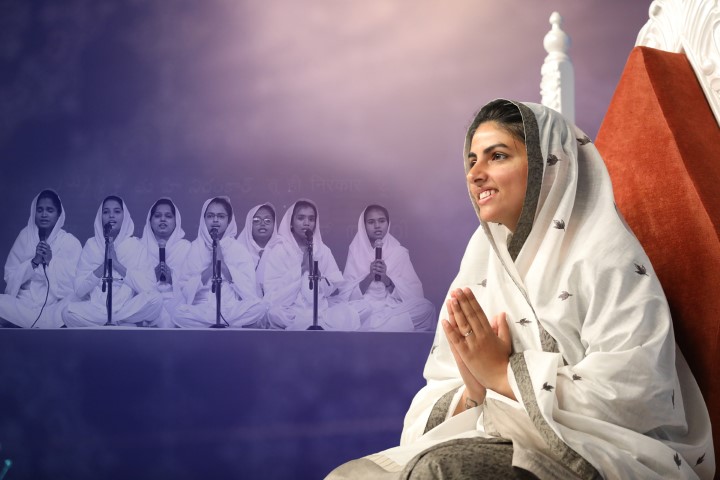 This information given by Smt. Raj Kumari Ji Member Incharge Press & Publicity Sant Nirankari Mandal.
To stay firm on this path ,we need to introspect frequently and avoid negativity to set in; Her Holiness further guided and urged to cultivate the spirit of love, humility and magnanimity, to ignore the demerits instead accept the merit and to empathize with one another.
Satguru Mata Ji further generalized, while all humans consider themselves religious and reserve the teachings of the Prophets, Seers and Gurus, who have taught the world that humanity is the true religionthat can make life meaningful by connecting themselves to God. God Realization leads to Self Realization and this can be achieved at any age. God Knowledge can be attained in a fraction of a moment from the True Master.
The three day Samagam was webcasted on Mission's website and telecasted on Sanskar TV channel. Nirankari devotees across the globe and God loving people enjoyed this blissful event.
On the first day of Samagam, Satguru Mata Ji said in Her Holy discourse that God is Formless, Omnipresent and can be addressed by any name. Every soul is a part of the Divine Super soul and for this realisation; God Realisation is a must. By connecting with the Eternal God, one can attain stability, peace and contentment. Once we realize that God is the doer of everything then acceptance leads to contentment in all upheavals of life. When we take support of the Formless God then acceptance makes life blissful.
Mata Ji further explained that though we use our senses in daily lives for proper operation of our body and in evaluating the different situations it is imperative to be in control of our senses to derive beneficial and balanced exposition of our activities.
SEWADAL RALLY
The second day commenced with the Sewadal Rally wherein Sewadal volunteers, both men and women hailing from various parts of Maharashtra showcased their talents and feats by performing fitness drills such as Mallakhamba and aerial acts.
There were various skits which showcased the teachings and the ideologies of the Mission. The first step to selfless service is to surrender to the Almighty, as Service to Mankind is Service to God and to attain this one should abandon the ego of the mind and maintain modesty and discipline.
Addressing the second day evening session, Her Holiness said that to establish stability in our lives; right choices, awareness and wisdom is essential. Negative emotions reside only when we give them place in our hearts. On the other hand, when we give place to God in our hearts, our mind becomes pure. Life is short; to err is human hence, we need to ensure that we do not repeat our mistakes. In this way we can contribute positively in everyone's life and make our life happy here and hereafter.
The modern generation does not give credence to the past and future births and are just concerned about the present Satguru Mata Ji exhorted to better our present by invoking God as He is the only source to provide stability.
Mata Ji referred to the saints from the past, who have left a message for the world that seeing God through open eyes is possible and after receiving God Knowledge when we realize ourselves in the form of a soul and not a body. Saints from the past have all along maintained that life can be meaningful by connecting with God and treading the path of devotion so that our soul can be released from the bondages and attain salvation.
A Multi-Lingual Poetic Symposium (KaviDarbar)
The main attraction of the third day of the Samagam was a Multilingual Poetic Symposium. The topic of this symposium was "Sthir se Naata Jodke Man ka Jeevan ko Hum Sehaj Banaye".On this various poets presented their poems in Marathi, Hindi, Sindhi, Gujarati, Punjabi and Bhojpuri languages.
Saints from all over Maharashtra, adjoining states and from across the globe participated and expressed their thoughts on all three days of the Samagam. Meaningful messages based on the philosophy of the Mission were given through recitation of the holy verses from Sampuran Avtar Bani, Sampuran Hardev Bani, sayings of saints and sages of bygone eras and devotional songs penned by the devotees of the Mission.