NewZNew (Zirakpur) : An Endoscopic and Minimal Invasive Spine workshop was held at Trinity Hospital here. The workshop was held under aegis of World Endoscopic Spine Society (WESS), North Zone Orthopedics Association, and Trinity Education & Research Foundation.
The workshop comprised of foreign and Indian faculty and was inaugurated by Dr. Jean Destandau, internationally renowned Endoscopic Spine Surgeon from France and Dr. Abdul Halim Yusof, Secretary, World Endoscopic Spine Society and renowned Endoscopic spine surgeon from Malaysia. Dr. Destandau has the highest number of successful endoscopic spine surgeries in the world to his credit.
Live Endoscopic Spine Surgeries were demonstrated to delegates by reputed Indian and foreign faculty and it covered all aspects of Endoscopic Spine surgery. Around 50 doctors from across the country and abroad participated in the workshop.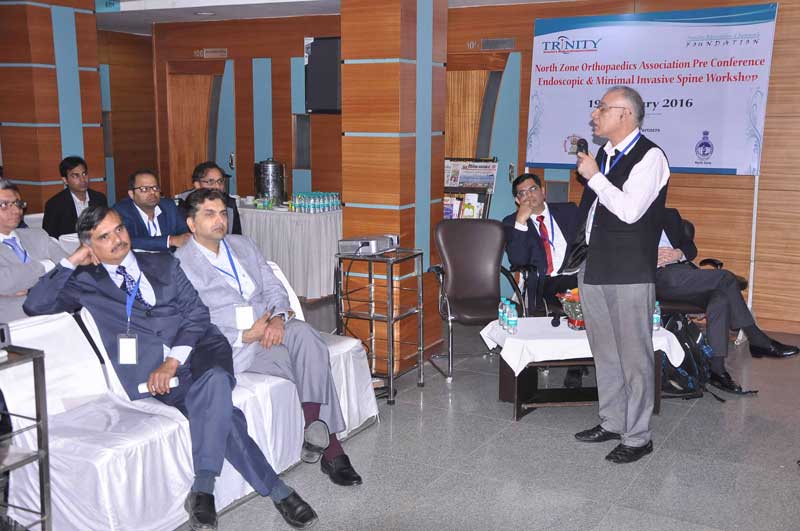 Dr. Mohinder Kaushal, Convener, Minimal Invasive Spine Workshop, shared that Endoscopic Spine Surgery has revolutionized the treatment of spine disorders. Open spine surgery traditionally has been associated with poor results due to big cuts, removal of healthy bone thus making spine weak, causing more pain, long recovery times, longer hospital stay, more medication and more chances of infection due to extensive dissection and healthy bone removal. He added big cuts have been reduced to small cuts, weeks of hospital stay has been reduced to few days and hours, fast recovery, less need of medicines and quick return to work and  sports has made these techniques popular among patients.
In his address at Trinity Hospital, Dr. Jean Destandau stated that it is a very proud moment for him to see his techniques being successfully implemented by the doctors all over the world.  With advent of Endoscopic spine surgery the outcome and results of spine surgery has changed dramatically, he added.
Dr. Halim Yusof while addressing the delegates said that with the advent of technological advances it has become possible to treat majority of spine disorders by key hole surgical techniques. As more and more patients opt for these techniques, surgeons are also showing great interest in learning these techniques hence the need of such workshops is there.
During the workshop there was considerable emphasis on practical skill development hence the hands on bone model exercises was main part of the workshop. There were lectures, addressing basic concepts, Interactive sessions, and demonstration of live surgical techniques.