Engineering students develop unique cab hailing app -NextDrive:  Aman Kumar, a tech savvy final year student of BTech (Computer Science & Engineering-CSE) at Chandigarh University and his young team have created a cab hailing start-up with a difference – NextDrive India. The app is powered by AGC Cabs India Pvt. Ltd.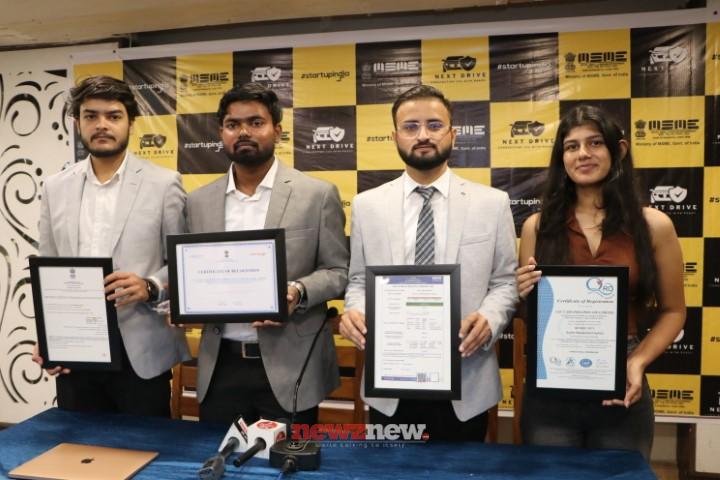 NextDrive App, which took over 6 months to develop was unveiled here in presence of Aman Kumar, Founder & CEO, NextDrive India; Aditya Kumar, Business Operations Lead; Ashish Jangra, Tech Head; Avinash Kumar, Marketing Operations Lead; and Nitika Yadav , Graphic Designing Lead. It is notable that apart from Aman, Aditya and Ashish too are final year  students of BTech CSE at Chandigarh University.
On being asked why a cab hailing app was launched when there were multiple apps already there in the market, Aman Kumar said, "We did an extensive market research which revealed specific gaps or unmet needs within the existing cab hailing industry. We identified such areas and have differentiated our app on the basis of innovation- first time features and services are being offered."
While talking about first time innovative features of the app, Aditya Kumar, Business Operations Lead, said, "We offer a unique feature FareSure. Under this, users enter their pickup and drop-off locations, and the FareSure Predictor instantly calculates and displays an estimated fare range. This helps users take advantage of lower fares, thereby saving money on transportation expenses."
Ashish Jangra, Tech Head, said, "The app enables users to compare fare estimates for different types of rides like economy, premium, shared, and choose the option that best suits their budget and preferences. The users have the option to lock in a fare estimate for a specific ride."
Aman further said, "There is no dynamic pricing, charges will be fixed whether booking is done at day or night and we have a vast variety of premium car collections on one platform. What's more, the app aims to allow users to seamlessly book cabs by having the application automatically identify their location even if the user isn't aware of the exact address. Alternatively, users can also request for a call back to inform the operators of their location."
While most of the similar start-ups focus only on customer support, NextDrive has introduced a new driver focused model.
Avinash Kumar, Marketing Operations Lead, said, "We are charging just 5%-7% commission, so users receive services at a lower cost and drivers also generate a good income for themselves. Drivers receive daily payments and there are other benefits like health insurance given to them."
Aditya adds, "We have focused on safety concerns of drivers in keeping with recent incidents of attack on drivers and have introduced a 24/7 call support for them plus the best in field security features."
Nikita Yadav , Graphic Designing Lead, said, "We have a new and easy to understand user interface design making it easier for the drivers to connect and work with our app. We have put in a lot of hard work in making the app user friendly .  We have also unveiled a 'fleet drivers' service."
Explaining another unique function of the app, Ashish said, "The app provides historical data trends and live updates on fare fluctuations, allowing users to identify cost-effective times for rides and plan their trips accordingly."
"After tricity we plan to enter new cities with high demand for cab services, this shall be done by conducting thorough market research to understand local preferences," summed up Avinash.