Bharatiya Yuva Shakti Trust organized the first Mentoring Summit in the country
President of India, Shri Pranab Mukherjee who was the chief guest at the summit, applauded BYST's efforts in the field of rural entrepreneurship
BYST partnered Smart Gram initiative of Rashtrapati Bhavan to create Smartgrampreneurs
Launched 'Mentoring India' as a nationwide movement to achieve sustainable employability
Event saw exchange of MoUs between BYST and the Ministry of Skill Development &Entrepreneurship,andLetter of Intent issued by the Ministry of Railways.
newznew (Chandigarh) : Dissecting the critical role of mentoring required to create true entrepreneurs, Bhartiya Yuva Shakti Trust in partnership with Rashtrapati Bhavan held the 'International Mentoring Summit' on 5th April 2017. The daylong event witnessed deep discussions on the impact of mentorship in various sectors under the theme 'Mentoring Grassroots Entrepreneurs in Smart Grams for Inclusive Growth'. The event that was set on BYST's 25 years of functioning in the country, presented inspiring stories of entrepreneurs from hinterlands and held deep conversations during six different sessions.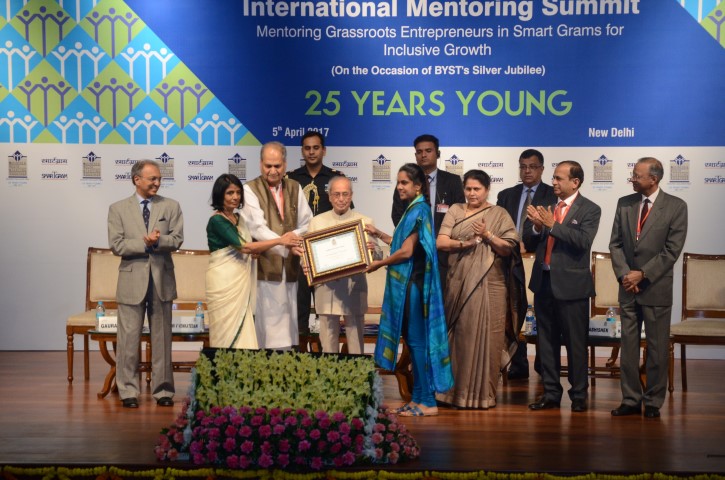 Marking the inaugural of Bhartiya Yuva Shakti Trust's silver Jubilee celebrations across the country, Ms Lakshmi V Venkatesan, Founding and Managing Trustee, BYST, said, "It's remarkable to see that we have made substantial success hitherto with BYSTs initiatives that untapped the potential of the under-privileged and helped them to become entrepreneurs. We understand that turning hurdles into opportunities is not an easy task. However, we can achieve it through mentoring and we will continue to make efforts towards building a better India."
The summit commenced with an Opening Plenary on 'Setting a National Agenda for youth Entrepreneurship for Inclusive Growth', where BYST launched a High-Flyers Club featuring the top performing dynamic micro-entrepreneurs, to facilitate unique sourcing and networking opportunities.Some of the eminent personalities present were Shri Suresh Prabhu, Minister of Railways, Government of India, Shri Subodh Bhargava, Member Board of Trustees BYST, Baroness Usha Prashar, Deputy Chair, British Council, Shri Amarajeet Sinha, Secretary Ministry of Rural Development, Ms Shanmuga Devi and Shri Shyam Sekar, BYST Entrepreneur and Mentor.
The opening plenary was followed by the first session "Gurukul Diaries: In conversation with a Mentor", involvingdeep discussions on topics covering Karma, Morality, Anger, Work-life balance and Success. The discussion highlighted the dire need to create a culture of sharing and cooperation by which we can harness the potential of an entrepreneur. The session saw an active participation from renowned personalities such as – Shri Gaurav Dalmia, Chairman Dalmia Group Holdings and Brahma Kumari Sister Shivani, Rajyoga Meditation Teacher.
Emphasizing on creating jobs and empowering people with skills along with the development of villages, session two saw participation from members and dignitaries  such as Shri Harshpati Singhania, Member, Board of Trustees BYST, Dr Ajit Kumar, Vice Chancellor National Institute of Food Technology Entrepreneurship and Management, Shri Arjun Misra, Vice President, Project Gopalpur and Managing Director, Tata Steel Special Economic Zone Ltd., Shri CP Tripathi, Advisor, CSR Bajaj Auto Ltd and the Guest of Honour, Dr KP Krishnan, Secretary Ministry of Skill Development and Entrepreneurship.
On the occasion,Dr KP Krishnan, Secretary Ministry of Skill Development and Entrepreneurship said,"The biggest barrier to unleashing the energies of entrepreneurship is likely to be the state. And we need to re-look at the whole system and enhance it for a better future."
Next was a special session on "Entrepreneurship: How it can Power Urban Development" whereMentoring India, a flagship program by BYST was unveiled by Shri M Venkaiah Naidu, Minister for Urban Development.Shri Rahul Bajaj and Ms Lakshmi Venkatesan, who were also present, spoke about going together with technology disruption and taking urbanization, as a challenge and a great opportunity too.
Delighted with the Mentoring initiative, Shri Naidu said, "Mentoring has always been a crucial part of Indian culture where families play an important role as pillars of society to help an individual prosper.And BYST following the Guru Shishya tradition has helped in uplifting many people in rural hinterlands. It has also encouraged women to grow and become entrepreneurs; Self-help group is a testimony to this fact."
The occasion also witnessed the launch of Mentoring India logo that was unveiled by Shri Venkaiah Naidu.
Session three included a 'free-will' discussion titled "Guftgu", here entrepreneurs and their mentors shared life-changing experiences coupled with innumerable challenges faced and how they achieved success during difficult times. They focused on the growing importance of mentoring in a country like India where unemployment is one of the biggest hurdles. The key speakers present during the session were –Shri Saurabh Srivastava, Co-Founder Director, Indian Angel Network, Shri Neelesh Misra, Founder Gaon Connection Pvt Ltd, Shri Andrew Devenport, CEO Youth Business International to name a few.
The summit approached the end with a special plenary with Hon'ble President of India, which was the main inaugural function of BYSTs Silver Jubilee. Praising the efforts of BYST, Shri Pranab Mukherjee said, "One way to look at poverty is to provide people with sufficient employment opportunities. BYST already has created around 5000 entrepreneurs who have further given employment to 2, 50, 000 people. And this journey will continue in the future to remove poverty by creating entrepreneurs who are job creators. On the occasion of the Silver Jubilee celebrations of BYST, I compliment its leadership for their Initiatives and wish them success in all their future endeavors."
The closing ceremony also saw the exchange of MoUs between the Ministry of Skill Development & Entrepreneurship and the Bhartiya Yuva Shakti Trust (BYST), and Letter of intent between The Ministry of Railways and Bhartiya Yuva Shakti Trust (BYST). This was followed by a special address by the honourable President and concluding remarks by Shri Harshpati Singhania – Member, Board of Trustees, BYST. Subsequently, Shri Pranab Mukherjee also visited a special exhibition installed by Select Rural Entrepreneurs. The Summit approached the end with an entertaining and mesmerising cultural evening, where the participants displayed their talents through one of the ten major forms of Indian classical dance – "Kathak".