Experience the Incredible blend of Modern and Traditional Musical elements in Talwar's first ever single "Bandookaan": Talwar, the dynamic Punjabi singer, composer and lyricist, unleashes his swag with his debut single Bandookaan, marking his first foray into the world of solo music.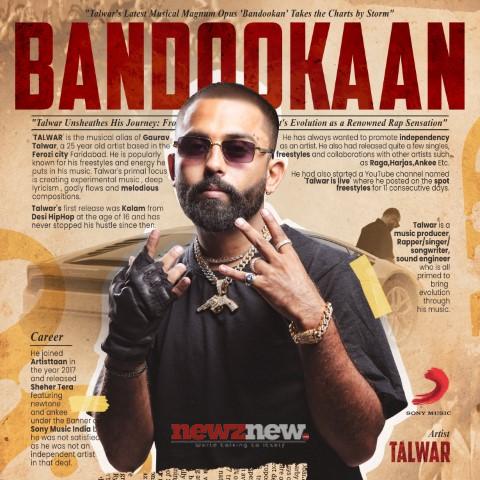 This Punjabi pop sensation is set to redefine the music landscape with his electrifying fusion of traditional and modern musical elements. The track dives deep into themes of love, betrayal, and pride, creating an engaging narrative that will surely captivate audiences across the globe.
Known for his versatility and creativity, Talwar serves as the singer, composer and lyricist for this groundbreaking single. Bandookaan is a musical masterpiece showcasing Talwar's unique style and powerful vocals. The track's energetic melody, complemented by its compelling lyrics promises to strike a chord with music enthusiasts of all ages. Talwar's impressive storytelling and musical prowess shine through in this track, making it an instant favourite.
Bandookaan is a celebration of Punjabi culture while embracing contemporary musical influences. The track is accompanied by a visual spectacle in its own right, offering viewers an immersive experience. The music video captures Talwar in his element, exuding swag and confidence as he celebrates life's victories with his entourage, surrounded by fancy cars and grand celebrations.
Delightfully speaking about his debut single, Talwar shared, "Bandookaan boasts a formidable combination of strength and compelling visuals, it is a reflection of my passion for music and storytelling. For my first single I wanted to compose a hard-hitting Punjabi track that would create a vibe and this track perfectly blends the best of Punjabi musical traditions with a contemporary edge. I believe Bandookaanwill resonate with listeners on a deep level. I can't wait for the audience to experience the energy and emotions this track brings."
Bandookaan is a celebration of talent, passion and determination. With its powerful music, captivating lyrics, and visually stunning video, it promises to set a new standard for Punjabi pop music.