newznew (Chandigarh) : Indian Institute of Materials Management Chandigarh Branch has organised special session on "Impact of GST and Demonetization on Supply Chain Management" during their 32nd Annual Day Celebrations held at Golden Jubilee Hall, Panjab University. The session was attended by 100+ members heading Supply Chain function from Chandigarh, Punjab, Haryana and HP.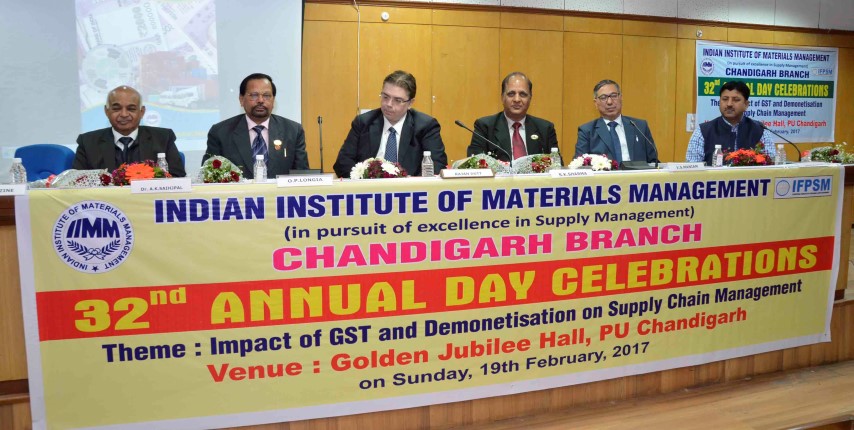 Rajan Datt (Joint Commissioner, Central Excise & Service Tax), Chandigarh, Chief Guest on the occasion share the important aspects of GST, Tax payment, Tax Levy, Refunds and Action points for smooth transition to GST. He added that GST will be the next financial reform in the country.
Sanjay Malhotra, (an Eminent Indirect Tax Expert and Practicing Company Secretary) apprised members of Impact of GST across Supply Chain i.e. on Procurement/Sales/Finance/Warehouse Management/Imports-Exports. He also shared Impact of GST on various sectors and action points to meet the challenges. He conveyed thanks to Sh. K.J.Chaudhry (IRS), Principal Chief Commissioner Central Excise & Service Tax Chandigarh for his support and continuous guidance on GST to Industry members in the region.
Preet Mohinder Singh, (Chairman-Institute of Cost Accountants of India, Chandigarh-PKL Chapter) highlights the Impact of Demonetization on Supply Chain Management. Sh. Ashish Sehgal (AGM-Godrej) shared his views on Creating Lean and Green SCM.
A.K.Saihjpal, (Vice President- North Region of IIMM Chandigarh) added that SCM being important function so Industry should prepare for GST migration without delay and IIMM will support the Business Houses in same.
V.S.Maniam, Chairman- IIMM Chapter Chandigarh Branch, Dr. S.K. Sharma (Past President-IIMM), Sh. V.K.Jain Sh. O.P.Longia (National President-IIMM), T.K Magzine also graced the occasion and shared their views with the Industry members.
Members of the Institute were awarded with various awards in Supply Chain Management i.e. Best Supply Chain Manager, Leader, Team Member. Life Time Achievement award in SCM was given to Sh. A.N.Chaudhry.