Exports from Jalandhar are touching 205 nations, says Rajat Agarwal CEO Invest Punjab: 'Exports from Jalandhar are touching 205 nations', informed Mr Rajat Agarwal, CEO, Punjab Bureau of Investment Promotion, Government of Punjab, while addressing an Industry Interaction organised by Confederation of Indian Industry at Jalandhar.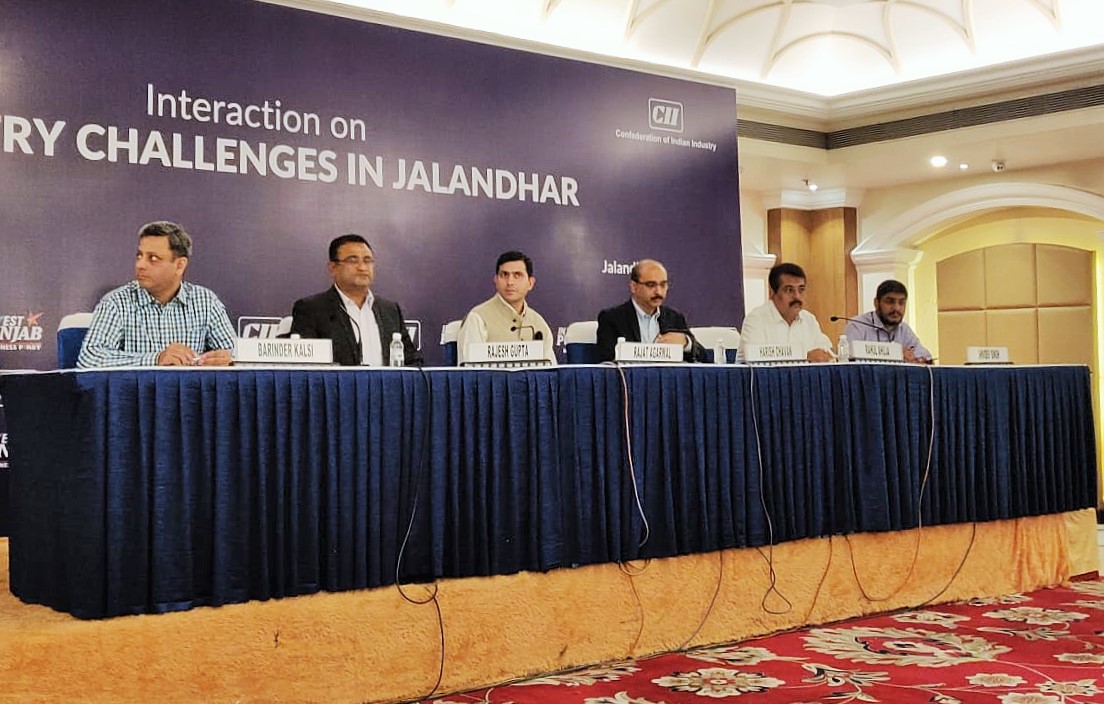 He also mentioned that Punjab Government is providing annual employment subsidy of INR 48,000 per employee for a period of five years.
Mr Agarwal gave a detailed presentation on various initiatives of the State government and also interacted with the local industry members from Jalandhar, Ludhiana, Amritsar and adjoining areas.
He encouraged them to set up anchor units and assured that the government would provide full support in terms of infrastructure and speedy clearances.
Mr Agarwal opined that the Punjab Industry should also make optimum us e of ZED and Cluster schemes offered by the Government of India. He also heard various issues encountered by the entrepreneurs and assured them that they will get timely resolutions from the policy makers.
Mr Harish Chavan, Chairman, CII Punjab State appreciated the time and support of the Punjab Government for listening to the grievances of the local entrepreneurs. He expressed that the meeting shall provide a significant opportunity to discuss various challenges and arrive at consensus on how to tackle them in a more comprehensive manner. He further invited Mr Rajesh Gupta, Chairman, CII Jalandhar Zone to give a brief about the industrial scenario at Jalandhar.
Mr Rajesh Gupta gave an account of contemporary issues pertaining to Jalandhar and touched upon crucial topics like Transfer price of Industrial sheds & Plots, Capping of Power Tariffs for Industry, Investment based Fees levied by PPCB, Automating the Process of GST returns, Processing of Incentive cases under FIIP(R) 2013, Labour Laws, Providing Infrastructure at upcoming Industrial Areas and many more.
Mr Varinder Kumar Sharma, Deputy Commissioner, Jalandhar also joined the interaction and gave a heed to the industry suggestions & viewpoints, esp. in context of infrastructure and necessary clearances at the district level.
The members discussed distinguished issues with Mr Rajat Agarwal and Mr Varinder Kumar Sharma, including widening of the approach road to airport at Adampur and enforcement of law & order during the frequent 'Bandhs' being called by religious organizations.
Mr Barinder Kalsi, Vice-Chairman, CII Jalandhar Zone delivered the formal vote of thanks and mentioned that Punjab's MSME sector has been able to showcase its manufacturing capabilities on the global business map and the need of the hour now is to shift gears for which both the Government & the Industry will have to hold each other's hands.
Prominent industrialists of Jalandhar & Ludhiana, including Mr Bhavdeep Sardana, Ms Kamna Aggarwalla, Mr Sharad Agarwal, Mr Ram Kapoor, Mr S S Bhogal among others participated in the deliberations.