Farmley Launches 'Healthy Ko Rakhe Healthy' Campaign with Rahul Dravid: Rahul Dravid popularly known for being 'The Wall' of cricket is now creating a stronger, healthier wall for his fans.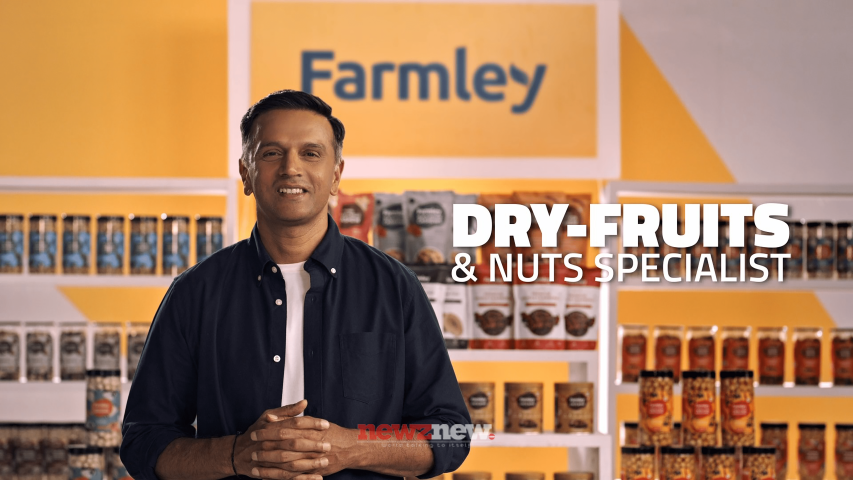 Farmley has unveiled its new campaign "Healthy Ko Rakhe Healthy" featuring former Indian Cricket Captain & brand ambassador Rahul Dravid batting for the immediate need of choosing unadulterated and high-quality dry fruits & nuts, for a healthier lifestyle.
The digital film features Rahul Dravid playfully tossing a cricket ball to a kid, but as the ball passes through different hands it symbolizes the different stages of dry-fruits adulteration. From being dipped in water to increasing weight, from artificial colour to polishing, the ball represents the deceptive practices borne by consumers.
While Dravid catches the ball right before it reaches the kid (depicting the consumer), asserting that some things are best original. The video concludes with Rahul Dravid endorsing his trust in Farmley's commitment to deliver the finest quality products to customers by eliminating middlemen.
Commenting on this, Rahul Dravid said, "Staying healthy and fit has been a vital part of my life, and I have always advocated for making the right choices. Consumers deserve to have access to pure and unadulterated dry fruits and Farmley's unwavering commitment to providing pure and unadulterated dry fruits aligns perfectly with my values. "
"At  Farmley,  we  prioritize  the  well-being  and  satisfaction  of our customers before anything. From sourcing  the  finest  quality  dry  fruits  to  implementing  stringent  quality  control  measures,  we  are dedicated to delivering products that meet the highest standards of authenticity and purity. We are proud to have Rahul Dravid as the face of our 'Healthy Ko Rakhe Healthy' campaign empowering consumers to make informed choices. This campaign is a testament to our dedication towards delivering unadulterated dry fruits and safeguarding our customers' health and well-being, " said Akash Sharma, Founder and CEO, Farmley.
Farmley has a wide variety of 100+ products, ranging from everyday dry-fruit essentials, trail mixes, and healthy snacking options to more innovative offerings like a dessert range derived from dry fruits & a pasta made from makhanas. With a meticulous selection process and rigorous quality checks, Farmley ensures that only the finest and freshest products reach customers. By establishing deep back-end links with 5000+ trusted farmers and producers, the brand eliminates middlemen and promotes fair trade practices.