Fashion designer Aman Sandhu  unveils  'Look Book', will showcase collection on Nov 19: The region's eminent fashion designer Aman Sandhu who runs fashion studio's in Mohali and Amritsar, will be organizing an exclusive Fashion exhibition at The Hyatt, Chandigarh on November 19, 2022, to exhibit the latest collection.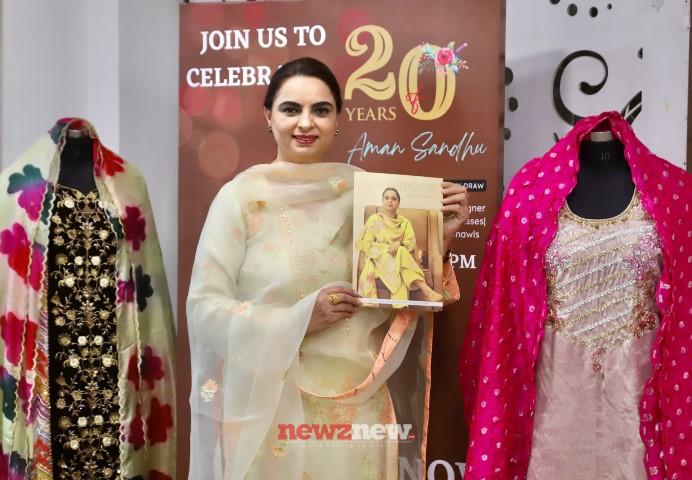 This programme is being organised to mark completion of a 20 year journey by the label Aman Sandhu.
The Aman Sandhu label is offering a flat 20% off on in-stock designer wear for the very first time on 19th November. What's more   there will be a giveaway contest winner announcement which  has already been initiated on social media.
Aman Sandhu held a press meet and unveiled a unique Look Book which offers a peep into the designer's collection with the key designs of her journey of 20 years since 2002. Talking about the Look Book, Sandhu said, "The designs of each look represents the timeless heritage of Punjabi Sabhyata. The floral motifs, hand embroidery, beaded embellishments and intricate patterns on each attire mirrors the true dedication of craftsmanship. Designs and styles in this catalogue shall be available throughout years and every season for the consumers to get an idea and choose the best one for their special day."
Aman Sandhu added, "The main attraction of the Nov 19 event will be the Fashion Walk.Since the label 'Aman Sandhu' is appreciated and admired by all age groups, we are going to organise a fashion show 'Peedhi' that will showcase my collection through three generations- 'Peedhis' on one platform."
The Fashion Walk will have around 11 models from different age groups including kids, models and middle aged women who will showcase about 14-20 suits and other attires based on the theme of the fashion walk 'Peedhi.'
The event will also formally announce the unveiling of Aman Sandhu's elite collections through an exhibition. Aman Sandhu also gave a feel about what to expect in her collection by showcasing a few beautiful pieces from her ensemble  at the press meet.
Talking about the latest bridal trends this season Aman said, "We've moved away from the era of playing safe to one of experimenting. This is the season of bright and popping colours; essentially shades of the rainbow. Hues of pink, blues, yellow, and orange would be the colours to look out for this season. Purple will also be a trending colour. Accessorising will also be the key. Jacket style suits will be a huge fashion statement . Tie-Dye dupattas are the best way to amp up any attire."
Speaking about her clothing genre and style, designer Aman Sandhu, said, "I am very proud of being a Punjabi. Since I myself am very much connected to the Punjabi traditions and culture, it has a great influence on the entire collection which is a mix of different kinds of suits be it Salwar Kameezs, Sharara Suits, Gharara Suits, Lehengas and other designer wear. Being an explorer, I love to experiment with the handwork, fabrics, embroideries and fusion dresses."
It is noteworthy that Aman Sandhu does not just focus on haute couture but also has her own western line Clowest by Aman Sandhu.