Receives award fromNational CSR Leadership Congress & Awards
Bags award for exemplary works in the field of CSR(Corporate Social Responsibility)
Finolex Industries Ltd, (FIL) a leadingmanufacturer of PVC pipes and fittings in India along with its CSR partner Mukul Madhav Foundation (MMF) was awarded the 'Best CSR Integrated Business' in the organizational category under National Award for Excellence in CSR & Sustainability by theNational CSR Leadership Congress & Awards. The award ceremony was held on 20th September, 2017 in Bengaluru. Finolex Industries was recognized for theirexemplary work in community development and making it a part of their everyday business practice with their CSR partner Mukul Madhav Foundation.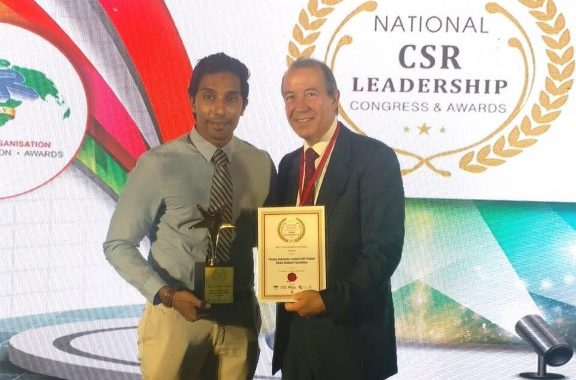 The focus at FIL and MMF has been on a holistic development of communities through inititiaves on healthcare, educational and social welfare assistance to the underprivileged. Over the years,their strong vision and determination has enabled to touch thousands of lives, spread infinite smiles and promote a culture of giving. This shared vision facilitated FIL and MMFto bagthis award for their overall contribution in the sectors it operates.
Speaking on this occasion, Mrs. Ritu Chhabria, Managing Trustee, Mukul Madhav Foundation said "We are very delighted with this prestigious recognition from the National CSR Leadership Congress & Awards. This award is a testimony to how we at Finolex Industries and MMF believe that the road to a sustaibale business is through doing our bit for the community."She further added, "The main pillars of CSR and sustanibility practice at Finolex and MMF are Philanthropy, Environmental Responsibility, Inclusive Growth and Effective Collaboration. Through our association with different entities we try and reach out to people who require our support."
About Mukul Madhav Foundation
Finolex Industries Limited (FIL) implements all its CSR activities through its CSR partner Mukul Madhav Foundation (MMF). MMF is registered as a public charitable trust in 1999, and has been working since to provide assistance to needy individuals especially in the areas of Education, Healthcare and Social Welfare. In 2008, along with Finolex Industries, they set up an English medium school, Mukul Madhav Vidyalaya, in the interior village of Golap, Ratnagiri. Today nearly 600 students receive quality education there at extremely subsidized costs.
By spreading more hope and happiness and leaving its noble foot prints in every possible walk of life, MMF has brought smiles on a million faces and seeks to do so for many generations to come.