Old students fondly remember Founder Principal, Late Shanta H Singh "Big Aunty".
NewZNew (Chandigarh) : On the 15th of January 2016, The New Public School, Sector-18 organised a reunion of alumni to commemorate the 95th Birth Anniversary of the Founder Principal, Late Shanta H Singh popularly known as "Big Aunty".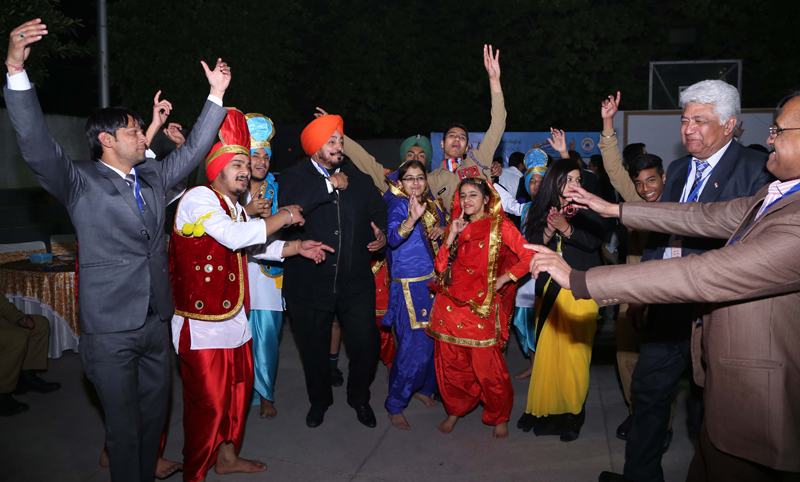 Shanta H Singh started the institution with only 14 students in 1960 at Chandigarh with Master Nawab Singh Virk as the first Student of NPS. Her relentless efforts made this institution flourish into a Secondary School in 1969 and Sr. Sec. in the year 1991. She retired in the year 1993 and was inducted into the Board of Governors of the NPS Society.
She was born on January15, 1921 and completed her matriculation in 1937 from Kinnaird College for Women in Lahore. After completing B.A. & B.T. from DevSamaj College, Ferozepur in 1951, she started her professional career as a teacher in"Yadvindra Public School", Patialaand remains a proud teacher of eminent personalities like Mr. Pawan Kumar Bansal (Cabinet Minister, Govt. of India), Mr. Simranjeet Singh Mann (former Member of Parliament) and Mr. N.S. Aulakh (D.G, N.S.G.).
She hails from the family of renowned educationists. The family donated 5 acres of land in their ancestral villageDahapai, for a Middle School and another 10 acres for DAV Sr. Secondary School at Quadian, Distt. Gurdaspur. Presently the family is also running a non-profitable school "Riarki Public School" in their ancestral village Dhapai in Distt. Gurdaspur. She dedicated her entire life for the cause of education.
The old students from 1970 batch to1980 batch were honoured. Teachers who had worked under the able guidance of Late S.H. Singh fondly spoke of her and about their association with the indefatigable S.H. Singh who was known to be a hard task master, but could also be very indulgent and generous to a fault. They recalled how they held their 'Big Aunty' in awe as her passion for work, her zeal and enthusiasm inspired and motivated them.
About 500 old students attended the reunion and reminisced about their school days with Big Aunty as the Principal. A stickler for rules, fastidious about her students' dress and deportment, she could be quite intimidating but was an epitome of love at the same time. Feeling nostalgic, they shared their fond memories over bygone era, the times spent in the class rooms and playgrounds of their alma mater.
Results of the Big Aunty Maths Quest, which was held on December 12, 2015 were announced. This Maths Quest is an Inter School Competition organized on the 2nd Saturday of December every year in memory of Big Aunty Ji.
The Prize winners of Big Aunty Math Quest 2015–16 are as follows:
Sr.            Name                                      Class                        School Name
Adarsh Kumar Banth              X                              The New Public School, Sector 18-B, Chandigarh
HarsimratKaur                        X                              St. Joseph School, Sector 44, Chandigarh
Jayesh Kumar                          X                              BhavanVidyalaya, Sector 27, Chandigarh
A cultural programme "Bhangra" was presented by the students of classes IX and X and later,old students who attended the reunion, too were drawn by the lusty beats of the DHOL.
The function ended with the serving of snacks and tea to the guests.